Mexico Schoolgirl Buried Beneath Earthquake Rubble Has Nation Holding its Breath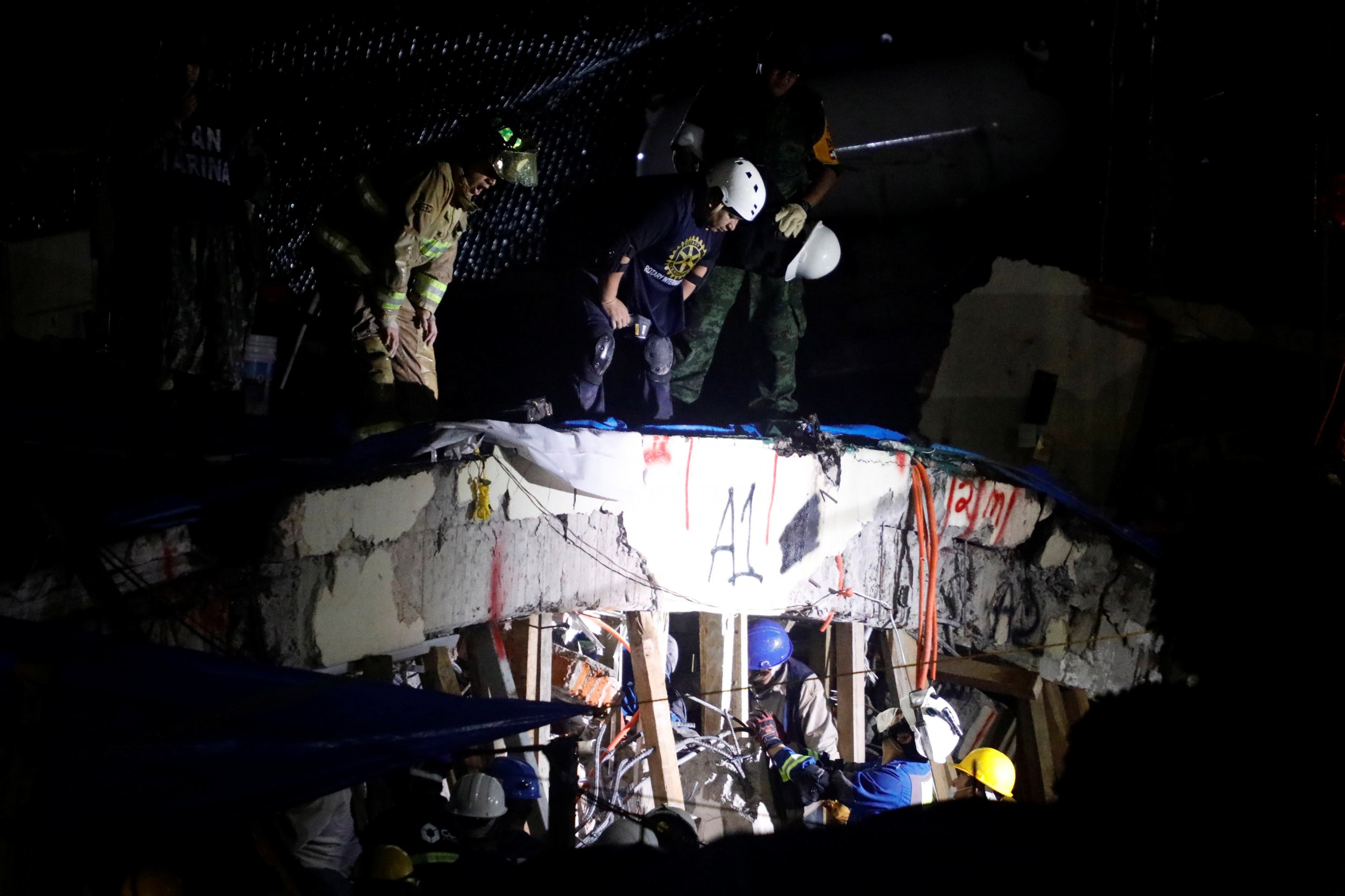 Thousands of Mexicans followed rescuers working through the night at the site of a collapsed school the country's capital to rescue a girl who is thought to be alive under the rubble.
Frantic search and rescue operations are under way in Mexico City and surrounding states to find survivors of the powerful 7.1 earthquake that killed more than 200 people.
Already 50 people were rescued from the several sites, including eleven students from the Enrique Rebsamen School in Mexico City, but chances of finding survivors decrease with every hour that passes.
More than 15 hours into the rescue operation, Mexican Navy Admiral Jose Luis Vergara said rescuers were struggling to pinpoint the girl's exact location.
"There's a girl alive in there, we're pretty sure of that, but we still don't know how to get to her," he told Televisa, quoted in Reuters. "The hours that have passed complicate the chances of finding alive or in good health the person who might be trapped," he said.
The girl was initially described as a 12-year-old student called Frida Sofía, who told rescuers there were other two students nearby, but she could not tell whether they were dead or alive.
Her name began trending on Twitter as Mexicans followed the rescue operation on the site, online and on television—Mexican channel Televisa has special access to the site and has been broadcasting the rescue efforts non-stop—refusing to go to sleep until she was pulled from the rubble.
Local media later reported that there are no records of a girl named Frida Sofía attending the school, and all the students called Sofia, a popular name in Mexico, had already been brought to hospitals or were safe at home.
Her naming likely derives from a misunderstanding between the rescuers and the girl, but regardless of her identity, fellow Mexicans sent thoughts and prayers to her.
A teacher wrote on Twitter: "Whether she's called Frida Sofia or not, she has returned faith, hope and tireless teamwork to Mexico! A country is waiting for you, little angel."
Already 21 students and four adults were killed in the collapse of the Enrique Rebsamen School, where the students are aged roughly six to 15. Another 30 were still missing.
As of Wednesday night, Mexican authorities announced at least 237 people had died, while another 1,900 people were injured after the earthquake struck early on Tuesday afternoon, when the country was marking the anniversary of the 1985 earthquake that killed 5,000 people.
Tuesday's earthquake was the second deadliest on record, striking Mexico less than two weeks after another earthquake, the most powerful in almost a century, killed at least 60 people in the south of the country and moved the fault by 32 feet.