New Mexico Restaurant Names Tacos and Burritos 'Lock Her Up,' 'The Wall' and 'The Immigrant': 'You're Offending a Whole Community'
A restaurant in New Mexico has come under fire for its menu which gives its tacos and burritos politically charged names, including those made popular by President Donald Trump.
The Urban Taqueria restaurant, which has recently opened in Albuquerque, offers its customers a range of burritos with names including "Lock Her Up," "The Wall," and tacos called "Bad Hombre" and "The Immigrant."
The restaurant has caused outcry for its menu, which also has names such as "The Mueller," "Popular Vote" and "Under Audit," but its owner denied that they are purposely trying to offend people.
"Ninety-nine percent of the people who walk in, more than 99 percent, don't seem to have an issue with it," Hanif Mohamed, owner of Urban Taqueria, told KOAT. "The menu's not designed to insult people or hurt people, but it's just meant to keep the conversation going as to what's happening around us."
Some locals have disagreed with Mohamed's view on the menu. "The way things are right now. It's not good," Juan Hernandez told KOAT. "We need to have respect for others and have limits."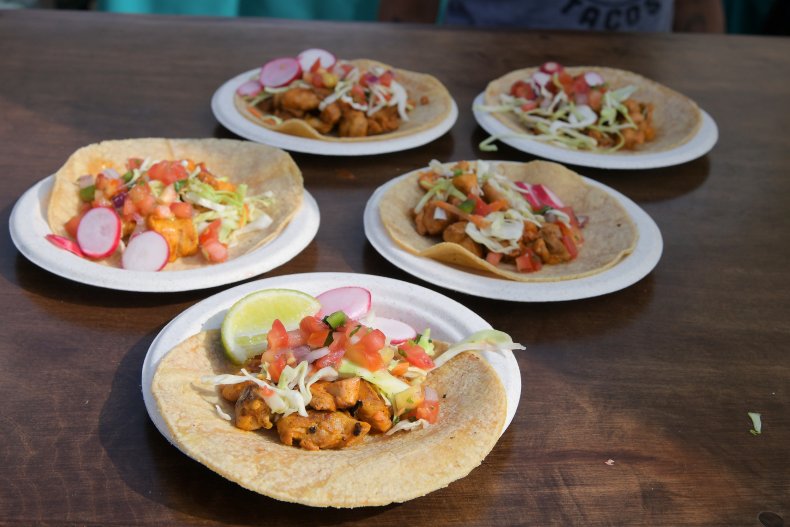 University of New Mexico professor Patricia Perea added: "It seems fun, it seems like you can make fun of this and maybe make it lighthearted, but you really can't, you're offending a whole community.
"It's normalizing the terms and potentially turning them into funny or humorous terms, and the more that you do that, the more likely people are to repeat them and perhaps forget the contexts in which they were said."
Others disagreed and said the restaurant was just making a brave choice with their names. "To me it's not offensive," Christy Garcia told KOAT. "I just think it's interesting that they decided to be so bold with the names."
The restaurant and its menu has received positive reviews online. "Awesome menu names!!!! Love the creativity! Don't cave to those so easily offended. They can simply choose not to eat there," wrote Amber Atchley Cokins in a review on Facebook.
"Great food, and atmosphere. Customer service is good. Love the names of the dishes," added Autumn Blake.
However, one customer was unhappy with the political menu names. "What a bunch of deplorables," wrote Jacki Ashcraft-Tilk. "Insulting menu not representative of America unless your [sic] a Trump supporter. Nothing like chasing customers away!"
Mohamed said to KOAT that a lot of the staff who work at the restaurant which opened around six weeks ago are immigrants.
Urban Taqueria did not immediately respond to a request from Newsweek for comment.