Mexican Authorities Use Sexual Violence Against Women For Forced Confessions: Amnesty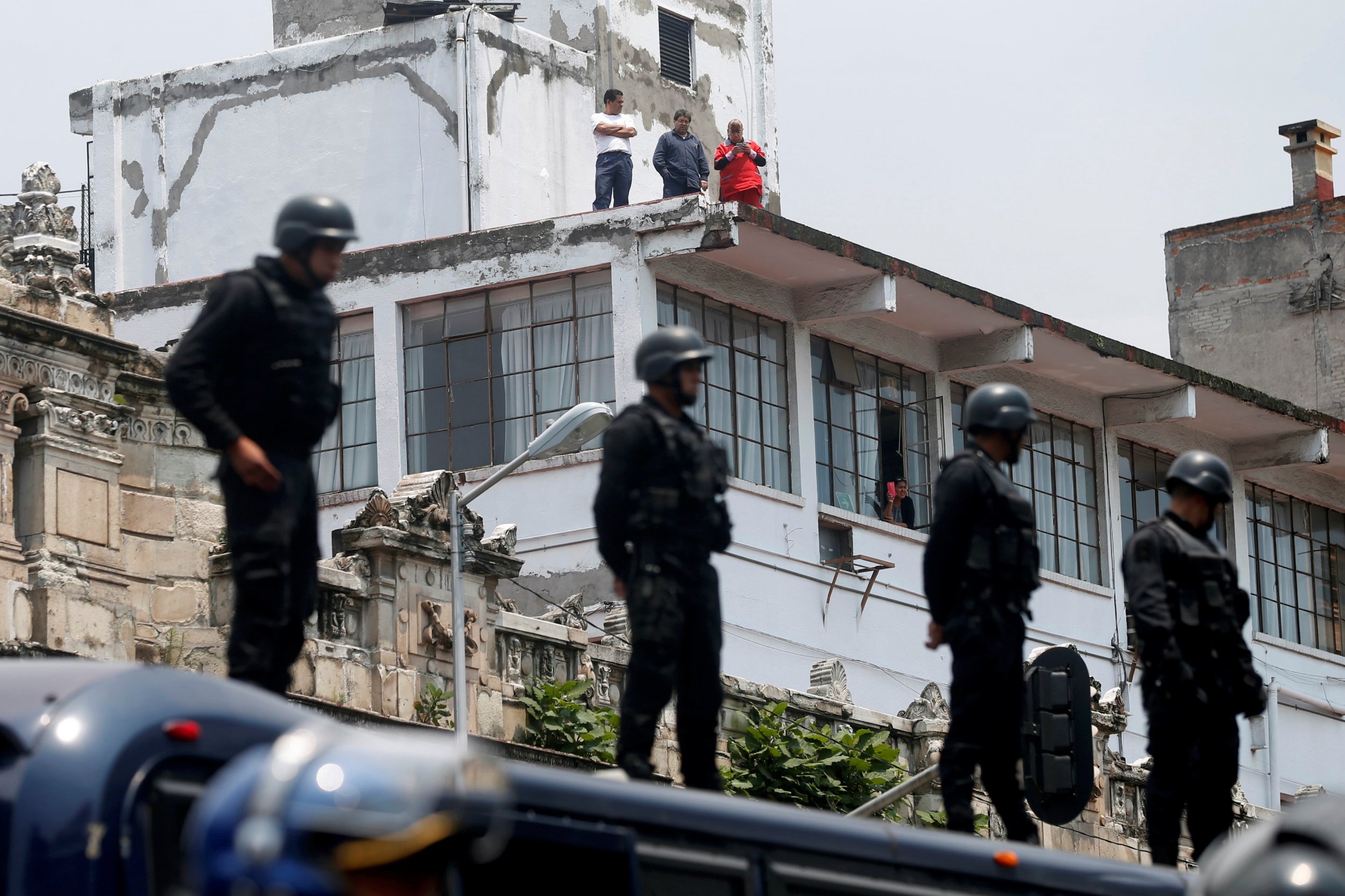 Tailyn Wang was seven weeks pregnant when federal police broke into her house in Mexico City in 2014 without an arrest warrant. Wang, originally from Peru, was physically and sexually abused by federal authorities, miscarried inside the prosecutor's office and was forced onto a plane bound for a federal prison in Tepic, in western Mexico.
Despite her injuries, she was given no pain medication and "a few sheets of paper towel to stuff down her pants," according to Amnesty International, whom she spoke with about her ordeal. When the plane landed, "the airline seat was drenched with blood."
Wang was accused of being part of a gang of kidnappers and was charged with organized crime. She remains in prison today and is still awaiting the outcome of her trial.
Wang is one of 100 women who spoke with Amnesty International, which in a new report outlines the use of torture and sexual abuse against women by municipal, state or federal police officers in Mexico and members of the army or navy. To obtain forced confessions to crimes the women didn't commit, such acts are often carried out "by the security forces who want to secure confessions and boost figures in an attempt to show that they are tackling rampant organized crime," according to the Amnesty report published on Tuesday.
Mexican authorities, faced with an ongoing drug war that has resulted in the deaths of tens of thousands of people over the past several years, want to be seen as doing something, anything, that might show they're making gains. Women like those who spoke with Amnesty "are seen as the weakest link in the trafficking chain by the authorities" and are considered "an easy target for arrest," the report states.
While it's not clear if any of those who spoke with Amnesty were in fact working for drug cartels—many remain in prison and have not yet seen a judge—women are often made to perform the lowest and most dangerous tasks for the gang and "are considered expendable if arrested," Amnesty says.
"In this report, we really wanted to understand how this war on drugs and organized crime is affecting women," Madeleine Penman, Mexico researcher for the organization, tells Newsweek. The large number of women who spoke about their torture, rape and abuse at the hands of authorities is "quite unprecedented," she says.
In many cases, Penman says, the women said they were arrested; forced into confessing to a crime, such as working with a drug cartel; and falsely presented to the media as criminals—all before going before a judge. Around one-third of the women said they were raped by authorities, while others say they faced sexual harassment; psychological abuse; and physical abuse, such as electric shocks to the breasts and genitals and being kicked in the head, stomach, legs and ears. "The face was deliberately excluded to avoid obvious injuries," the report states.
Incidents of rape that reportedly occurred while women were being held were highest among the navy authorities. According to the report, eight out of 10 women who were arrested by the navy said they were raped, while half of those arrested by the army reported being raped.
Women make up around 7 percent of Mexico's federal prison population, and the majority are first-time offenders, says Amnesty. Of the 100 women interviewed by Amnesty, one-third had been accused of being part of an organized-crime group, nearly a quarter were accused of drug crimes, and 22 percent were accused of kidnapping. Nearly 15 percent were accused of illegal firearms possession.
"A lot of the arrests that were carried out in this report were arbitrary arrests," says Penman. "Arbitrary arrests often lead to torture."
The latest national figures show that in 2013 alone, there were 12,000 complaints of torture or ill treatment in Mexico's prisons by both men and women. Between 3,000 and 4,000 of these complaints were from women, but this is the "tip of the iceberg," says Penman. Between 2014 and 2015, criminal complaints of torture at the federal level doubled, but it's unclear how many of these were from women, which "leaves the issue shrouded in a problem of secrecy," says Penman.
Such use of torture and violence in prisons is an open secret in Mexico. The issue was forced into the light earlier this year after a graphic video emerged of a woman being tortured by two soldiers and a federal police officer, who pulled her hair and put her head inside a plastic bag until she nearly suffocated. The video went viral, and the reaction to it was unprecedented in Mexico, says Penman.
"We had simply not seen, visually before, these acts being carried out," says Penman. "Torture was always talked about, but in the collective consciousness it was something abstract, something people couldn't envision."
Amnesty said in its report that it's not aware of any criminal charges against officials who committed torture and abuse against arrested women. Law enforcement agencies in Mexico "still fail to investigate, prosecute and punish" rape and other serious sexual violence as forms of torture.
President Enrique Peña Nieto should "publically recognize the problem of torture and ill-treatment in Mexico, particularly the use of sexual violence against women," Amnesty says. He should also "send a clear message that these acts will no longer be tolerated." Penman added that Amnesty representatives planned to meet with Mexican government officials on Monday afternoon to discuss the report and its findings.
"The message to other women is that this could happen to anyone, at any time. Many of the women we talked to were simply coming home or were on the street, on their way to pick their kids up from school," says Penman. "The message also for other women is the importance of making a complaint. Speaking out about these things is paramount."