A sign that allegedly threatened U.S. Border Patrol agents was under investigation Thursday after it was discovered hanging on a pedestrian bridge near the Rio Grande River in Juarez, Mexico.
The sign was directed at local and state police, Mexico's National Guard and the U.S. Border Patrol, according to Border Report, which was first to report about the sign Wednesday after authorities in Juarez removed it.
According to an image of the sign obtained by Border Report, its message starts with a "warning" for authorities to stop interfering with human smugglers and reminds them "bullets can also cross the river."
The U.S. Customs and Border Protection (CBP) confirmed in an email to Newsweek that they were aware of the sign and that its message would not be taken "lightly."
"CBP is aware of the threat and the matter has been referred to the appropriate investigative entities," a statement from the CBP said. "As with any threat made against CBP personnel, it will be handled accordingly and not taken lightly. Any threats made, or harm that results of the threats will be fully investigated, with the respective violators being prosecuted to the fullest extent of the law.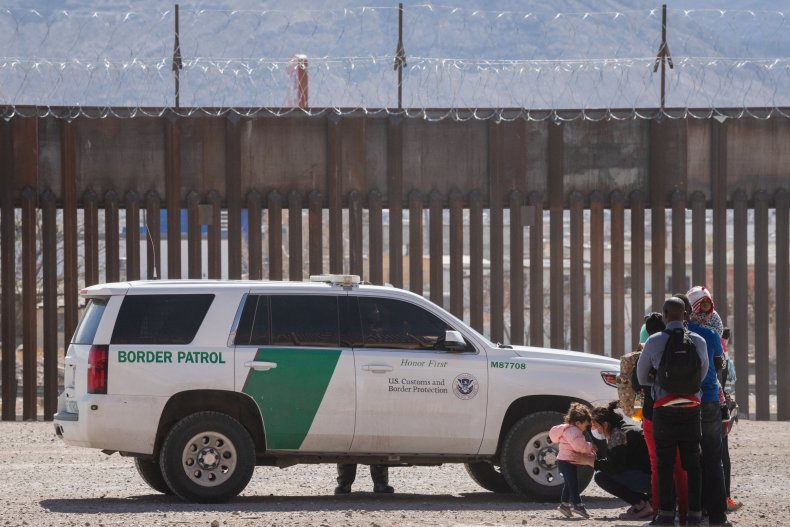 "The referenced threat is a reminder that members of transnational criminal organizations will stop at nothing to further their exploitation of those being smuggled into the United States, to include not only harming their victims, but threatening U.S. federal law enforcement officers when their illicit activities are threatened."
The CBP has credited human smuggling attempts with the "dramatic rise" agents have noted this year in efforts to rescue migrants, many of whom the CBP said in a May 2021 news release were continuing to be left in "remote and dangerous areas." The agency noted a 35 percent increase in successful rescues between May 2020 and May 2021, with more than 7,000 migrants recovered so far this year.
The border port of entry in El Paso, Texas, is one of the most hectic in the U.S., and it is just across the river from Juarez, a city that has seen an uptick in violence in recent years.
According to a June 2020 report by the Overseas Security Advisory Council, the U.S. Department of State identified Juarez as a "critical-threat location for crime directed at or affecting official U.S. government interests." Americans traveling through the area were advised to take precaution against "robbery, carjacking, theft, and burglary."