Soccer Has an Intolerance Problem? After Mexicans Yell Anti-Gay Slur, FIFA Opens Investigation
Mexican soccer fans have repeatedly drawn the ire of soccer's governing body before the 2018 World Cup even began by repeatedly shouting a homophobic chant at opposing teams' goalkeepers. On Monday, FIFA announced that it had started disciplinary proceedings after Mexico fans shouted the same chant during Sunday's match again Germany.
As German goalie Manuel Neuer prepared to take a goal kick, fans began chanting "Ehhhh…." before crescendoing with a homophobic slur when the ball was launched into the air. The term is a slang for male sex worker.
The indicted chant is widely used across Latin America. FIFA issued 51 penalties for homophobic incidents during qualifying games, but Mexico's fans were persistent offenders, leading the team to be fined during every home qualifying game before the 2018 contest and 11 times overall in qualification matches.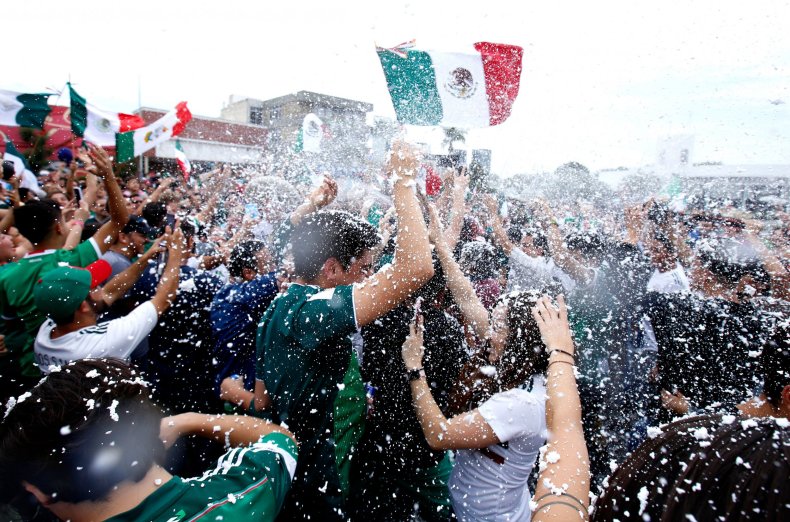 Both players on the Mexican national team and the Mexican soccer federation have asked fans to stop the chant to no avail. Fans argue that the term has no discriminatory motivation and is merely intended to create a raucous atmosphere. In November, The Court of Arbitration for Sport appeared to partially agree with this argument and negated two of the penalties levied against Mexico, deciding the chant was not intended to be offensive. But it also let the other fines stand.
FIFA did not detail what punitive measures it was taking, only saying in a statement that "Further updates will be communicated in due course. As proceedings are ongoing please understand we cannot comment further at this stage."
FIFA's tepid response to the chant at the 2014 World Cup sparked criticism, and the international federation is implementing a new policy to curb discrimination at matches in this year's competition. Personnel will be present to eject fans engaging in homophobic action from the stadium, and officials are also permitted to pause games to note and curtail discriminatory conduct.
Still, some feel the response is not strong enough and is merely intended to promote the appearance that FIFA has taken action to limit homophobia.
"I think that a lot of the hand-wringing is for show. If FIFA and/or the [Mexican federation] can plausibly say, 'Look, we're trying to stop it,' then they can quiet critics without imposing some form of sanction that has real teeth. I'm not saying that they don't care, but it isn't among the top priorities of any federation or confederation," Joshua Nadel, an assistant professor of Latin American and Caribbean History at North Carolina Central University, told The Guardian.