Republicans Warn Trump: Mexican Tariffs Will 'Seriously Jeopardize Passage' of USMCA Trade Deal
President Donald Trump's plan to impose tariffs on Mexico unless it drastically reduces the amount of illegal migration coming into the country across the U.S.-Mexico border could prevent Congress from passing a new trade agreement between the United States, Canada and Mexico, several Republicans warned Friday.
Starting June 10, Trump announced Thursday, a 5 percent tariff will be imposed on Mexican goods, increasing by 5 percent at the beginning of each month until it maxes out at 25 percent. That is, unless "Mexico substantially stops the illegal inflow of aliens coming through its territory," Trump said.
The threat came at a time when immigration officials have been experiencing a record number of illegal border crossings.
Republicans, including some of the president's loyalists, view the action as a "misuse of presidential tariff authority." They warned that, should the president follow through with his threat, it could derail the United States–Mexico–Canada Agreement (USMCA) that is intended to replace the North American Free Trade Agreement (NAFTA). The trade deal still requires approval at the congressional level for all three countries, meaning Trump still needs to win over House Speaker Nancy Pelosi before the measure can pass the House—something tariffs with Mexico won't help.
The concerned Republicans also feared that such tariffs would shift the financial burden to American consumers—as tariffs often do—and hurt the economy.
"Trade policy and border security are separate issues," Senator Chuck Grassley, the chairman of the chamber's Finance Committee, said in a statement. "This is a misuse of presidential tariff authority and counter to congressional intent. Following through on this threat would seriously jeopardize passage of USMCA."
Grassley has personally been impacted by Trump's tariffs on Chinese goods. Last week, Grassley spokesman Michael Zona said the Iowa Republican will be applying a second time for his family's farm to receive part of the $16 billion government bailout package for farmers affected by the tariffs.
Grassley went on to suggest that Trump should "consider alternatives," such as imposing fees on the billions of dollars transferred annually from immigrants working in the U.S. to family or friends in Mexico. Trump could also call for a Safe Third Country Agreement, Grassley continued, in order to require that Mexico not "simply pass the buck" to the U.S. by allowing Central American asylum seekers traveling through Mexico to reach the U.S.-Mexico border.
"I support nearly every one of President Trump's immigration policies, but this is not one of them," Grassley said. "I urge the president to consider other options."
Senator Joni Ernst, another Iowa Republican, also expressed concerns that a tariff on Mexican goods would hurt farmers. She believed the USMCA would provide some stability to the agriculture industry.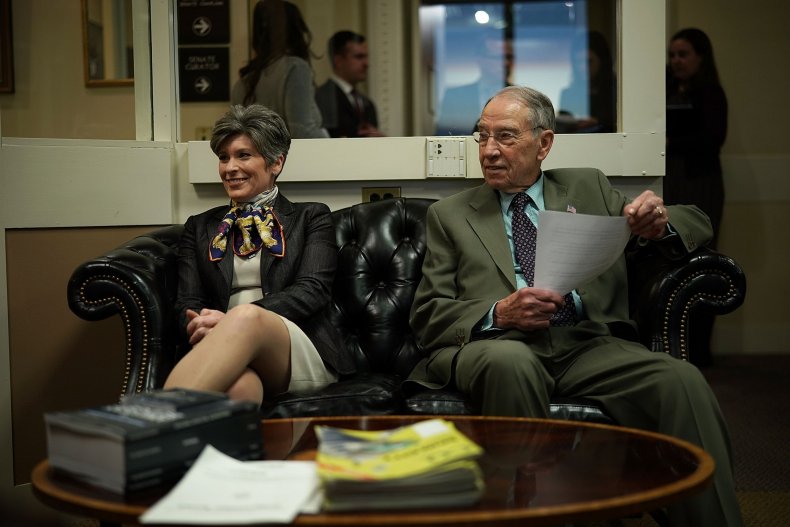 "If the president goes through with this, I'm afraid progress to get this trade agreement across the finish line will be stifled," Ernst said in a statement. "While I support the need for comprehensive border security and a permanent fix to illegal immigration, this isn't the right path forward."
Also a member of the Senate Finance Committee, GOP Senator Pat Toomey railed against potential tariffs on Mexico as "misguided" and a "blanket tax increase on everything Americans purchase." He did not, however, reference the USMCA. "It is past time Congress to step up and reassert its Constitutional responsibility on tariffs," he added in a statement.
Representative Justin Amash, the lone Republican in Congress to join a growing number of Democrats in calling for Trump's impeachment in the wake of the Mueller report, was also displeased with the tariff warning.
"How many times will Congress let the president unilaterally raise taxes on Americans?" the Michigan congressman tweeted. "All the times."
Senate Majority Leader Mitch McConnell, a Kentucky Republican, toed the line between endorsing Trump's tariff threat and condemning it. In a statement, he articulated the importance or addressing the "serious humanitarian crisis" at the southern border. But he highlighted the trade partnership that the U.S. and Mexico have shared and the role that it plays in the American economy.
"Any proposal that impacts this relationship deserves serious examination," McConnell said. "I look forward to discussing this plan in greater detail with my colleagues and the administration."
Trump alley Lindsey Graham, although a Republican senator known to disagree with Trump on certain high profile matters, came out in support of the president's plan to impose Mexican tariffs.
The president's acting chief of staff and director of the Office of Management and Budget, Mick Mulvaney, told reporters on a conference call Thursday evening that the tariffs on Mexico and the USMCA trade deal were "absolutely not linked."
"These are not tariffs as part of a trade dispute," Mulvaney said. "These are tariffs as part of an immigration problem. The USMCA is a trade matter and completely separate."
White House press secretary Sarah Sanders defended the president's sudden threat against Mexico, saying it should come as no surprise.
"We've been giving them advanced warnings for months," she told reporters Friday morning. "We've asked them repeatedly and told them they have to do more."
This story was updated to include a statement from GOP Senator Pat Toomey.