Mexico Tells Citizens to Follow 'Healthy Distance' Guidance Amid Coronavirus Outbreak—Starting Next Week
Mexico's government is asking citizens to start following a "healthy distance" guidance in response to the coronavirus outbreak starting next week, with the country's health secretary branding March 23 a "National Day of Healthy Distance."
In a statement published on social media, the office of Mexico's Health Secretary said that starting Monday the country would be asking residents to temporarily suspend all "non-essential" activities of the public, social and private sectors, starting Monday until April 19.
Speaking at a press briefing on Sunday, Dr. Hugo López-Gatell Ramírez, the undersecretary of prevention and health promotion, said the country had identified April 20 as the date when residents would likely be able to "resume normal activities."
It is unclear how the Mexican government arrived at that date, but the undersecretary suggested that the guidance would be lifted depending on how the coronavirus outbreak continues to unfold over coming weeks.
Describing non-essential activity as that which does not affect the substantive activities of an organization or the rights of its users, the Mexican government has also not said why it has chosen Monday as its start date for its "healthy distance" guidance.
The guidance comes as the number of cases in the country continues to rise, with the Mexican government stating on Monday it had reached 82 confirmed cases of COVID-19, with zero deaths.
Compared with the U.S., which has so far seen 4,661 cases, with 85 of those resulting in death, according to an online tracker maintained by the Johns Hopkins University, Mexico's numbers appear to be relatively low. However, it is also unclear how many tests are being conducted in the country per day. Newsweek has contacted the Mexican government for clarification.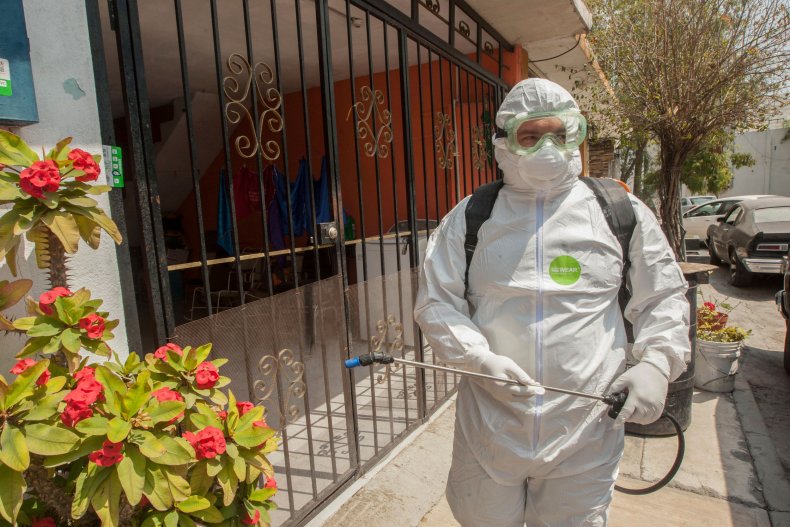 The 82 confirmed cases in Mexico do appear to represent a sharp rise from Sunday, when Ramírez said the country had identified a total of 53 cases, of which he said 60 percent were men and 40 percent were women.
The Ministry of Health, he said, had treated 68 percent of people affected by coronavirus, with their ages ranging from 19 to 73.
Ramírez said Mexican officials were working to make the "epidemic curve" as flat and unnoticeable as possible in the country.
The best way to do that, he said, would be for residents to isolate themselves if they are sick and by washing their hands frequently, in addition to greeting each other from a "healthy distance."
Mexico Tells Citizens to Follow 'Healthy Distance' Guidance Amid Coronavirus Outbreak—Starting Next Week | U.S.