Mexico Tourist Destinations Reporting Highest COVID Counts Since Start of Pandemic
Officials in Mexico have reported that the country's coastal states with high tourist counts have been seeing large numbers of COVID-19 cases.
Quintana Roo, which is on the Caribbean Sea and is home to cities like Cancun and Tulum, and Baja California Sur, which has many Pacific Ocean resorts, have shown some of the highest infection numbers since the start of the pandemic in 2020, federal government data says.
About 88 percent of Mexican adults have received their first two doses of the vaccine, with the country prepping to roll out boosters to health care workers and elderly people.
However, Baja California Sur and Quintana Roo have shown increased positive cases in the past month. In Baja California Sur, new cases reached a peak of 700 on December 29, exceeding July's peak of about 600. Also, between December 20 and 28, Quintana Roo experienced an increase of 457 cases, with its December 28 high of 484 cases approaching its recent August peak of 574.
According to state data, Baja California Sur has experienced just over 62,000 total cases since the start of the pandemic. Island Life Mexico reported similar rates in Quintana Roo.
But with the Omicron variant appearing to many health experts to be less severe than previous COVID-19 strains, President Andrés Manuel López Obrador expressed optimism Tuesday that it will not make as strong of an impact.
"This new variant (Omicron) is very contagious, but fortunately it is not requiring hospitalization, nor do we have cases of rising deaths," Obrador said.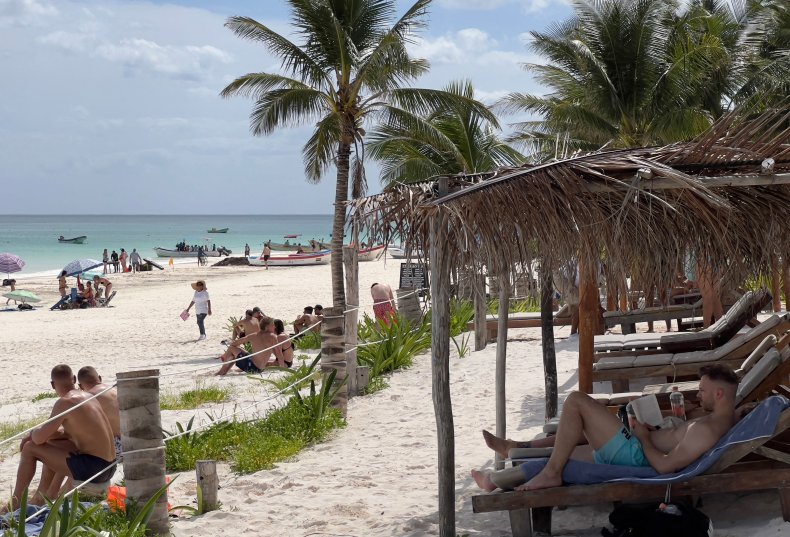 Mexico experienced its worst moments of the pandemic a year earlier when hospitals were overwhelmed and test-confirmed COVID-19 deaths were above 1,400 daily. The real numbers were surely even higher because of limited testing.
However, the summer wave that peaked in August with more than 25,000 new infections in a single day was even higher.
At no time did Mexico close its borders or require negative test results for arriving tourists. Airports did require travelers to fill out a health form and many for a time were checking temperatures. Only at the shared border with the United States was cross-border traffic limited to the essential until November.
Now, Health Secretary Jorge Alcocer said, recent studies appear to indicate that even though there are new variants, the prevalence of vaccines could begin to mitigate the most serious effects of the virus. He emphasized that that was still just a hypothesis.
"We are not as worried as before because most people are vaccinated," said Arturo González Ledesma a doctor at Ajusco Medio Hospital in Mexico City, which has specialized in COVID-19 patients since the start of the pandemic. "Only in the unvaccinated do you see the face of terror."
González encouraged people to remain careful. "We shouldn't say we're going to come out of it yet."
The increase in infections led a dozen states of Mexico's 32 to delay the return to classes after the holidays. While many of the country's students returned to school Monday, those other states, including Quintana Roo and Baja California Sur, delayed the start to January 17.
Meanwhile, local governments are once again stepping up their testing efforts. Mexico City announced Tuesday that it was expanding testing hours at health centers and re-opening testing kiosks around the city in an effort to double capacity to about 23,400 tests daily.
In addition to Mexico City, other major population centers including Mexico state, which contains many of the capital's suburbs, as well as Guadalajara and Monterrey are also seeing rising infections.
Mexico is nearing 300,000 test-confirmed COVID-19 deaths, though the real number of COVID-19 deaths is closer to 450,000, according to the government.
The Associated Press contributed to this report