Playa del Carmen: Mexico Travel Alert Issued by U.S.
Update | A security threat has closed the U.S. consular agency by a major tourist hotspot in Mexico and officials have been told to keep away following a recent explosion aboard a ferry nearby.
The U.S. Embassy in Mexico took the decision to close services in coastal resort town Playa del Carmen on Wednesday night, issuing a statement on the alert that did not specifically state what the threat was.
The move comes after the ferry that links the coastal town with Caribbean island Cozumel suffered two alarming incidents in recent weeks. While disembarking nearby, a ferry suffered a non-fatal explosion in February, while an explosive device was found on another ferry the following week. Both incidents are under investigation.
Related: After 500 years, researchers think they can finally solve the mystery of a legendary sunken warship
At the time, the embassy only barred employees from taking the ferry. Neither representatives in Mexico City, nor the State Department, elaborated much further on why the new measures were taken.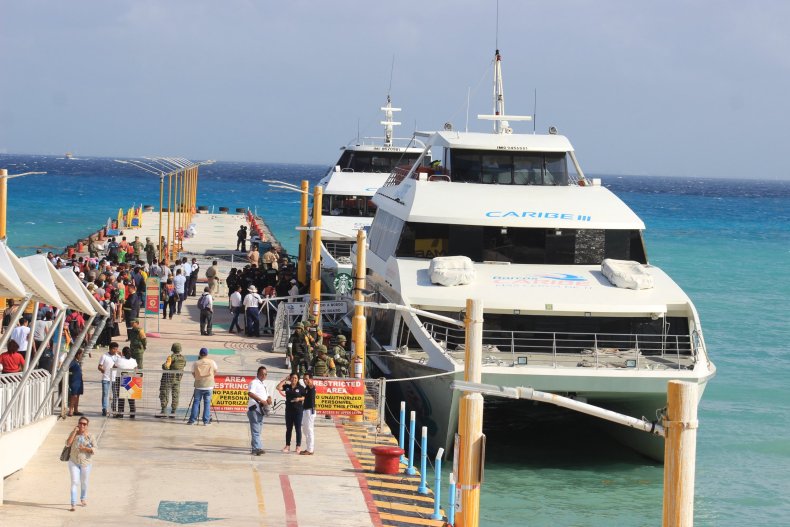 "We take our obligation to provide information to U.S. citizens seriously as evidenced by the clear, timely and reliable safety and security information we release worldwide," State Department spokeswoman Heather Nauert told ABC News when asked about the new alert in Playa del Carmen. She assured the department would provide "important updates when information becomes available" but personnel must keep away "until further notice."
The blast aboard the Caribbean ferry last month injured 25 people, two of which were American and three Canadian. The reason for this explosion and the planting of another device earlier this month are still unclear.
The regional head of Quintana Roo—the state Playa del Carmen is part of—played down the security risks, issuing a statement that said local officials do not know why the U.S. barred staffers from coming and underlined that the area is still well attended by tourists. The regional government also stressed the safety of the destination, noting that Mexico's President Enrique Pena Nieto was scheduled to visit when he attends an ocean conservation conference at Playa del Carmen on Thursday, the Associated Press reported.
"Police forces are working day and night to maintain the calmness of the residents and visitors of Quintana Roo," the statement by state governor Carlos Joaquín said, according to the El Universal newspaper.
This story has been updated to include the latest statement from the Mexican government.