Mexico vs. Sweden: Betting Odds, Expert Predictions for Key World Cup Match
Mexico and Sweden are scheduled to face off in an important World Cup match on Wednesday.
Despite winning its first two matches, Mexico is not guaranteed to advance past the group stage heading into its match against Sweden. If Mexico manages a win or a draw, they'll win Group F. If they lose, then it might come down to goal differential to determine which squads—among Germany, Sweden and Mexico—advance past the group stage. Clearly, there's a lot on the line.
"Against Sweden, it will be very intense," Mexican defender Miguel Layun said, according to the Los Angeles Times. "If they score first, they know how to defend. Hopefully, we can be the ones who score first."
Data-focused website FiveThirtyEight gave Mexico a 72 percent chance of making the Round of 16, while Sweden was given just a 40 percent chance. Germany had an 87 percent chance. Odds Shark had Mexico's odds in the match at +118 and Sweden's at +240. It also had the odds of a draw at +230, which is a result Mexico would, of course, be happy to have.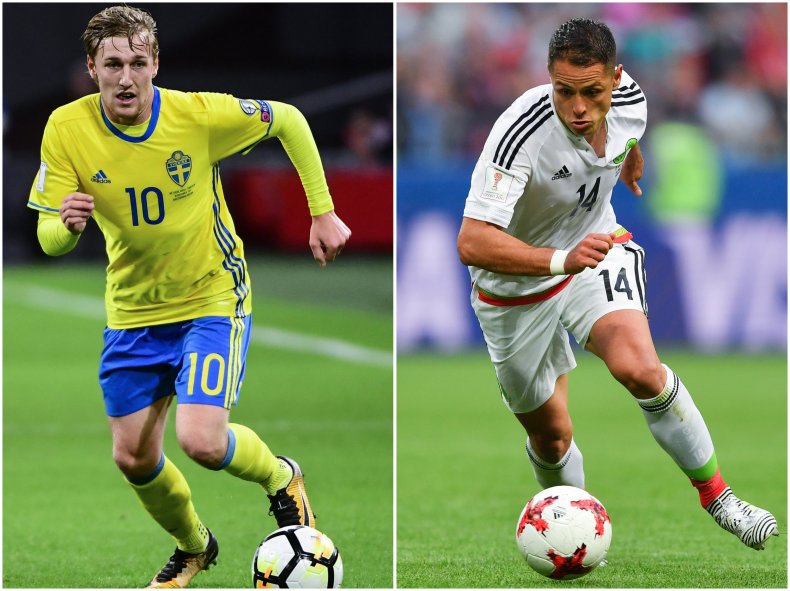 It has been a magical run for Mexico thus far. They stunned the defending-champion Germans, beating them 1-0, and then defeated South Korea 2-1. Mexico's manager Juan Carlos Osorio said the squad had no plans to play for a draw against Sweden. It would stick to the style that has worked well in perhaps the tournament's toughest group.
"I think that won't change. We're going to go out there to try and secure the three points," Osorio told reporters about being the favorites in the match, via ESPN. "That might be a factor but it's not the most important thing. That will not have an impact on our style of play and our strategy."
The experts seem to think Mexico has a decent shot at earning a good result. BBC Sport's Mark Lawrenson predicted a 1-0 for "El Tri." The Telegraph predicted a 2-2 draw. Sports Illustrated's Planet Fútbol predicted a 1-1 draw.