Mexico Will Use National Guard To Apprehend Migrants As Part of Deal To Avoid U.S. Tariffs
"I am pleased to inform you that the United States of America has reached a signed agreement with Mexico. The tariffs scheduled to be implemented by the U.S. on Monday, against Mexico, are hereby indefinitely suspended," Trump wrote in a tweet. "Mexico, in turn, has agreed to take strong measures to stem the tide of migration through Mexico, and to our southern border. This is being done to greatly reduce, or eliminate, illegal immigration coming from Mexico and into the United States. Details of the agreement will be released shortly by the State Department. Thank you!"
Newsweek subscription offers >
The tariffs, announced by the Trump administration last week after weeks of threats from the president to implement them, would have imposed a 5 percent tax on goods imported from Mexico. The rate would have increased every month until the tariff reached 25 percent.
According to the agreement, Mexico will deploy its National Guard throughout the country to apprehend migrants, "giving priority to its southern border" with Guatemala a statement from the U.S. State Department said.
"Mexico is also taking decisive action to dismantle human smuggling and trafficking organizations as well as their illicit financial and transportation networks," the statement said.
The agreement also allows the U.S. to install its Migrant Protection Protocols across the southern border, a policy that requires asylum seekers to wait for their claims to be processed in Mexico rather than in the U.S. The policy will mean that anyone caught entering the U.S. illegally will be obtained by border agents and returned to Mexico.
Newsweek subscription offers >
"In response, Mexico will authorize the entrance of all of those individuals for humanitarian reasons, in compliance with its international obligations, while they await the adjudication of their asylum claims. Mexico will also offer jobs, healthcare and education according to its principles," the statement reads.
According to a report from the Los Angeles Times, there are 870,000 asylum claims currently pending with an average wait of 736 days. Statistics from the Justice Department, cited by the Times, indicate that only 20 percent of those who file claims are granted permanent residency in the U.S.
U.S. Customs and Border Patrol apprehended 144,278 people along the southern border in May, shattering April's intake of migrants with a 32 percent increase. However, the number is far lower than the all-time high in March 2000 when over 220,000 migrants were apprehended.
However, at that time, most of the migrants were adult males who could be deported with more ease than groups of families who are crossing into the U.S. with their children. Of those apprehended in May, 84,542 were classified as family units by CBP while 36,838 were identified as single adults and 11,507 unaccompanied minors.
A June 5 report from The Washington Post indicated that there are over 19,000 migrants in border patrol custody, meaning overcrowded and often unsanitary conditions in shelters and other CBP locations currently housing immigrants.
"We are in a full-blown emergency, and I cannot say this stronger: the system is broken," acting CBP Commissioner John Sanders told the Post, saying agents have apprehended over 680,000 migrants in the past eight months, more than the population of Miami.
Some lawmakers had warned Trump against implementing tariffs against Mexico, with some suggesting that Congress enact measures to block them. However, shortly after the president's announcement, several Republicans applauded the deal, including some who had publicly rebuked Trump for announcing the tariffs.
According to the State Department release, Mexico and the U.S. "will take further actions" if the actions outlined in the deal do not produce the desired results.
"The United States and Mexico will continue their discussions on the terms of additional understandings to address irregular migrant flows and asylum issues, to be completed and announced within 90 days, if necessary," the statement said.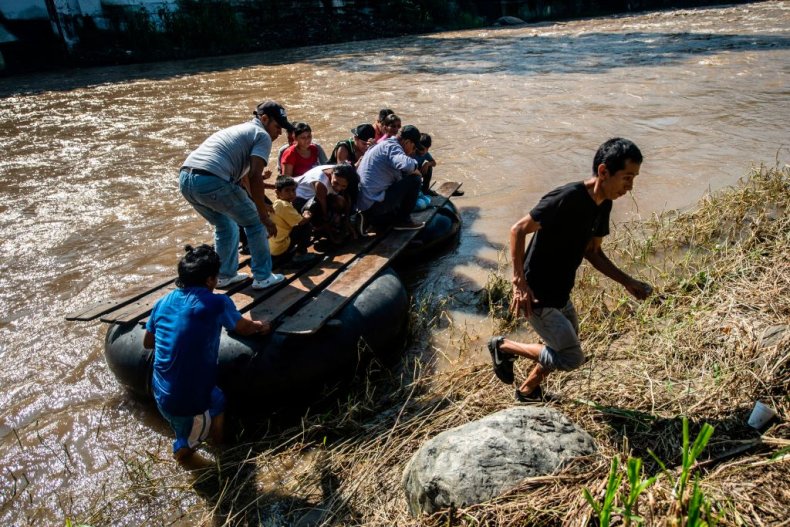 Mexico Will Use National Guard To Apprehend Migrants As Part of Deal To Avoid U.S. Tariffs | U.S.