Mexico to Witness 'Day Without Women' As Thousands of Workers Expected to Strike Over Gender Violence
Mexico could be set to learn what a "day without women" might look like on Monday, with thousands of women expected to take part in a nationwide strike protesting growing rates of gender violence across the country.
Officially branded "Un Día Sin Nosotras," or "a day without us," the planned strike comes after an unprecedented number of demonstrators took to the streets on Sunday—International Women's Day—to protest the rise in femicides in Mexico.
According to government data, femicides in Mexico have surged 137 percent over the past five years, with many violent murders going unsolved.
Last year alone, the country saw a record 3,825 women violently killed, representing a 7 percent rise since 2018.
With 3,825 deaths roughly working out to 10 women being killed each day, Mexico's National Citizen Observatory on Femicide said in a statement translated from Spanish that "the viciousness, hatred and brutality with which 10 men kill 10 women a day" is evidence that allowing women to be killed, "to leave sons and daughters in orphanhood and entire families destroyed" has become permissible in the country.
Meanwhile, thousands of women have gone missing in recent years, with their families left to fear the worst and many unlikely to receive closure.
"In Mexico it's like we're in a state of war," María de la Luz Estrada, the coordinator of the National Citizen's Observatory of Femicide, told The Associated Press. "We're in a humanitarian crisis because of the quantity of women that have disappeared or been killed."
Outrage over Mexico's rising rate of femicide grew in February, following the grisly murders of a 25-year-old woman and a 7-year-old girl.
Ingrid Escamilla, 25, was stabbed, skinned and disemboweled in a brutal killing that shocked the nation, while Fátima Cecilia Aldrighett, 7, was abducted from her school, with her body later being found wrapped up in a plastic bag, according to reporting from The New York Times.
On Sunday, Women's Day protesters in Mexico City reportedly tinted the water of a fountain dedicated to the Roman goddess Diana red to represent the blood of victims of gender-based violence.
According to AP, at least 80,000 demonstrators participated in the march in Mexico City alone, with smaller protests taking place in other cities and towns throughout the country.
It is unclear whether the numbers of workers striking on Monday will parallel the numbers seen over the weekend.
Mexican President Andrés Manuel López Obrador has said that government employees should feel free to participate in the strike without fear of retribution.
However, he has also accused political rivals of using Mexico's rising rates of crime against women to erode support for his administration.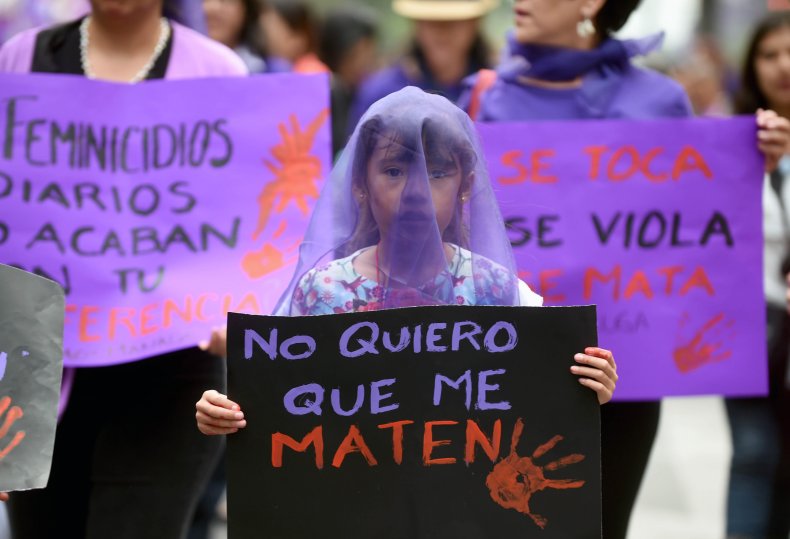 Women in Mexico, however, will not be alone in demanding change from their government on Monday.
Women in Argentina and Chile have staged similar strikes in previous years and are expected to do so again.
For those on strike, it will mean refusing to show up at school, government or other workplace offices on Monday. However, many have also committed to refusing to participate in the country's economy generally, to give a clearer picture of what a world without women is like.
Natalia Olalde, an 18-year-old university student, told AP that she would be joining the thousands of women participating in the strike. "That means no going out, not even for a coffee," she said.
Newsweek has contacted Mexico's government and the National Citizen's Observatory of Femicide for comment.