In Mexico's Drug War, Generals May Stand Down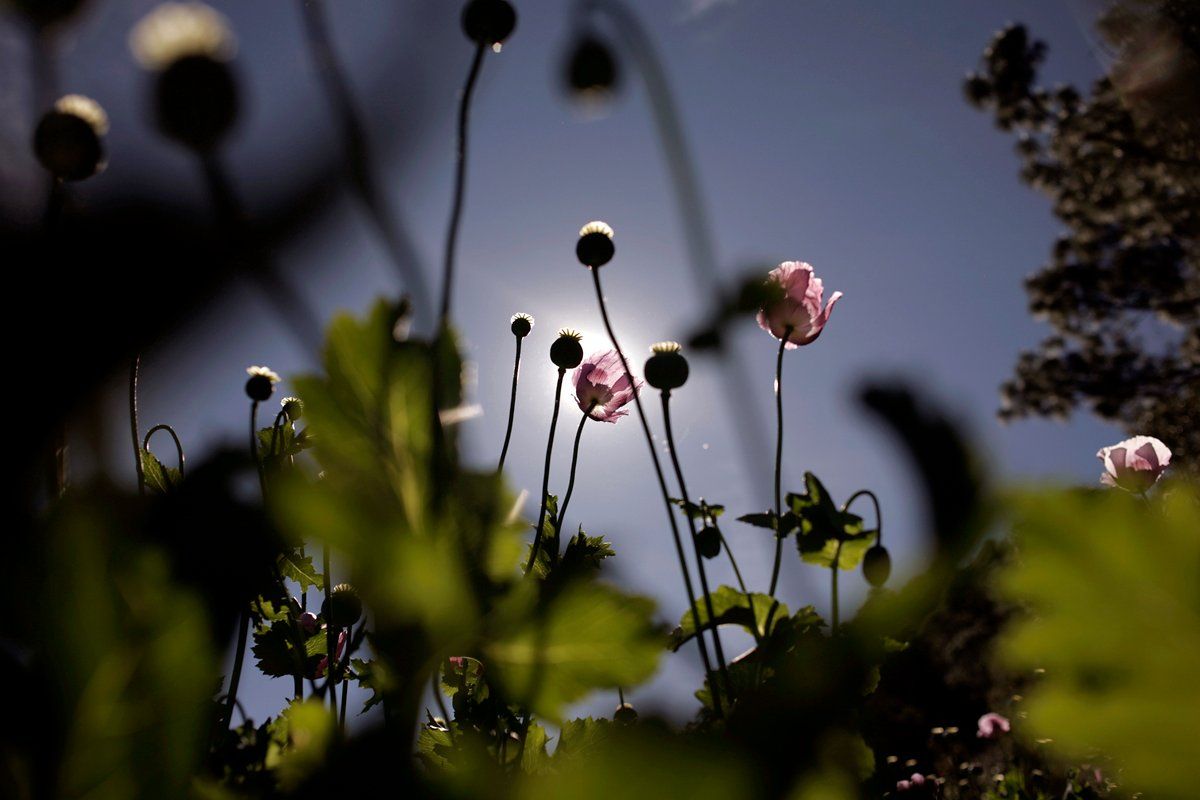 "Never did I make a pact. Never!" Gen. Rolando Eugenio Hidalgo Eddy slams his fist on the desk in his office in Aguascalientes, a city in central Mexico where he is acting police chief. For two years during Felipe Calderón's presidency, General Eddy was in charge of antidrug operations in the northwestern state of Sinaloa—long a haven for Mexico's drug producers. He was also in charge of the hunt for Joaquín "Chapo" Guzmán, the world's most powerful drug trafficker and the head of the Sinaloa cartel. General Eddy failed to catch Guzmán, and allegations abound that a deal may have been made. He denies this, but he's not so certain about his counterparts. "Others," he says, quietly. "I don't know."
After six years in office, Calderón is ready to step down in December, and the 50,000 people who have died during his drug war in Mexico continue to dominate the headlines. But a less-publicized and equally important story is that of the military generals spearheading the fight, the men who have led the charge against the ruthless, well-armed narcos who seem hellbent on reducing Mexico to a failed state. These are the men who have worked alongside the DEA and the U.S. military, the men who are responsible for drug seizures and arrests, and unfortunately, human-rights violations. These are the men to whom Mexicans repeatedly turn for security, then lambast when the situation fails to improve. Ahead of the July presidential elections, the public and all three of the leading candidates are calling for the Army to return to its barracks, and to push through police reforms that would enable some 50,000 soldiers to take a backseat role in the drug fight.
The Mexican military remains the nation's most trusted institution, yet many in the country remain wary of an overly militarized state. And few are too naive to believe corruption doesn't continue to run deep within its veins. There's a famous scene from the movie Traffic in which the newly appointed U.S. drug czar (played by Michael Douglas) asks an aide who his counterpart in Mexico is. As it turns out, he's a drug lord, a character based on the very real Gen. José Gutiérrez Rebollo, the nation's top drug-enforcement official until 1997, when he was given a 71-year sentence for links to the Juárez cartel.
The arrest of Gutiérrez Rebollo remains a sore spot in U.S.-Mexican counter-drug relations. But things have improved. As President Calderón's right-hand man in the war on organized crime, Defense Secretary Gen. Guillermo Galván Galván has sought to root out corruption, at one point even suggesting it be treated as treason, punishable by the death penalty. And there are clearly tangible results in the nearly six-year campaign against the narcos– 22 of the 37 most-wanted narcos have been caught or killed, and more than 200,000 acres of marijuana crop have been destroyed. Yet what is effectively Mexico's longest war has taken its toll. There is no doubt that the generals are tired; when I met Gen. Noe Sandoval Alcazar in his office in the military base on the outskirts of Culiacán in the summer of 2008, he looked weary. He had been fighting the drug war for 42 years, and had been in charge of the lawless, mountainous state of Sinaloa for more than six months. In that June alone, 143 people had been murdered.
"We're just trying to put them in jail," General Sandoval said. "They're killing, decapitating each other. The other day, a [drug trafficker] was found decapitated, with a pig's head where his should have been."
At 62, with gray hair, glasses, and a gait that's anything but brisk, the general was practically on his last legs. On countless occasions, he had ordered troops to clean up corrupt police forces, ordered raids on narco safe houses, and overseen the destruction of marijuana and opium plantations. He had seen them spring up again. He had not seen much of a decrease in drug production or consumption north of the border; young Mexican men and women lured into the drug trade continued to die by the thousands each year.
Since Mexico's military first became involved in the drug war in 1948, the only real effect on the drug trade was that the gomeros—drug farmers—would better conceal their marijuana and poppy plantations. In the 1970s the military took on the Sinaloa drug trade, but failed to catch a single high-ranking narco. In 2004 then-president Vicente Fox sent troops to the embattled city of Nuevo Laredo, and with the DEA's help, Mexico managed to catch some major drug lords, but it wasn't until Calderón took office that using the full force of the military was even contemplated.
On the wall near General Sandoval, a map of Sinaloa and the surrounding region was plastered with pins of various colors, like a voodoo doll. But this doll wasn't near dead. The red pins indicated major seizures—poppy and marijuana fields, clandestine airstrips and ranches—while blue, green, and yellow pins denoted suspected targets that had yet to be hit. The reds were far outnumbered, and General Sandoval knew it. "We have a lot to do," he muttered.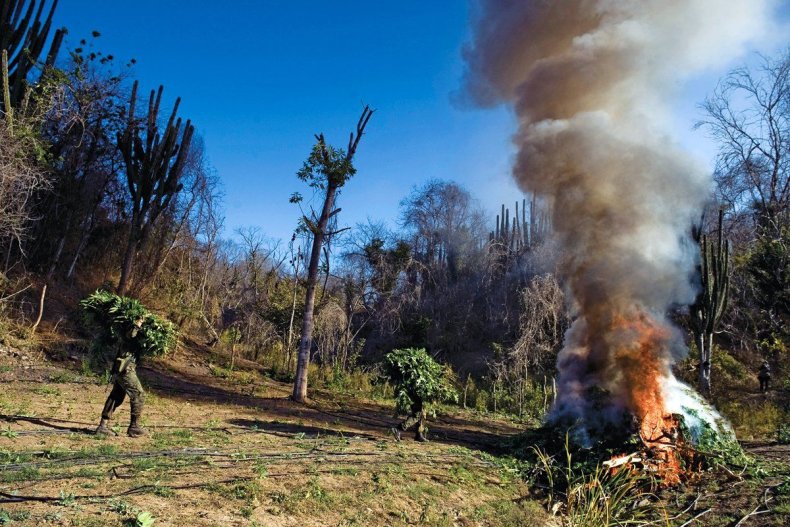 Mexico's generals are both heroes and enemies in their country. Some were in power during the 1970s and 1980s, when disappearances of left-wing political activists were attributed to the military. Some have overseen hurricane rescue efforts and built bridges and roads in impoverished areas. When soldiers arrive to secure a crime-ridden city or rural locale, they are usually cheered and greeted with open arms.
Within weeks, the criticism inevitably mounts. Their checkpoints put drivers in jeopardy, jittery locals claim. They abuse their power, others say. Local police, angered at being viewed as inept or corrupt, or simply fearful that helping the soldiers will put them in danger, sometimes refuse to cooperate. "We can do our job," one Ciudad Juárez beat cop, Felipe, told me when the military arrived in his border city. (A father of four, Felipe asked that only his first name be used.) He didn't think the Army was helpful. "We have to watch out. Our families worry because of the soldiers and organized crime," he said. "They put our lives on the line. There is no coordination, just friction."
The complaints about the Army go beyond friction. Mexico's Human Rights Commission has put increasing pressure on the Mexican Defense Department to investigate allegations of abuse against civilians by the military in places like Ciudad Juárez. Allegations that the soldiers have committed abuses against the police abound too.
"[The soldiers] broke [the cops'] noses, and tortured them with electric shocks," said one Ciudad Juárez police officer, requesting anonymity because he wasn't authorized to speak on the matter. "They don't want to work with us."
Too often in Mexico's drug war, the people rally behind the narcos, whom they see as rebels or sometimes even patrons of their society, rather than the generals and their troops. Propaganda disseminated by narcos only adds to the fog of war and instills distrust in the military.
Eating a breakfast of croissants, coffee, and fruit on a terrace outside his office in Aguascalientes, General Eddy shrugs off the daily barrage of allegations and threats he faced while hunting down Guzmán. The narcos accused him of being in league with Los Zetas, a notorious cartel composed of former military officers; others accused him of protecting Guzmán. Then, on one occasion, residents from the mountains were shepherded down to Culiacán to protest his heavy-handed crackdown.
Back inside the general's office, his aides laugh; everyone knew the general was a straight arrow and a tough nut—especially the narcos. General Eddy slides a CD into his office computer. It's a narco-corrido, or drug ballad, written in his honor. Normally such songs are written about fallen drug lords, or reigning ones like Guzmán. This one is a somewhat snarky tribute to General Eddy. The lyrics speak of "a short general with a long rifle."
General Eddy grins.
"Several times, we were within 10 or 20 minutes of catching [Guzmán]," he says, looking out from behind his desk.
But it nearly cost him his life. After General Eddy led a raid that resulted in the arrest of one of Guzmán's nephews in 2006, a group of drug traffickers drove by the military barracks in Culiacán, where the general was stationed. They threw a corpse out of the car. It was accompanied by a note: Back off, General Eddy, it warned.
When General Eddy left his post in 2007 to take up policing operations in Aguascalientes, the local press had a field day. "Chapo wins, the war is over and Gen. Hidalgo Eddy is gone," read one headline. The war, of course, wasn't over, but General Eddy, now 67 years old but without a hint of having lost his spark, has moved on.
Not everyone has been so lucky. In April, Mario Acosta Chaparro—a retired general who was allegedly responsible for some of the dirtiest deeds of Mexico's dirty wars, and in 2000 was charged with protecting a drug lord (he was released in 2007 due to insufficient evidence) was shot three times in the head in a garage in Mexico City. It's unclear who killed him or why, but according to reports published by the Mexican newsmagazine Proceso and confirmed by one Mexican intelligence official who could not be named because he wasn't authorized to speak on the subject, in early 2008, just before he retired, Gen. Acosta Chaparro had been deployed by a high-ranking Calderón administration official as an envoy to discuss the possibility of a peace agreement with Guzmán.
Such is the life of a Mexican general in the drug war; their list of enemies is endless. And they don't know who to trust. Those who stay clean and manage to avoid the temptations of corruption constantly toe a fine line as pillars of the community they police. They are ridiculed when their soldiers scramble to the wrong address after a shootout because they don't know the city streets as well as the cops; they are lauded by young boys (sometimes, their sons) in the streets after returning from successful patrols. They are transferred regularly in an effort to keep them clean and alert; their hands are (often rightly) tied by local human-rights commissions.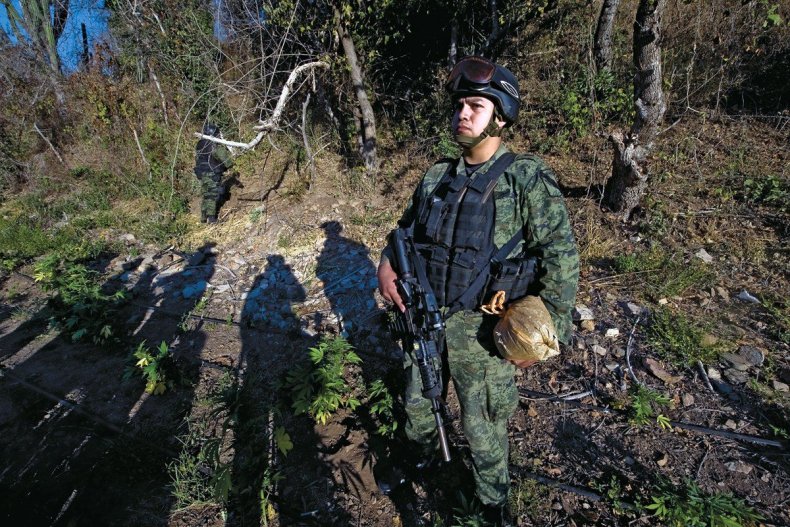 To its credit, the Calderón administration almost made it through six years without a general being arrested. Almost. In February 2012, retired Gen. Juan Manuel Barragan Espinosa was arrested for alleged links to organized crime in the northeastern state of Tamaulipas, and his subordinate Gen. Manuel Moreno Avina was detained for allegedly ordering soldiers to torture and murder at least 10 civilians; they also allegedly trafficked in drugs. In May another three generals were detained for alleged links to the cartels. (All deny the charges.)
Despite the carnage and corruption, the drug war grinds on, as does U.S. and Mexican military cooperation. Though long fraught with tension over strategy and integrity, this relationship is unlikely to slow regardless of the July election results. There are now two advisory compounds staffed by U.S. and Mexican military officers in Mexico City, and repeated visits have been made by leading U.S. military commanders. Last year, the Pentagon began deploying drones over Mexican airspace to gather intelligence on drug traffickers, with Mexico's permission.
As the pressure mounts for Mexico to gain the upper hand in the drug war, and military assistance continues, the question of human rights is also coming to the fore. The U.S. State Department has urged that the remainder of a $1.4 billion assistance package be contingent on improvements on the human-rights front. But Mexico has been slow to install civilian trials for alleged military infractions, and in the eyes of many critics, some military units have shown a blatant disregard for human rights altogether. The military has admitted to being responsible for more than 2,000 enemy combatant deaths, and of the 5,972 complaints brought against the military by Mexico's human-rights commission, less than 100 have been acted upon.
"Human rights are stupid," one former general, Joaquin Morales Ojeda, told me last year in a coffee shop in Mexico City.
In some ways, it's understandable that the Mexican military is ignoring human rights and focusing instead on taking down their enemy, not to mention survival. More than 130 Mexican soldiers have died since 2006; nearly 800 have been seriously injured. Gen. Galván Galván has lost at least one active general. In November 2008 he met with Gen. Jorge Alberto Cardenas Canton, the head of the X Region Militar in Yucatán, to pressure him to do more in the fight against organized crime. A week after the meeting, General Cardenas Canton wrote a letter, saying: "I can't continue, I can't do anything more." Then he shot himself in the head.
The pressures weigh on soldiers too. Donning ski masks to protect their identity, they routinely face fire from AK-47s and sometimes even encounter IEDs and rocket-propelled grenades. In hotspots like Culiacán and Ciudad Juárez, soldiers are not allowed off base during their downtime due to the risks. When a platoon of Mexican marines killed drug lord Arturo Beltrán Leyva in December 2009, the narcos retaliated by killing a marine's mother, sister, brother, and aunt. The gloves are off, so to speak. But every time a Mexican soldier commits an infraction, and every time the military refuses to try a case in civilian court, public trust erodes. As does the confidence of the generals themselves.
As Calderón's tenure comes to an end and the election candidates consider withdrawing the Army from the streets, General Eddy looks back on what he has accomplished—and admittedly, failed to achieve. In Aguascalientes, he's planning for the future, one which will hopefully see his soldiers back in the barracks—and a trustworthy police force trained by them—out in the streets. He failed to catch Guzmán, he knows that, but then again, that was never his No. 1 priority.
"Staying alive," he says, "was always my biggest challenge."
Malcolm Beith is a former Newsweek editor and the author of two books on the Mexican drug war: The Last Narco (Grove Press, 2010) and Hasta El Ultimo Día (Ediciones B, Mexico, 2012).