Andrés Manuel López Obrador, Mexico's president-elect, will create a border police force to stem the flow of undocumented immigrants, weapons and drugs coming into his country from Central America.
The creation of a border patrol will be accompanied by efforts to spur regional development, future chief of public security Alfonso Durazo said, according to Bloomberg. Durazo said that Obrador's government intends to mitigate underlying issues fueling the flow of migrants through Mexico.
"We're going to create a border force that will be highly specialized. They need to apply the law," Durazo said. He also indicated that the border agents would be deployed at the northern border, Bloomberg reported.
López Obrador's announcement signals a new initiative to create a coordinated unit devoted to policing Mexico's national boundaries. The country previously used police and army personnel to patrol its southern border, according to Quartz.
The number of immigrants seeking to reach the U.S. is significantly below historical peaks. So far this year, 286,290 apprehensions have taken place along the U.S.-Mexico border, government data show.
The Migration Policy Institute reported that "since the mid-1950s, political instability, insecurity, and economic hardship in the Northern Triangle [El Salvador, Guatemala and Honduras] due to civil wars, political conflicts, gang- and drug-related violence, and natural disasters such as hurricanes and earthquakes have spurred migration northward."
López Obrador criticized President Donald Trump with fiery rhetoric during his presidential campaign, but his statements on migration policy seem to align with the U.S. leader's desires. Trump wants to stop migrants from crossing into the U.S., and the Republican has repeatedly pushed outgoing Mexican President Enrique Peña Nieto to strengthen border policy and prevent undocumented migration.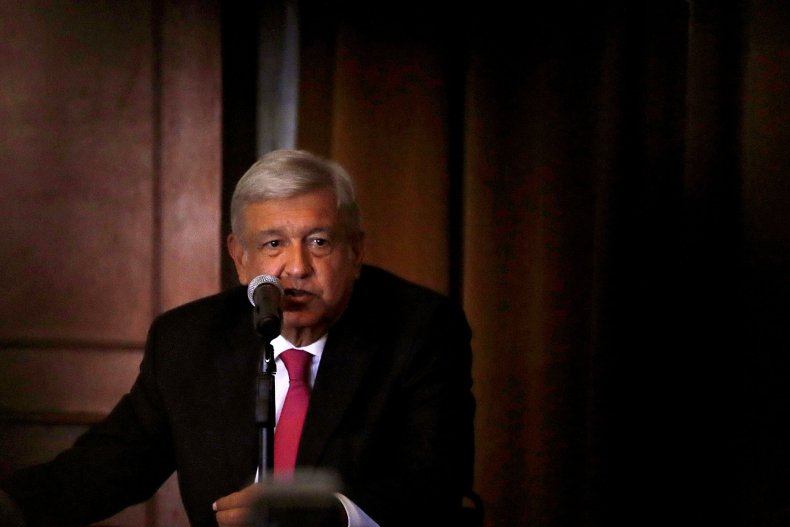 López Obrador also announced on Wednesday that he would be canceling the purchase of eight military helicopters in an effort to save money. Mexico had arranged to pay $1.36 billion for MH-60R Seahawk multimission helicopters that would be used by the country's navy to conduct operations against criminal organizations. The deal was reached in April.
"This purchase is going to be canceled because we cannot make this expenditure," the president-elect told reporters on Wednesday.
The decision to cut costs aligns with López Obrador's broader policy priorities. On Wednesday, the leftist leader outlined his legislative objectives, including plans to decrease payments for highly paid public officials, cut his own salary and fight corruption.
"Everything to do with the Republican austerity plan and fighting corruption will have priority from the day of the new Congress," López Obrador said.