Mexico's President-Elect Offers Migration Reduction in Call With Trump
Mexican President-elect Andrés Manuel López Obrador said he had offered to decrease the number of immigrants entering the United States in exchange for assistance while speaking with U.S. President Donald Trump.
"I received a phone call from Donald Trump and we spoke for half an hour. I proposed exploring a universal deal (involving) development projects that would create jobs in Mexico and, by doing so, reduce migration and improve security. The tone was respectful and our teams will be holding talks," López Obrador tweeted.
Trump similarly praised the phone conversation in an Oval Office briefing, Agence France-Presse reported. "I just spoke with the president-elect of Mexico. I think the relationship is going to be a very good one. We had a great talk," he told journalists.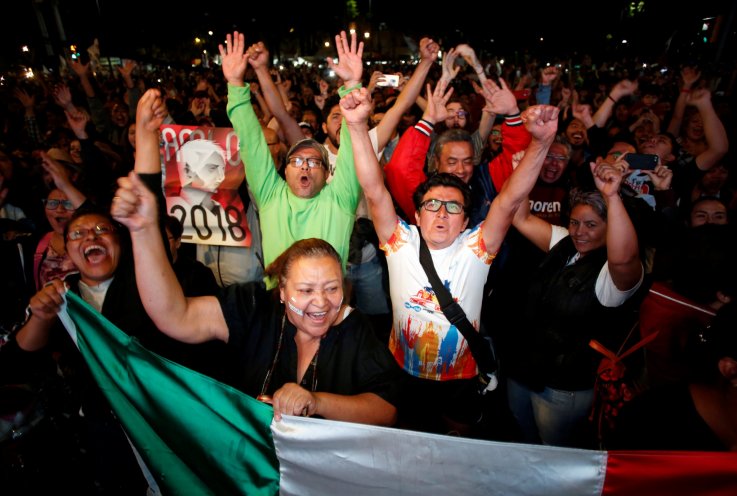 López Obrador's conciliatory tone comes after a fiery rhetoric on the campaign trail. "Without being disrespectful, we're going to put him in his place," the left-leaning president-elect said about Trump in April.
The start of their relationship has been more measured, as López Obrador has promoted a dynamic of mutual courtesy. "We are never going to disrespect the U.S. government, because we want them to respect us. At the appropriate moment, we are going to get in touch, to reach an understanding," the president-elect said in an interview with Mexico's Televisa news network on Monday, Politico reported.
But diverging views on border policy and NAFTA, which have led to fraught disagreements between the Mexico and the U.S. under Trump's leadership, could cause tensions between Trump and López Obrador.
"This great threat on the southern border of the United States that he says is there does not exist," López Obrador said at a spring campaign event. "This anti-Mexican policy has worked politically because unfortunately there are conservative sectors in the United States with little information, and he knows how to awaken an anti-Mexican sentiment," he said at another event.
Trump has repeatedly said he wants to renegotiate NAFTA. Discussions between the U.S., Canada and Mexico about the agreement have proved fruitless, increasing tensions between the three countries.
López Obrador said on Monday he wanted an agreement on NAFTA that benefited Mexico, as his representatives would be joining current talks about the treaty. "We're going to accompany the current government in this negotiation, we're going to be very respectful, and we're going to support the signing of the agreement," he said.
Despite this commitment, some expressed skepticism that any deal could be reached while the governmental transition occurs in Mexico. "I don't see how [Canadian Prime Minister Justin Trudeau is] going to be able to find an agreement that's going to be acceptable to, now, a left-wing populist, a right-wing populist and our country who is claiming hurt feelings as a basis for negotiations. I think NAFTA is dormant for the next six to 12 months," an economist told CBC News.
Mexico's President-Elect Offers Migration Reduction in Call With Trump | World