Mexico's President Has No Interest in Bailing Out Big Companies and Banks, Says the Poor Must Be Rescued
Mexican President Andrés Manuel López Obrador has ruled out the idea of bailing out big companies and banks as the coronavirus pandemic takes its toll on his country, arguing that the government must instead focus on supporting the poor.
While Mexico thus far has only 367 confirmed cases of coronavirus, the country is already feeling the economic impact of the global pandemic. López Obrador discussed this publicly on Monday, saying his government's efforts to address the crisis would focus on supporting the economically disadvantaged, not wealthy businesses.
"If we have to rescue someone, who do we have to rescue? The poor," the Mexican president said, Reuters reported. He said he would reveal more specific details about his government's plan on Tuesday.
"No more rescues in the style of the neoliberal period, that provided for banks, big companies. They shouldn't even be thinking that there will be tax forgiveness or other mechanisms that were used before," López Obrador said.
Later, he posted an optimistic message to Twitter. "We will move forward. We have the strength of our people, sufficient public finances, and the knowledge of our health specialists," the president wrote.
Meanwhile, north of the border in the U.S., Democrats have accused Republicans of pushing for a coronavirus economic stimulus plan that benefits businesses and corporations over workers. Democrats have argued that any economic assistance to companies should come with stipulations that they should be barred from using the funds to buy back stocks. Instead, they want the companies to be required to use the funds to keep employees on payroll as the economic crisis unfolds.
"Why wouldn't it be better for our national economy if, instead of buying back stock, corporations paid all of their workers better wages and provided good benefits? Why should a company whose pension program is underfunded be able to buy back stock before shoring up the pension fund?" Democratic Senate Minority Leader Chuck Schumer and presidential candidate Bernie Sanders wrote Monday in a New York Times opinion piece.
Although Mexico's president may be drawing praise for siding with the economically disadvantaged over banks and businesses, he has also drawn criticism for downplaying the threat of the pandemic.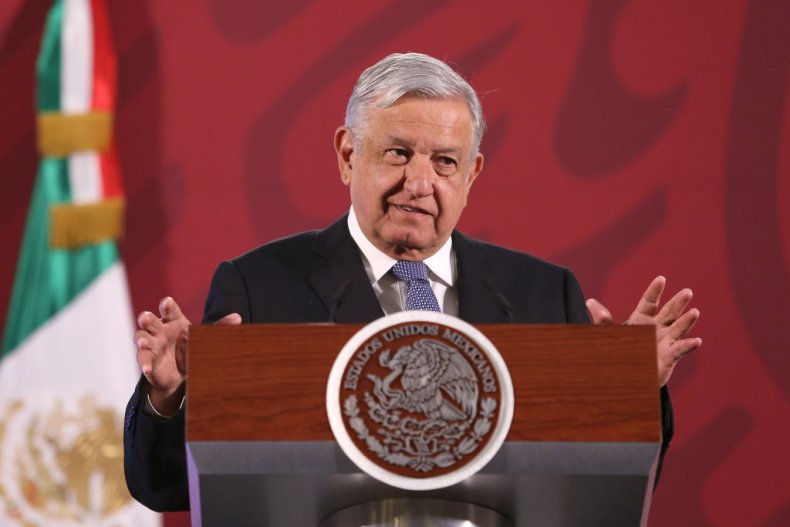 "Don't stop going out—we're still only in phase one," López Obrador said in a Sunday video message. "If you have the means to do it, continue taking your family out to restaurants and diners. That's what will strengthen the economy."
The advice from the Mexican leader goes against the stringent social-distancing steps governments around the world have taken to counter the virus's spread. Many countries, as well as states and municipalities in the U.S., have shuttered all nonessential businesses and encouraged, or ordered, residents to remain in their homes in an effort to prevent the outbreak from growing.