Mexico's President Says Biden's Promise of Better Treatment for Migrants Causing Border Surge
Mexican President Andrés Manuel López Obrador, the left-wing politician whose name is often abbreviated as "AMLO," placed blame for the border crisis on the Biden administration on Tuesday, implying that the president's team has allowed the perception that it's "easier" to cross the border to take root.
President Joe Biden's press secretary told reporters Monday that the U.S. had dispatched envoys to Mexico and Guatemala in order to find a solution for how to reduce the number of migrants showing up at the southern border. But Mexico's president appeared to side with Biden's conservative critics, who say his departure from former President Donald Trump's hardline immigration policies has helped facilitate the new surge.
"Expectations were created that with the Government of President Biden there would be a better treatment of migrants. And this has caused Central American migrants, and also from our country, wanting to cross the border thinking that it is easier to do so," the Mexican president told reporters during a Tuesday press conference.
During that same conference, Obrador stressed that the U.S. should invest in Guatemala, Honduras, El Salvador and the southern region of Mexico in order to take on the real reasons that so many migrants are compelled or coerced to migrate north in the first place. He also blamed Biden for worsening the border crisis in part by ignoring why smugglers or traffickers are able to capitalize on local discontent and convince thousands to cross the border.
In a letter to Biden Monday, U.S. Senators John Cornyn and Kyrsten Sinema called on Biden to "ensure migrants are treated fairly and humanely."
During his March 23 press conference, Obrador went on to say that he stressed Mexican sovereignty and wants to work in a "coordinated manner" with U.S. officials in order to help curb the flow of migrants showing up at the border between the two countries.
Obrador's latest remarks echo comments he made earlier in the month. "They see [Biden] as the migrant president, and so many feel they're going to reach the United States," Obrador said the day after a virtual meeting with the U.S. president on March 1. "We need to work together to regulate the flow, because this business can't be tackled from one day to the next."
This same sentiment has been made by Republicans since Biden took office in January, but on Monday, Texas Democratic Congressman Henry Cuellar also said that Biden needs to get control of the narrative being handed to migrants. Cuellar shared exclusive photographs from inside a U.S. Customs and Border Protection overflow facility in Donna, Texas, which show a mass of migrants crowded into pods. But instead of trying to criticize Biden or claim he's not being "transparent," as his GOP critics have done, Cuellar said the U.S. should share the pictures to show Central American migrants how bad it is should they cross the border.
"They've got to do more to overcome the messages you hear in Central America," Cuellar told Axios. "The conditions are terrible for the children. The system is being overwhelmed right now. No ifs, no buts about it."
Meanwhile, the Biden administration has for weeks said it's reevaluating Trump's hardline immigration policies and looking to "explore lawful pathways" to citizenship for those who cross legally, as Department of Homeland Security' Secretary Alejandro Mayorkas said earlier this month.
The border crisis is the latest hurdle Biden must face as he seeks to dismantle the last administration's at times tense relationship with Mexico's government. In February, Biden said, "We haven't been the perfect neighbors to each other," citing pandemic, immigration and climate change squabbles.
Last week, Obrador publicly thanked Biden for sending 2.7 million doses of the COVID-19 vaccines to their government.
Washington Republicans, including Texas Senator Ted Cruz, have led the charge in accusing Biden of incompetence in trying to deal with the border. Their claims appeared to fall in line with the left-wing Mexican president's remarks Tuesday.
"The crisis is the direct result of Biden's policies as ABC's reporting shows. Biden: -Brought back catch & release -Halted construction of the wall -Ended the Remain in Mexico policy," Cruz tweeted Sunday.
Newsweek reached out to Mexican embassy officials in Washington for additional remarks, but did not hear back in time for publication.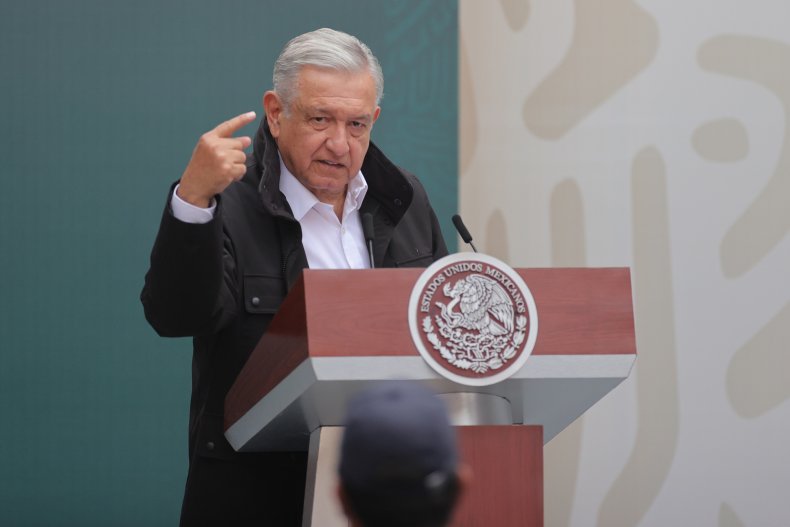 Correction, 3/23/2021, 5:45 p.m. ET: An earlier version of this story incorrectly claimed that, on Tuesday, Obrador said the Biden administration had allowed smugglers and traffickers to convince migrants it has become easier to cross the border. He never explicitly said that. The error has been fixed, and further context has been added to this article.