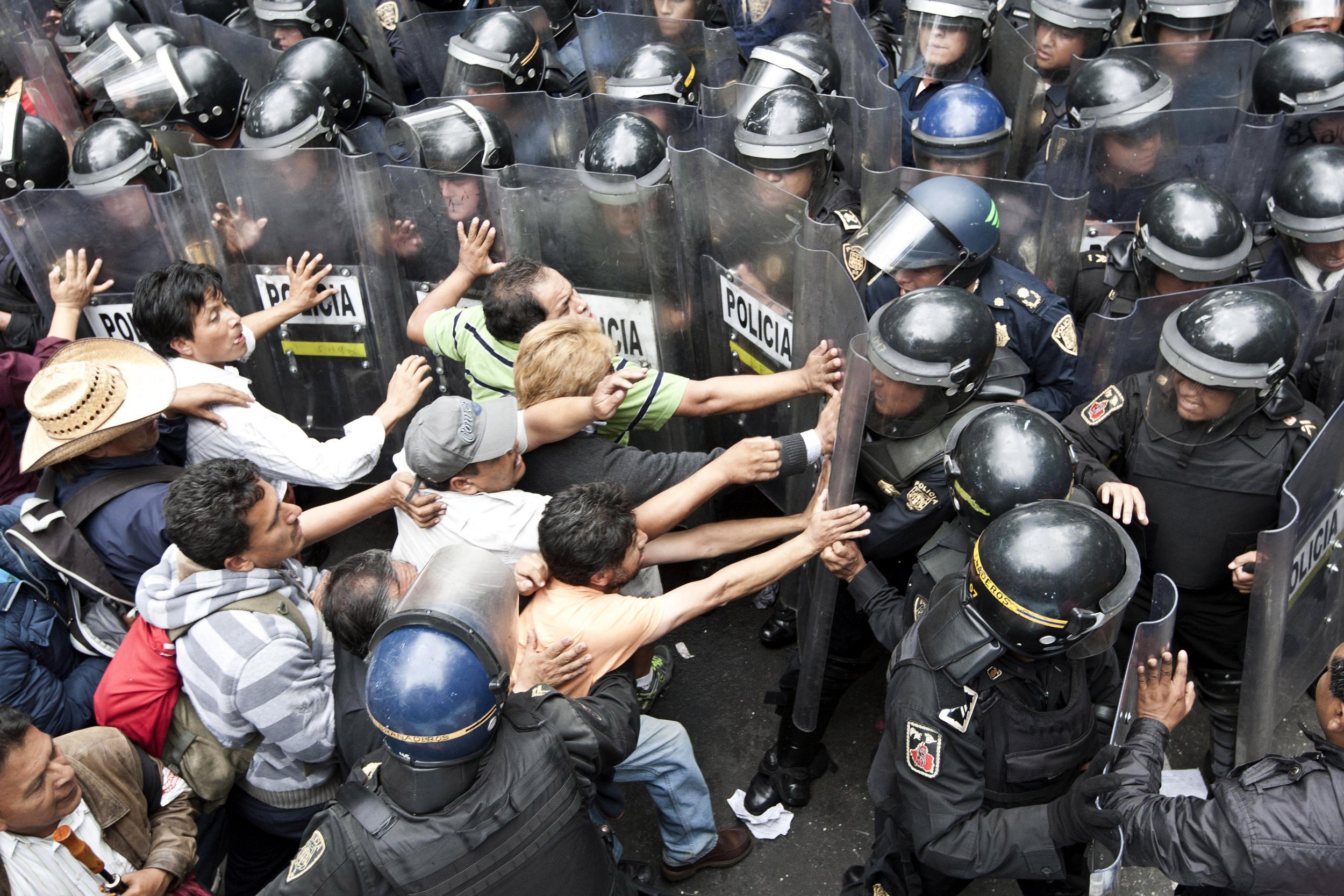 As flames engulfed the policeman's legs and arms, his comrades stood by watching, stunned. A steady barrage of rocks bounced off the wall of plastic shields flanking him.
By nighttime on October 2nd in Mexico City, 111 policemen, protesters and journalists had been injured and 102 people arrested during the annual march to commemorate a student massacre in 1968.
Street protests have long been a staple of Mexican politics and culture, a powerful outlet for millions of people who feel alienated from the political class. But over the last year, they have become more frequent, volatile and violent, analysts say, a response to major domestic policy shifts and growing alienation among the young and unemployed. The makeup of the protesters is also shifting, with men who refer to themselves as anarchists unleashing their fury during some marches.
On a regularly basis now, Mexico City's streets swell with protesters demanding everything from a halt to some of President Enrique Peña Nieto's ambitious education and energy overhaul programs, to the creation of more uncensored media outlets, to a greater number of student slots at public universities.
At times, groups of young men and women – their heads and faces concealed by T-Shirts – make their way into these crowds, hurling rocks and sticks at police, breaking hotel and restaurant display windows and setting fires to buildings. Taunting the authorities into repression seems their clearest, if not singular, objective.
"This is a mixture of Occupy Wall Street with the March on Washington with something much more cynical and sinister," said Andrew Selee, senior advisor to the Mexico Institute at the Woodrow Wilson International Center for Scholars. "You have anarchism with legitimate grievances with less honorable political and economic interests."
When Nieto took office in December, thousands of people took to the capital city's streets. Angry at the return of the Institutional Revolutionary Party, or PRI — which ruled without interruption for more than 70 years until it was voted out of office in 2000 — a group of protesters rammed a trash bus into a police barricade in a desperate attempt to tear it down. Entire blocks of Paseo de la Reforma, the city's main thoroughfare, for days resembled a kaleidoscope, with shattered glass from vandalized storefronts dotting entire blocks.
After an education overhaul requiring teachers to undergo periodic evaluations and training was announced, members of the mammoth teachers' union in the southern states of Guerrero, Oaxaca and Michoacán – some of the poorest – blocked off busy avenues and highways, essentially bringing entire cities to a halt for days at a time. In April, protesters set fire to the office of the PRI in Guerrero.
By August, teachers from these states had made their way to Mexico City, where they set up a tent city and brought the already-chaotic capital to a near halt, chasing lawmakers from their Congressional chambers and blocking off access to the airport, forcing airlines to waive fees for passengers who missed their flights.
The overhaul program was signed into law in September, though teachers have continued to march against it.
A massive march this month to commemorate a student massacre escalated quickly, with numerous confrontations between riot police and a group of men identifying themselves as anarchists. At least 20 reporters were injured, both by protesters and police, with a number of these attacks filmed and rapidly uploaded to YouTube.
The following day, the city awoke to graffiti-covered monuments and walls and vandalized hotels and chain restaurants. A provocation manual was discovered circulating on the web, which explained how to make Molotov cocktails and outlined the melting point of riot police uniforms.
It is unknown who – if anyone – is organizing and financing the groups that wreak havoc on the city during these protests but what is clear is that their actions distort the original message of the marches, diluting the core demands and turning public opinion against this form of public dissent.
"There is an escalation in a form of protest that includes exacerbation, that is looking for martyrs," said Manuel Anton Gil, a professor of social science at Colegio de México.