Meyers Leonard Has Been Dropped by These Companies After Anti-Semitic Slur
Several gaming companies have severed ties with Meyers Leonard after the Miami Heat center used an anti-Semitic slur during a livestream on Twitch, a platform where gamers can stream themselves playing against each other.
"F***ing cowards. Don't f***ing snipe me, you f***ing k*** b****," the 29-year-old said to a fellow gamer while playing Call of Duty: Warzone on his Twitch channel on Monday.
K*** is a derogatory term used to identify people of Jewish background and Jewish religion.
Leonard's remarks went unnoticed until a video of the exchange surfaced on Twitter on Tuesday and went viral, prompting the Heat to suspend him indefinitely and the NBA to condemn his behavior.
After the footage emerged, tech companies Astro Gaming, Origin PC and Scuf Gaming parted ways with Leonard, a keen gamer who has about 70,000 followers on his Twitch channel.
"We are aware of comments made by sponsored streamer Meyers Leonard," said a statement posted on Astro's Twitter account.
"Astro is committed to creating an inclusive gaming environment and one that combats racism and other forms of discrimination, retaliation and harassment. For that reason, we are ending our relationship with Meyers Leonard, effective immediately."
Scuf Gaming and Origin PC, which are both owned by Corsair, confirmed they had ceased their sponsorship of Leonard and were looking into the incident.
They posted almost identical statements on Twitter: "A comment was recently made by Meyers Leonard that does not reflect the values or views of [the company]. We have decided to cease our working relationship with Meyers as we look into it further."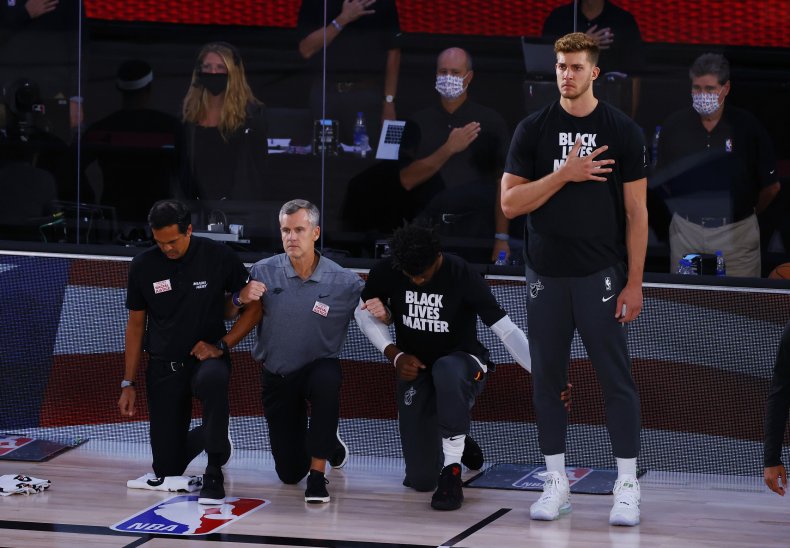 Leonard, who was drafted by the Portland Trail Blazers in 2012 and joined the Heat in 2019, issued a statement on Tuesday night apologizing for the slur.
He maintained that he was unaware of its meaning. "I am deeply sorry for using an anti-Semitic slur during a livestream yesterday," Leonard wrote on Instagram.
"While I didn't know what the word meant at the time, my ignorance about its history and how offensive it is to the Jewish community is absolutely not an excuse and I was just wrong. I am now more aware of its meaning and I am committed to properly seeking out people who can help educate me about this type of hate and how we can fight it."
He then offered his apology to Heat owner Micky Arison who, like his late father, Ted, was born in Tel Aviv, Israel.
"I acknowledge and own my mistake and there's no running from something like this that is so hurtful to someone else," Leonard added.
"This is not a proper representation of who I am and I want to apologize to the Arisons, my teammates, coaches, front office and everyone associated with the Miami Heat organization, to my family, to our loyal fans and to others in the Jewish community who I have hurt. I promise to do better and know that my future actions will be more powerful than my use of this word."
The Heat and the NBA have condemned the incident and distanced themselves from Leonard.
"The Miami Heat vehemently condemns the use of any form of hate speech," the team statement said.
"The words used by Meyers Leonard were wrong and we will not tolerate hateful language from anyone associated with our franchise. To hear it from a Miami Heat player is especially disappointing and hurtful to all those who work here, as well as the larger South Florida, Miami Heat and NBA communities."
In a separate statement, NBA spokesman Mike Bass said: "The NBA unequivocally condemns all forms of hate speech."