MH17 Victims' Father Hits Trump: 'The Man Whose Arse You're Kissing' Killed My Kids
An Australian man whose three children were killed in 2014 when the passenger plane they were in was shot down, allegedly by a Russian brigade, has denounced President Donald Trump's press conference performance alongside Russian President Vladimir Putin.
"That this killed our 3 beautiful children and their grandfather, and destroyed our life and many other lives in the process, is an irrefutable fact," Anthony Maslin said in a Facebook post Tuesday. "That the man whose arse you've just been kissing did this, and continues to lie about it, is an irrefutable fact."
He added: "You have no empathy for your fellow man, and you clearly have no idea what love is."
Malaysia Airlines Flight 17 was flying over Ukraine territory controlled by Russian separatists on the way to Kuala Lumpur when it was hit by a missile in July 2014. While Russia has denied involvement in the incident, investigators concluded the missile was "owned by Russian brigade."
Maslin's sentiment was shared by many critics Tuesday who were angered by President Trump's apparent criticism of U.S. intelligence and promotion of Vladimir Putin's denial that Russia did not interfere in the 2016 presidential election.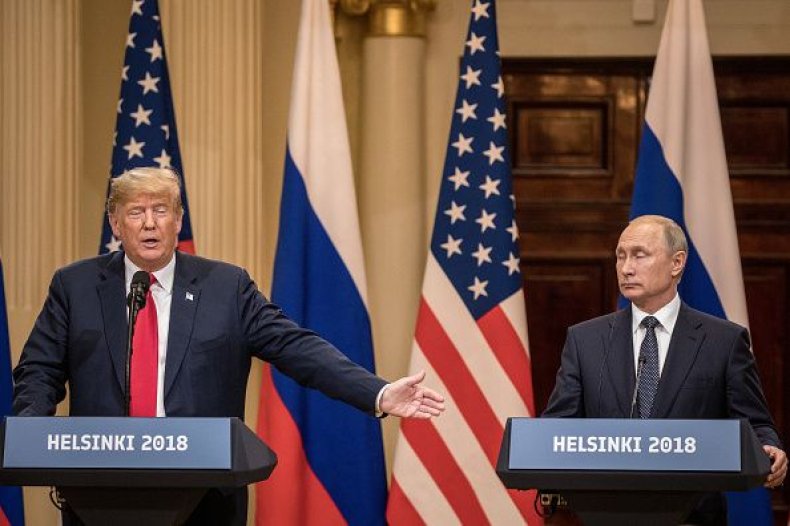 "My people came to me, Dan Coats came to me and some others and said they think it's Russia," he said. "I have President Putin. He just said it's not Russia. I will say this. I don't see any reason why it would be."
After an intense backlash over the remark, Trump said Tuesday that he misspoke and that "I said the word 'would' instead of 'wouldn't.'" He added: "The sentence should have been I don't see any reason why it wouldn't be Russia. Sort of a double negative."
In a tweet Wednesday, the president claimed that critics of his meeting had "Trump Derangement Syndrome."
"Some people HATE that fact that I got along well with President Putin of Russia. They would rather go to war than see this," he said.
Despite the president's initial dismissal of Russian interference, seven U.S. intelligence groups, including the CIA, the National Security Agency and FBI concluded in January 2017 that Russia interfered in the 2016 election.
Last week, Robert Mueller, the former FBI director charged with investigating Russian interference, handed down indictments to 12 Russian officials for conspiring to meddle in the election.
"It's not anger that I feel towards the two of you, it's something much, much worse," Maslin said of Trump and Putin in his post. "It's pity."