Is Mia Bally Still Married? 'MaFS' Star Tristan Thompson Finds Dating Profile: Exclusive
Things got even rockier for Married at First Sight stars Mia Bally and Tristan Thompson. With their trust barely hanging on, one of Thompson's friends found an active dating profile for Bally. It's the second time she has seemingly betrayed him. As most viewers of Season 7 vividly remember, Bally lied to Thompson about why she was arrested on the way to their honeymoon. She was apprehended on stalking and credit card charges related to ex-boyfriend Jared Evans.
The pair had barely started to rebuild their trust when Thompson's friend found the profile. Bally decided to contact Dr. Jessica Griffin for help. "Tristan shut down and just left things very unsettled from our argument earlier," she said in a sneak peek, exclusively obtained by Newsweek. "He doesn't trust that I'm really not on these dating apps and it hurts."
"We're married," she said in a confessional to the Lifetime cameras. "Of course I'm not using dating apps anymore. So I want to talk to Dr. Jessica to figure out how to move forward from here."
Bally denied that she was active on the profile. "We had our most explosive argument ever this morning," she said. "Tristan's friend Goober told Tristan that he saw my profile on a dating app, which I honestly thought I deleted and it just started this whole argument where we're both so emotional and heated that we keep talking in circles."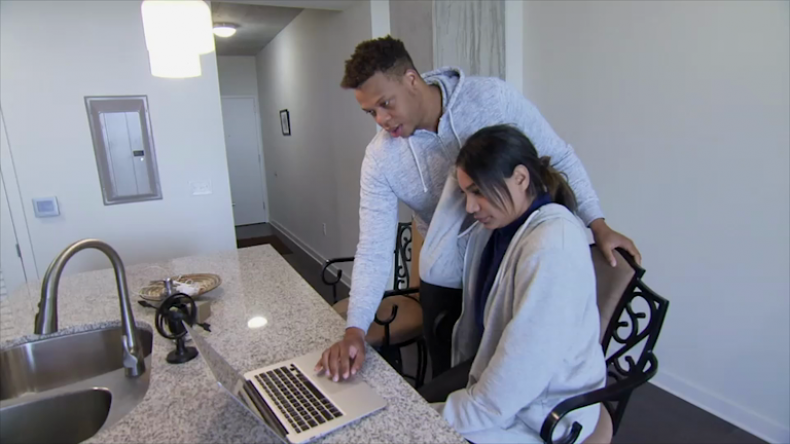 When Griffin asked the couple to explain, Thompson said that everything boils down to trust. "I'm upset with her because I don't trust her. The trust was broken from when she lied to me. Then I felt betrayed again when I found out she was still up on these dating apps," he said. "You know, all this is building up."
Thompson, who shares the same name as the man Khloé Kardashian had a baby with, was shocked when Bally was arrested en route to their honeymoon. I am feeling a sense of disbelieving disbelief as I am reading this police report," he said to the cameras.
"I was actually really falling for Mia—and falling for her hard," he continued. "Now this document is showing she may be a stalker and may have committed credit card fraud on her previous boyfriend."
At the time, Thompson was happy to see Bally after she was released from prison. "I'm overwhelmed with emotion just seeing Mia again," he said. "It's a relief that she's back and she's safe."
To find out what happens next in the saga between Bally and Thompson, don't miss Married at First Sight when it airs Tuesday at 9 p.m. ET on Lifetime.