'Married at First Sight' Spoilers 2018: Will Tristan Divorce Mia?
Married at First Sight stars Mia Bally and Tristan Thompson started their marriage on the wrong foot when she lied about being arrested for stalking and credit fraud charges. Even though Tristan forgave his new wife, he is still considering divorce.
"To me, marriage should be built on trust and honesty. If you have that, I believe there's no problem that you can't handle," Tristan said on last week's episode. "But Mia has been lying to me and it's hardly been a week. With that trust broken, I'm just not sure if I'm able to stay in this marriage."
He was plagued by her lie. "What else is there? Is there something else out there…How deep is it? I don't want to keep living in this pain," he Tristan revealed.
Tristan believed Mia when she first told him the arrest was a mistake. She later confessed that the charges were against her after she allegedly stalked her ex-boyfriend, Jared Evans.
He pleaded with her to be honest. "It's been tough. Things are going from the wedding excitement to basically bombs being dropped every day about something new about Mia," he confessed to his pastor. "Secrets kill and I said, 'Mia, please just get it all out there because the trust had been broken. What else had you lied about? What else are you keeping from me?'"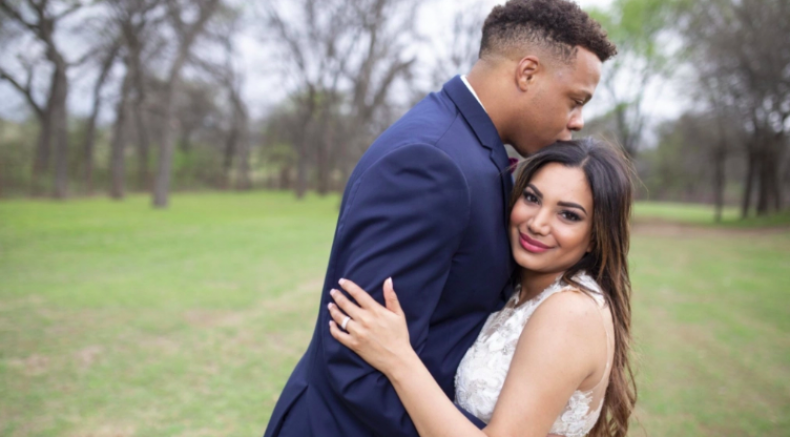 The experts on the show generally want the participants to try to remain married. In this instance, they supported whatever decision Mia and Tristan reached—even if it was divorce.
"We know it's been a terribly trying time for the both of you as a couple and individuals and what we decided to do is to have a conversation with each of you separately and together," Dr. Pepper Swartz said.
She continued to the Lifetime cameras, "We want to support the marriage, but we also want to support these people who have gone through a very difficult situation."
According to a police report, Mia repeatedly contacted her ex-boyfriend and charged nearly $1,500 on his credit card.
"Evans stated he got a text from Bally on 12-26-27 saying 'I ordered you a Christmas gift,'" the warrant for Mia's arrest read. "Evans said he then got three receipts from Amazon totaling $1,455.18. Bally charged two protection plans and an iPhone X. Evans was able to clear up the charges on Amazon."
Evans has not publicly spoken about Mia's arrest, which took place March 28. She was supposed to board a plane with Tristan for her honeymoon to Cancun.
Married at First Sight airs Tuesdays at 9 p.m. ET on Lifetime.