Are Mia Bally and Tristan Thompson from 'Married At First Sight' Still Together After Shocking Arrest?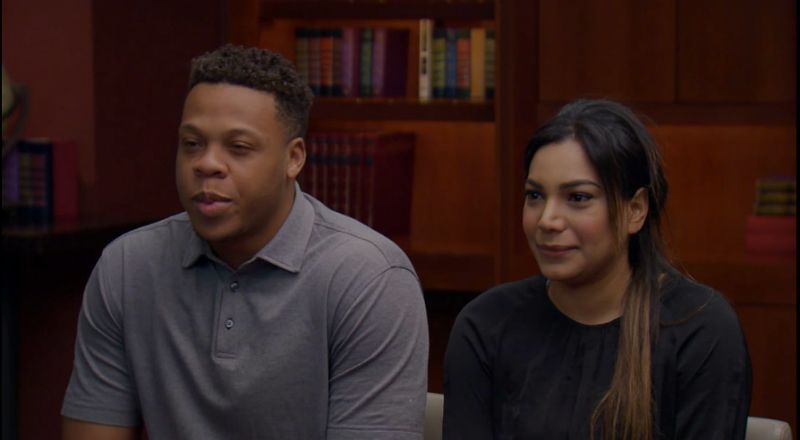 Married at First Sight experts wanted to be there for Mia Bally and Tristan Thompson after she was arrested on the way to their honeymoon in Cancun. Bally was pulled off the plane after authorities discovered there was a warrant for her arrest on stalking and credit card fraud charges. She was in custody for two days, stemming from an arrest warrant that was issued in February, a month before her wedding to Thompson.
At first, Bally lied and told Thompson it was a case of mistaken identity. Ultimately, she came clean to her new husband. Despite the betrayal, Thompson decided he wanted to work on their marriage.
After hearing the development, sociologist Dr. Pepper Schwartz, psychologist Dr. Jessica Griffin and marriage counselor Pastor Calvin Roberson flew to Dallas to speak with the couple when they were able to.
"When we found out that she hadn't told the entire truth, that there had been some dishonesty early in the relationship—which is never, ever good—we felt that it was important for us to go in immediately and sort of walk them through this process so that they could use this to heal," Pastor Cal said on Lifetime's Unfiltered.
"This doesn't sound great, but it's much easier to be untruthful to someone you don't really know than to tell the truth to someone you're really committed to," the pastor continued. "And as the relationship grew, she felt she had to come out with more of the truth."
Even though Bally wasn't forthcoming, the pastor said it was possible for the couple to heal their marriage—but she has to be honest. "…she has to put everything on the table," he said. "She has to spill her guts and tell everything about that situation. If they can do that and that's what's being done now, they can use that. And it can work. So, time will tell."
Bally's ex-boyfriend, Jared Evans, filed a report with police in January after she continued to text, call and drive by his home and place of employment, despite police telling her to stay away from Evans. She also allegedly went on to her ex's Amazon account and ordered nearly $1,500 worth of products. Amazon ultimately refunded Evans the money.
Part of what made Bally's situation such a scandal among viewers was the strict way her father reacted to her wedding to Thompson. He made it clear they were not to sleep together on the first night of their marriage. She presented herself as a God-fearing woman who goes to church every Sunday. Of course, everyone makes mistakes, but it turned out that Bally was allegedly stalking her ex, weeks before she walked down the aisle with another man and had a warrant out for her arrest.