Mia Farrow Contradicts Naomi Campbell's Blood-Diamonds Claim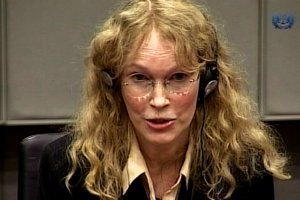 Last week Naomi Campbell told a war-crimes court that she could not be certain that a pouch of rough diamonds she was given at a dinner party was from former Liberian dictator Charles Taylor. Today Mia Farrow, who was at the same party, says she heard Campbell plainly boast that Taylor had given her a "huge diamond."
Taylor is standing trial for allegedly supplying weapons to rebels in Sierra Leone in exchange for rough diamonds, thus enabling them to murder, rape, and maim during that country's civil war. He denies ever handling any diamonds. It would put a dent in his claims if it can be proven that he gave gemstones to Campbell at a dinner party to honor Nelson Mandela in Pretoria, South Africa, in 1997.
Last week Campbell, a reluctant witness who had to be subpoenaed to appear at the Hague, gave a vague testimony in which she admitted that after dinner, when guests had retired to their rooms, two men knocked on her door and handed her a pouch of "dirty-looking stones." She said that she did not look at them properly, as she was tired. She added that she could not be sure they came from Taylor.
But Farrow recalls events differently. She told the court today, according to the Daily Telegraph, that she and her family were having breakfast the next day when "Naomi Campbell joined us and before she even sat down she recounted the events of the evening. She said that in the night she had been awakened. Some men were knocking at her door. They were sent by Charles Taylor and they had given her a huge diamond." When asked who precisely Taylor's name had come from, she said, "Campbell."
Farrow's testimony seems to corroborate a statement given to prosecutors by Campbell's former agent, Carole White. White said Taylor and Campbell were "mildly flirtatious with each other" and that the gift of the diamonds had been discussed over dinner. "It was arranged," said White, according to Agence France-Presse, "that he would send some men back with the gift." Campbell was excited to receive a big, shiny stone, said White, and disappointed when the gems arrived unpolished.
When Campbell was asked if White was lying in this statement, she said yes. White is set to give her potentially contentious testimony to the court later today. The diamonds, meanwhile, are now with South African authorities.