Mia Farrow was 'Increasingly Concerned' for Ronan's Safety on Weinstein Story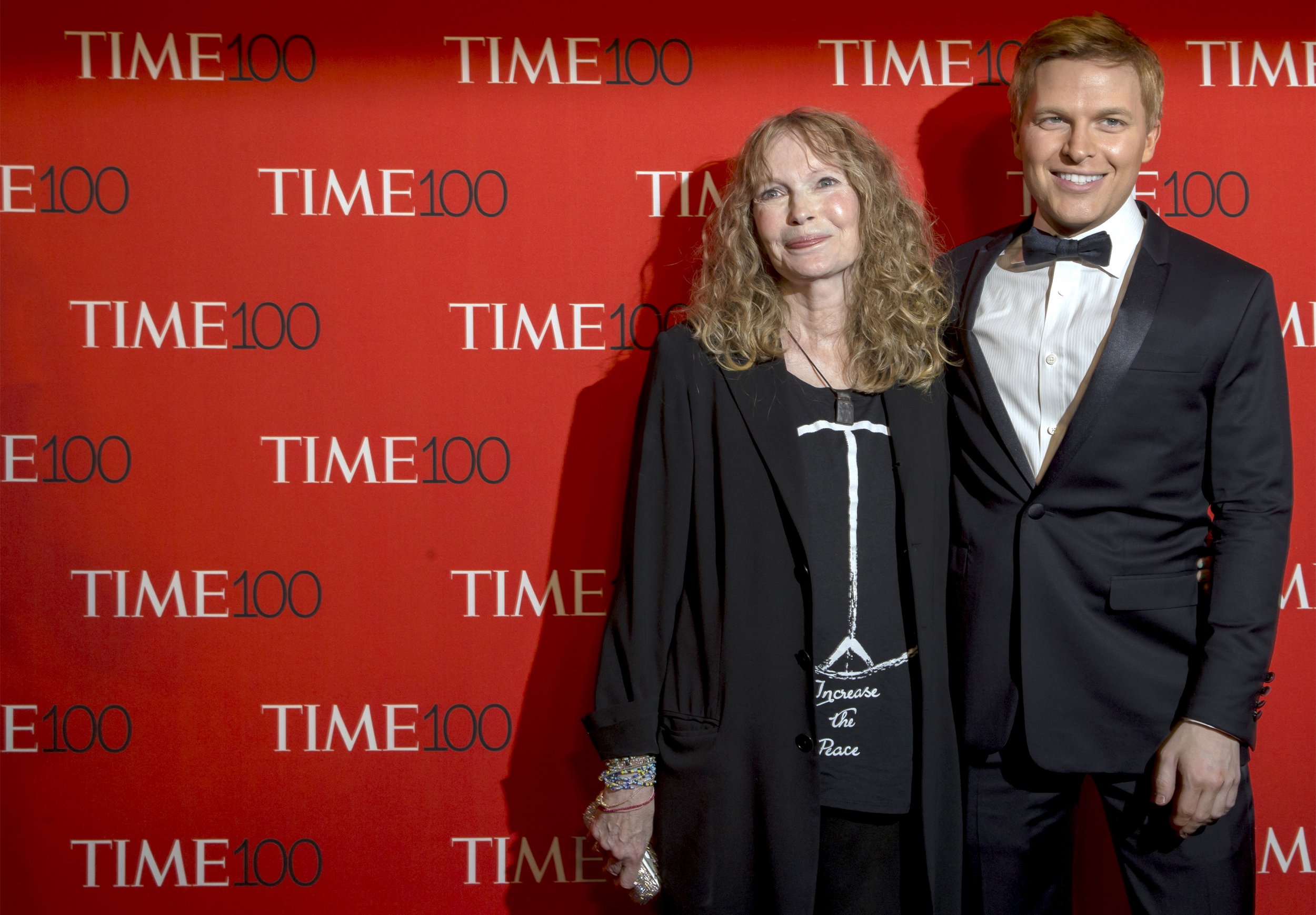 Mothers worry about their children, and Mia Farrow is no exception.
Her son, Ronan Farrow, played a pivotal role last October in breaking open the story about Harvey Weinstein's decades of sexual misconduct when he published a deeply-reported feature in The New Yorker. As he worked on the story, he persisted through several months of difficult reporting and faced multiple obstacles planted in his path by Weinstein and other powerful figures.
Mia told told The Hollywood Reporter, for a cover story about her son that was published online Wednesday, that she grew fearful for him. "He shared enough of what he was uncovering for me to be increasingly concerned for his safety," she said. But that didn't mean she wanted him to stop.
Her comments are the first time the actress and activist spoke publicly about her son's reporting, which along with investigations by The New York Times, jolted Hollywood and society beyond.
In a follow-up story to his first New Yorker piece, Ronan documented Weinstein's "army of spies"—"private investigators, including ex-Mossad agents" hired "to track actresses and journalists." Ronan himself was not immune.
The reporter said he was contacted by the same woman—an operative employed by the private intelligence agency Black Cube—who pretended to be a women's rights advocate to get Rose McGowan to speak with her. Farrow also recieved threatening phone calls and picked up on people following him as he got deeper into his investigation. He eventually felt the need to move out of his apartment in Manhattan.
But "he knew and I knew that it was a moral issue," Mia said. "He had to continue, even when that meant putting a lot on the line."
Ronan was also targeted by Weinstein himself, once the producer caught wind of the investigation. The producer tried to discredit Farrow by claiming his family history must have clouded his objectivity on matters of sexual abuse. This was a reference to the claims made by the reporter's adopted sister, Dylan, that their very famous father, Woody Allen, sexually assaulted her when she was 7 years old. "I believe my sister," he said in a guest column for THR in 2016. "I've approached the case as an attorney and a reporter, and found her allegations to be credible."
In the new profile, Ronan told THR that his childhood put him in a unique position to understand the machinations of power in Hollywood. "You see early in life with that kind of a family background the way in which the most powerful men in America wield power for good and for ill," he said. "And probably, yes, the family background made me someone who understood the abuse of power from an early age."
Ronan emphasized that his experiences may have helped him understand the Weinstein story better, but the reporting was never more than following the story. It's a sentiment echoed by his mother.
"I never got the sense the Weinstein story was personal for him," she said. "He was a reporter on a huge assignment."