'Alice in Wonderland' Star Mia Wasikowska on Playing a Sadomasochistic Prostitute in Horror Movie 'Piercing'
Alice in Wonderland star Mia Wasikowska is arguably best known for appearing in historical period dramas, but the Australian actress let down her hair to play Jackie, a prostitute with a taste for violence in the horror film Piercing.
Director Nicolas Pesce's new thriller tells the story of Reed (Christopher Abbott), who begins the flick by kissing his wife (Laia Costa) and baby goodbye and checks into a hotel to take care of some "business." It just so happens that Reed's business is far from ordinary. With his wife's advisement, he hitches a plot to kill an unsuspecting prostitute (Wasikowska). Unsurprisingly, things don't go as planned, and Jackie and Reed soon start to engage in a sadomasochistic relationship, toeing the line between seduction and murder.
Reed isn't sure if Jackie wants to die, leaving him unsure if he wants to kill her. The ambiguity leads to Jackie and Reed swapping dominance in their quasi-relationship, flip-flopping between sadism and self-harm. The characters inflict pain upon each other and themselves, potentially recreating the pain they felt in their pasts. But is it just a playful game or a fatal scheme?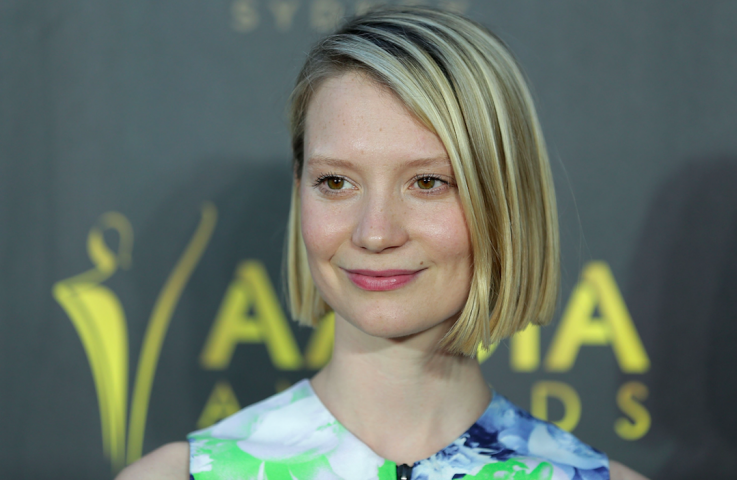 Wasikowska shared her thoughts on the movie, revealing what it was like to play Jackie and work with Pesce. Check out her Q&A below:
Can you tell me what it was like to play a character like Jackie?
It was really fun. It came off the back of me doing a lot of period films. I played so many internal, quiet, depressed characters that it was such an exciting opportunity to play Jackie. With her, everything's on the surface. She's got this kind of verbal diarrhea and I loved her monologues. It just seemed like a really fun, different character to play.
If you could have one of her traits, what would it be?
Oh, um, maybe her haircut. Let's go with something simple and removed.
Why do you think Jackie pierced herself at the end?
I don't know… In seeing Reed as a psychopath... it's questionable whether he would actually kill Jackie… or whether they're just recreating this pain and trauma and hurt that they felt in the past.
What do you make of the scene where Jackie stabs herself in the leg and Reed's reaction to it?
Again, there's just so many different ways that you could see it. But just before that scene, she kind of put herself out there and tried to turn him on and he laughed. It's extremely embarrassing and a shameful moment for her. And then, her hurting herself and is just like 'f*** you' to him in a psychological and emotional way. To me, it was very much like I'm gonna hurt you by hurting myself.
What do you make of Reed's wife's character?
I think that's something where is it actually happening or is it just fantasy? I remember when I read it the first time, I was like, "Oh my god, that's so fucked up." And then Nick was like, "No, it's supposed to be, you know, what he wishes he could say and what he wishes, you know, could happen and, and this imagined conversation but people could think about it the way they want to think about it. Of course, it's up to the individual about how they want to interpret that, she's like that weird mother substitute. When you don't know what to do, you call her and she talks you through the options.
What is it like to work with Nicolas, the director?
I hadn't seen The Eyes of my Mother [his first film] at the time. My agent and everybody that I spoke to said it was really brilliant and he was a really exciting new director. I went to see it when we're in production on Piercing when we were filming. It was horrifying and really well done, and I could see how he's so clever. He's just so sure of himself and very confident and has this really brilliant visual sense. I was really impressed by him and I really, really like working with him.
Piercing is On Demand and digital now.
'Alice in Wonderland' Star Mia Wasikowska on Playing a Sadomasochistic Prostitute in Horror Movie 'Piercing' | Culture