Miami-Area Doctor Calls Delta Variant 'Faster Than a Cheetah' as ICU Hits Capacity
A doctor working in an intensive care unit at a hospital in Florida underscored that the highly contagious Delta variant of COVID-19 is "more aggressive" than previous strains of the virus.
"It's faster like a cheetah. People 50 years old come in here and in two or three days they die," Dr. Wallace Thomas, of the Miami-area Larkin Community Hospital told NewsNation Now on Thursday.
Many of the patients in the hospital's ICU—where every bed is taken— are younger. Most are on ventilators, and even those who aren't are struggling to breathe, NewsNation reported.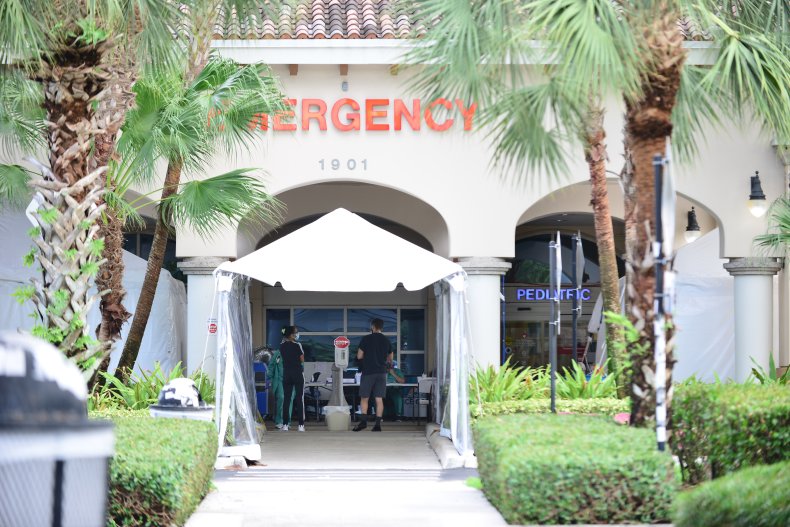 "We still have no guarantee that if someone comes to the ICU, they are going to leave the ICU," Thomas said.
"[One] gentleman also contracted COVID, developed respiratory failure and became very lethargic," he said. "He has been intubated for weeks."
The Delta variant has led to a sharp spike in COVID-19 cases in Florida and across the nation in recent weeks.
On Tuesday, the Florida Hospital Association said that 16,521 people were hospitalized with COVID-19, and that only 8.2 percent of the state's ICU beds were available.
The organization also projected that more than 75 percent of the state's hospitals are expected to face a "critical staffing shortage" in the next week.
"There can be no question that many Florida hospitals are stretched to their absolute limits," Mary Mayhew, president and CEO of the association said Tuesday. "While hospitalizations continue to increase, three out of four Florida hospitals expect to face critical staff shortages in the next seven days, an increase of nearly ten percent since last week, and half of our hospitals will no longer accept transfer patients from other facilities."
COVID-19 has also been spreading throughout Florida's school system. As of Wednesday, nearly 1,500 students and more than 500 school staff members had tested positive for the virus.
Some doctors have criticized Florida Governor Ron DeSantis' response to the pandemic. DeSantis recently banned school districts from implementing mask mandates for teachers in students.
In a letter issued by the Committee to Protect Health Care last week, more than 800 physicians called on the governor to reverse his ban on school mask mandates, and "do much more to get vaccinations in people's arms."
"As the virus burns through Florida, health care providers feel we are fighting this fire without any leadership from Gov. Ron DeSantis. Blocking communities from making local decisions to protect themselves with his top-down, one-size-fits-all edict will only make matters worse," the letter said.
Larkin Community Hospital did not immediately respond to a request for comment from Newsweek Friday morning.