Miami Beach Massage Therapist Accused of Rubbing Women's Groins During Lymph Node Treatments to Release Toxins
Police fear that there may be more victims of a massage therapist in Miami Beach, Florida, who is accused of sexually assaulting four different women. They are urging any others to come forward.
Elias Marcelo Ergas, 50, is charged with two felony counts of sexual battery and two misdemeanor counts of battery, Local 10 reported, over several incidents in which he allegedly touched women's vaginas under the guise of releasing toxins during lymph node therapy.
The women who reported these incidents to Miami Beach Police Department said they took place between April and May. One woman reportedly alleged that Ergas penetrated her with his fingers during one massage, while another accused him of sexual battery. He denies the claims.
"We feel there may be additional victims out there who recognize this man who possibly received services from this man and we are urging if you feel you've been victimized by this man to contact Miami Beach police immediately so we're able to investigate," Miami Beach Police spokesman Ernesto Rodriguez said, NBC Miami reported.
In bond court, Circuit Judge Renatha Francis barred Ergas from working as a massage therapist while the charges hang over him, CBS Miami reported, a move his attorney challenged as unfair as it deprived him of his livelihood.
"When you consider this is not true and I am very busy because I worked for so many years and I am very well known in the market and I know so many people and clients," Ergas told Judge Francis during his appearance, according to CBS Miami.
But Judge Francis replied: "You are presumed to be innocent but... I have to protect the community and I am sufficiently concerned about the allegations in these cases."
The judge set bond at $15,000 and ordered Ergas to have no contact with the alleged victim in the sex battery case.
"That means no contact whatsoever and stay 500 feet away from the victim at all times, and stay away from where she works and lives and goes to school," she told Ergas. "And you are to be involved in no criminal activity and have no guns and no weapons at home and have no concealed weapons at all."
One of Ergas's regular clients over the past six years could not believe the allegations made against him. The unnamed woman told 7 News Miami: "He comes to my home nearly twice a week. He massages me, my family, my daughter, me, some girlfriends here in Miami. Nothing has ever happened. He's shy, even."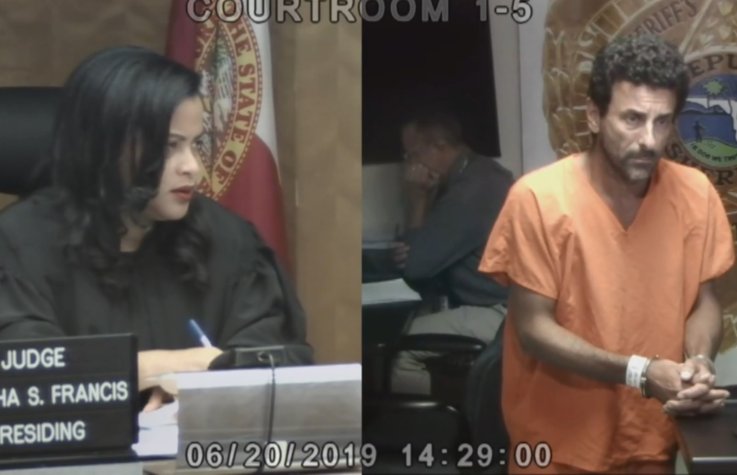 Miami Beach Massage Therapist Accused of Rubbing Women's Groins During Lymph Node Treatments to Release Toxins | News