Video: Miami Beach Police Officer Filmed Sucker Punching Unarmed Suspect in the Face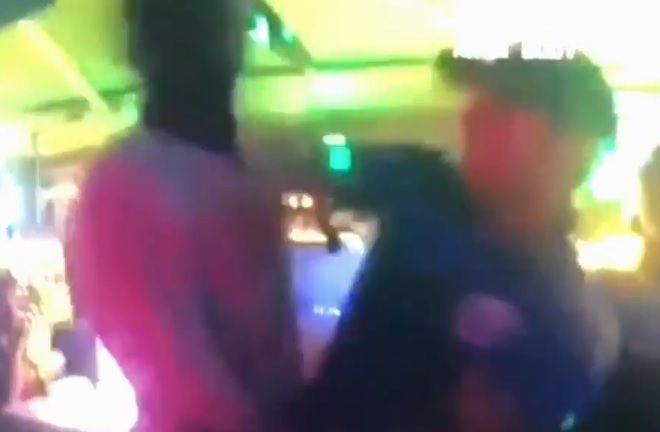 An investigation has been launched after a video emerged showing a Miami Beach police officer punching a suspect in the face following a brief altercation outside a restaurant.
The video, obtained by the Miami Herald, shows a group of officers approaching 35-year-old Lowell Poitier outside an Ocean Drive restaurant in the south beach area of Miami on December 3.
Read more: Chicago police officer filmed hitting teenage suspect with handcuffs
Poitier can be seen grabbing something off one of the tables while uttering a string of expletives. Poitier then approaches one of the officers head on, asking "What? What?" The officer, identified as Adriel Dominguez, then strikes the suspect in the face, knocking him to the ground.
The clip was provided to the newspaper by another Miami Beach police officer following concerns the official report of the incident does not correlate with what really occurred.
According to the arrest report, seen by the Miami Herald, when officers approached Poitier he was agitated, called them "crackers" and "appeared as if he wanted to challenge" the authority of one of the officers.
The report states Poitier then "clenched his fist, took a fighting stance and leaned into" Dominguez's face, prompting the officer to strike him as he was "in fear for his safety."
"I've never seen anything like it. It's outrageous behavior. It's an assault in broad daylight," attorney Michael Pizzi, who is representing the officer who came forward with the video while he seeks whistle-blower protection. "He clearly did not take a fighting stance or clench his fist to fight the officer like it says in the report."
Miami Beach Police Chief Dan Oates said he has been made aware of the "very serious matter," and that the department's internal affairs investigation is investigating.
"We have also notified the Miami-Dade State Attorney's Office. The officer has been relieved of his patrol duties. He will be placed in a non-enforcement assignment until further notice," Oates added, reports CBS Miami.
The police union have voiced their support for Dominguez's actions and said the video proves he was dealing with an "agitated, angry and physically aggressive defendant."
"There is no question Officer Dominguez was legally justified and fully entitled to protect himself," the union said in a statement, reports NBC Miami.
"Like every citizen, police officers are entitled to protect themselves from imminent harm when physically threatened by another. We are confident that a fair and thorough investigation will result in Officer Dominguez being cleared of any wrong doing."
After being taken to hospital for treatment, Poitier was arrested on suspicion of assaulting a police officer, resisting an officer without violence, and disorderly conduct. He was later released on bond.
Video: Miami Beach Police Officer Filmed Sucker Punching Unarmed Suspect in the Face | U.S.