Miami Condo Evacuated Over Structural Issues in Wake of Surfside Collapse: 'Chaotic'
Less than two months after a residential building collapsed in Surfside, Florida, residents of another condo building have been forced to evacuate after their building was deemed unsafe.
Residents of 5050 NW 7th Street, in Miami's Flagami neighborhood, were told Monday night they had until 8 a.m. on Tuesday to pack whatever they could and leave, WFOR-TV, a Miami-based television news station, reported. The building had more than 130 units.
Video from WFOR shows people leaving, carrying their belongings in whatever they could find—including garbage bags and storage bins.
The building has structural issues, and the building's engineer had been working with the city to make repairs, WFOR reported. The building's officials had 45 days to fix the issues, but they were unable to do so in that time. The city is helping residents find and pay for places to live.
Some of the violations include not obtaining a 40-year recertification and damaged columns in the first floor that required energy shoring, The Miami Herald reported.
"We felt the building occupants were not safe," building director Asael Marrero told the newspaper. Marrero said Building Department officials met with residents concerned about the building's condition July 26, and staff inspected the property the next day.
The Miami Herald reported that the city said it never received a plan from the building for repairs, nor did it apply for permits to fix the issues; also, several other buildings in southern Florida have also recently been evacuated due to safety and structural concerns.
One resident, Dairon Deramico, told WFOR that residents did not know where they would go.
"The city is saying they are going to give us a place," he said. "Maybe for a couple of weeks or a few days. I don't know what's going to happen."
Another resident, Mya Castanedo, called the situation "chaotic."
"We are not getting a final answer about what's going on," she said. "Everyone is trying to pack their stuff and find somewhere to go."
Newsweek reached out to the Miami Building Department but had not heard back by publication. A call to the building's condo association Tuesday morning went unanswered. This story will be updated with comment as needed.
The evacuation comes after the collapse of a condo building in Surfside on June 24 that resulted in the deaths of nearly 100 people. Rescue crews spent nearly a month at the site, searching for survivors and clearing the site.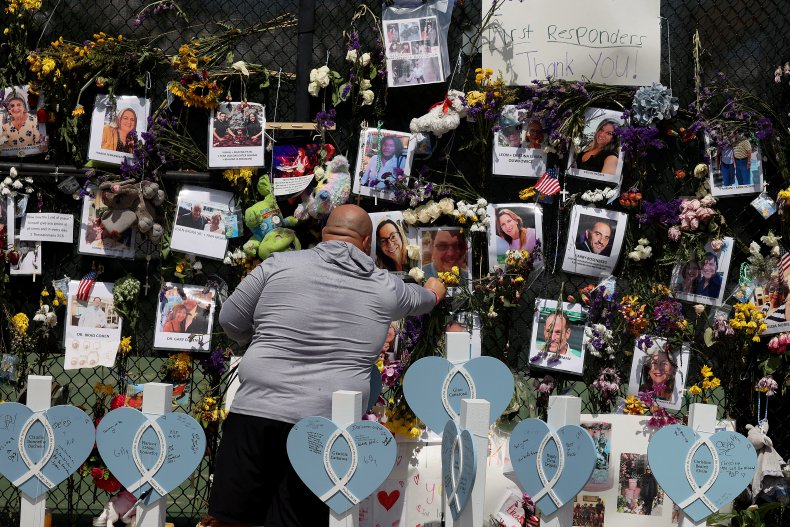 A 2018 report found that there was structural damage in the Surfside building. The report found cracked tile on multiple balconies and failed waterproofing in the poll deck and entrance area.
"Failure to replace the waterproofing in the near future will cause the extent of the concrete deterioration to expand exponentially," the report said.
Miami-Dade County's Unsafe Structures Board has a backlog of 1,000 unsafe-structure cases dating from before the collapse.
"We are here every month. Every month," board member Lynn Matos said. "I don't understand how we can have over 1,000-something cases sitting out there, and we don't know why."