Miami-Dade County Apartment Roof Collapses 22 Days After Surfside
The roof of a Miami-Dade apartment complex partially collapsed on Thursday, according to Miami-Dade authorities. Miami-Dade police responded to numerous 911 calls at the building.
Firefighters are on the roof of the apartment building and traffic has been blocked off in the area.
The building is being evacuated and there are no injuries or fatalities at this time.
On June 24, part of the Champlain Towers South collapsed in Surfside, Florida. The building housed 12 residential floors and was completely leveled on July 4. The building had numerous problems over the past few years including weakened concrete and multiple foundational issues, which were detailed within an extensive report in October 2018.
Over the last few weeks, recovery teams have worked tirelessly to recover victims of the building collapse.
"I saw nothing, and I'm saying to myself, 'Where is my building?'" she said. "I thought I was dreaming. I thought I was in a nightmare," said Sharon Schechter who lived in the building at the time.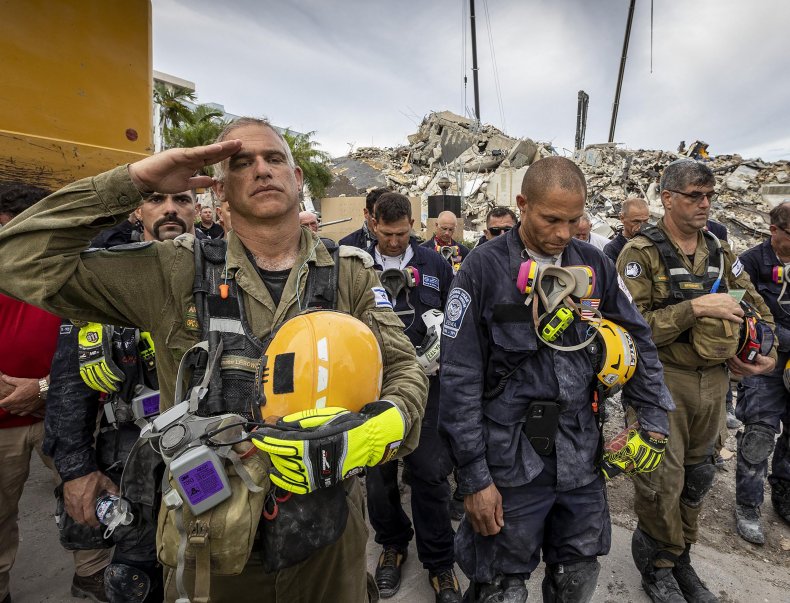 On Wednesday, the Miami-Dade Police Department released 911 recordings of residents who were at Champlain Towers after the collapse.
"Oh my God! The whole building collapsed!" one caller said to police. "I'm in the Champlain Towers, something is going on here. You gotta get us out of here," said another caller.
On July 8, the remains of Sophia López Moreira, Luis Pettengill, and her youngest child were found. Sophia López Moreira is the sister of Silvana López Moreira, the first lady of the Republic of Paraguay.
Foreign Minister Euclides Acevedo issued a statement via major Paraguayan newspaper ABC Color.
"Moved by the news, I want to share through you with the public that the bodies of Sophía López Moreira, Luis Pettengill, and the youngest of the children were found, and they are in search of the two girls and the nanny, but I am happy to inform the public of this and moving news," Foreign Minister Acevedo told ABC, as translated by GoogleTranslate.
"I confirm it and the only thing we ask is the solidarity and prayer of the citizens because finally they are compatriots and in the face of a tragedy the Paraguayan people have to demonstrate their traditional solidarity," the national foreign minister continued.
In the aftermath of the collapse, 18 million pounds of rubble have been removed from the collapse site, according to Miami-Dade County Mayor Daniella Levine Cava.
"They have given of their heart and soul," Levine Cava said of the many people who responded to the disaster during a news conference. "We are totally walking among superheroes."
Newsweek has reached out to Miami-Dade Police Department for more information.