Miami-Dade County Suggests Masks Outside Despite Gov. DeSantis' Ban on Mandates
Mayor Daniella Levine Cava is requiring all Florida residents to wear masks when outdoors or around other people, despite Gov. Ron DeSantis' distaste for mask mandates.
On Thursday, the Miami-Dade County mayor posted a "New Mask Guidance" on Twitter which details when and where masks should be worn.
"This week we took action to update our COVID safety measures due to the alarming spread of the Delta variant," said Cava. "The facts remain clear: Too many in our community are still unvaccinated and at increasing risk from this deadly virus. Let's change that."
Masks are now required indoors at all Miami-Dade County facilities for employees and visitors, even if they're vaccinated, according to the guidance.
"We strongly recommend everyone wear a mask in all public settings including outdoors — especially when in large crowds and around people you don't know to be vaccinated," the guidance says.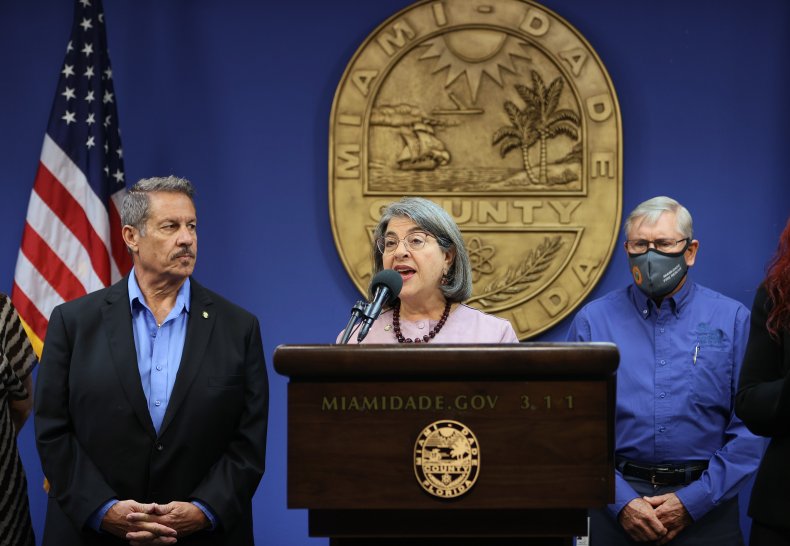 As of now, the CDC doesn't require vaccinated individuals to wear a mask.
"Current data suggest the risk of transmission of SARS-CoV-2 in outdoor settings is minimal, the CDC said. "In general, fully vaccinated people do not need to wear a mask outdoors. Fully vaccinated people might choose to wear a mask in crowded outdoor settings if they or someone in their household is immunocompromised."
These new measures by Cava counteract Governor Ron DeSantis' actions regarding requiring masks. On July 22, DeSantis stated that he would call a special session of the Legislature if the government puts a mandate in place or local school districts go against him.
"We look forward to this upcoming year to be a normal school year, be in person, and live like normal and learn like normal kids," DeSantis said at a news conference at Indian River State College. "There's been talk about potentially people advocating at the federal level, imposing compulsory masks on kids. We're not doing that in Florida, okay? We need our kids to breathe. We need our kids to be able to be kids."
DeSantis is also against the idea of vaccine passports and lockdowns.
"I think it's very important we say, unequivocally, 'No to lockdowns, no to school closures, no to restrictions, no to mandates,'" he said Wednesday at a Salt Lake City gathering of the American Legislative Exchange Council.
As of now, Florida is experiencing a surge of new COVID-19 cases. As of Thursday, 8,900 patients have been admitted with COVID-19, according to the U.S. Department of Health and Human Services. Also, there are now 16,038 new cases across the state.
"What's extraordinary is the speed at which we are currently seeing new cases. The slope is pretty steep, and we haven't seen the end of it. This is still coming," said Dr. Vincent Hsu, executive director of infection prevention and hospital epidemiologist at AdventHealth in Orlando.
Florida is currently responsible for 20 percent of new COVID-19 cases in the United States on Tuesday, according to the CDC.