Miami-Dade Mayor Recloses Restaurant Dining, Gyms and Party Venues As Florida Coronavirus Explodes
Miami-Dade Mayor Carlos Gimenez said Monday that he is signing an executive order that will close restaurant dining rooms, gyms and party venues in an effort to curb the spread of the new coronavirus.
The changes will go into effect Wednesday, July 8 in an effort to ensure local hospitals have the capacity and staffing needed to treat COVID-19 patients, Gimenez said in a statement.
As of July 6, 206,447 cases of the new coronavirus have been reported in Florida since the start of the health crisis. On Monday, the state recorded 6,336 new cases alone, according to the Florida Department of Health.
"We are still tracking the spike in the number of cases involving 18- to 34-year-olds that began in mid-June, which the county's medical experts say was caused by a number of factors, including young people going to congested places—indoors and outside—without taking precautions such as wearing masks and practicing social distancing," Gimenez said in a statement. He added that graduation parties and street protests also contributed to the surge in positive diagnoses.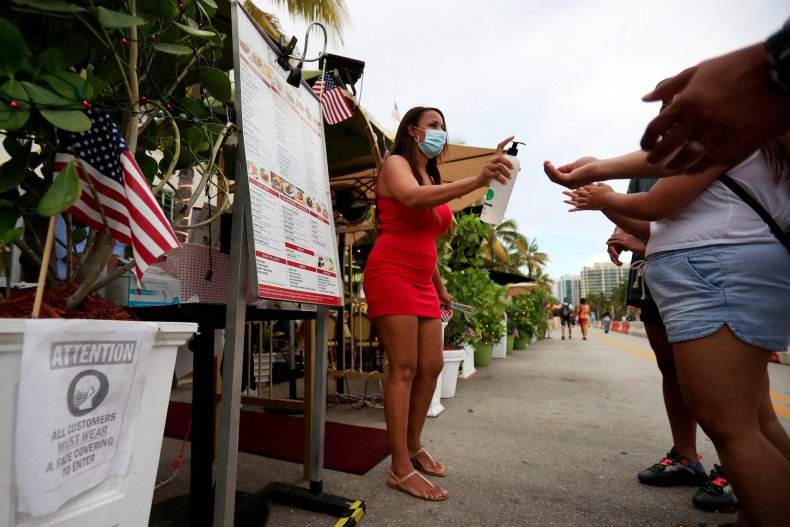 Gimenez said young people are not taking social distancing seriously enough, and said he fears many will go back home from large gatherings and possibly infect their parents and grandparents with the virus.
Gimenez's announcement of closures came days after he implemented a curfew of 10 p.m. to 6 a.m., closed beaches for the Fourth of July weekend, and closed casinos, strip clubs, movie theaters, the zoo and other entertainment venues a month after they reopened.
"This is one of the various actions I'm pursuing to tamp down this spike of COVID-19 and protect our residents," he said July 2.
Gimenez added that beaches in Miami-Dade County would be allowed to reopen on Tuesday, July 7, provided people start taking the public health warnings and practicing social distancing seriously.
"We can tamp down the spread if everyone follows the rules, wears masks and stays at least six feet apart from others," he said.
Florida Governor Ron DeSantis said on July 2 that despite the surge in virus cases in the state, it would continue on its path to reopen.
"We're not going back, closing things," DeSantis said on Tuesday, according to Axios. "I don't think that that's really what's driving it. People going to a business is not what's driving it. I think when you see the younger folks, I think a lot of it is more just social interactions."
During a news conference Monday, DeSantis urged Floridians to take social distancing seriously and to wear a face-covering when they are outside their homes.
"The best way to protect yourself, and to particularly protect the most vulnerable and slow the spread [of the coronavirus] is to avoid close contact settings," DeSantis said. "If you're at a private party inside...and people are shoulder to shoulder...that is going to be an incredible method for transmission."
Newsweek reached out to DeSantis and Gimenez for additional comments but did not hear back before publication.