Trump Divorce: Miami Dolphins Cheerleader Splits From Democrat Husband in Support of Trump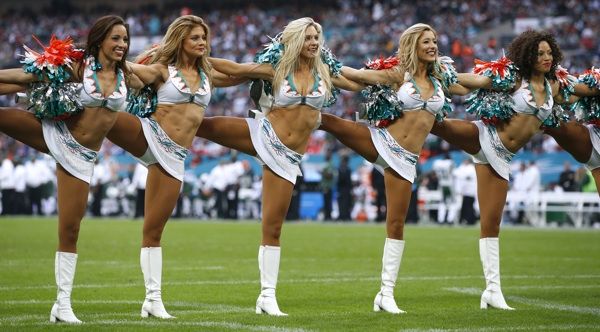 A former Miami Dolphins cheerleader has split from her husband in what is being described as the "Trump divorce." The woman issued a press release stating that the couple were forced to end their marriage due to their political differences.
In the statement, 37-year-old Lynn Aronberg, who once cheered for the Florida football team, was described as a "staunch Republican and supporter of President Donald Trump," the Palm Beach Post reported. Her husband, Florida state attorney for Palm Beach County Dave Aronberg, is a Democrat.
According to the statement, their political differences drove the couple apart after Lynn Aronberg's favor for the president caused her to feel "increasingly isolated in the marriage."
Despite their political differences, the former couple, who were wed in May 2015, have remained amicable throughout the separation and signed a divorce settlement earlier in the week. Lynn Aronberg will reportedly receive a $100,000 settlement, which includes a new BMW and $40,000 in cash.
The Aronbergs are not the first couple to end their marriage due to their partisanship. In May, Arlington, Virginia–based polling firm Wakefield Research released a study that found one in 10 couples, married or not, had ended their relationships because of political disagreements. The study, which included 1,000 participants across the U.S., found millennials in particular were separating at an increasing rate after 22 percent said that they broke up with their significant other over political differences.
Twenty-four percent of participants said that they had "disagreed or argued about politics more than ever" following Trump's election victory, while 22 percent of participants said that they knew a couple, either married or in a dating, whose relationship had been "negatively impacted specifically due to President Trump."
Trump aside, divorce rates in America are up in general, almost doubling since the 1990s, according to a March 2017 Pew Research report. The study, which was based on marriage data recorded from 1990 to 2015, set divorce rates for adults ages 50 and up at 10 for every 1,000 married persons in 2015 compared with five for every 1,000 married persons in 1990. Adults ages 40 to 49 had a divorce rate of 21 adults per 1,000 in 2015 compared with 18 per 1,000 in 1990.
People 25 to 39 were the only group to see a slight decline, with the divorce rate set at 25 adults for every 1,000 in 2015 compared with 30 adults per 1,000 married persons in 1990.