Miami Dolphins' Kendrick Norton Arm Amputated After Car Accident
Miami Dolphins player Kendrick Norton was involved in a car accident, which resulted in the amputation of his arm.
On Thursday morning, the Miami Dolphins posted on Twitter that Norton was involved in a serious car accident and offered their thoughts and prayers to the player and his family. There was speculation that Norton's injuries could be career-ending, which his agent confirmed.
Malki Kawa posted on Twitter Thursday morning that it was "with sadness" that he confirmed Norton suffered multiple injuries and had his arm amputated.
"We ask that you continue to pray for him. His family also asks that the public respect Kendrick's privacy," Kawa wrote on Twitter.
Florida Highway Patrol Lieutenant Alex Camacho told the Associated Press that Norton was driving a Ford F250 when the car crashed into a concrete barrier on State Road 836 near Miami. The vehicle overturned and Norton was taken to Jackson Memorial Hospital's Ryder Trauma Center. It hasn't been released if anyone else was in the car at the time of the accident.
Saira Anwer, a reporter for WPLG, posted a video on Twitter of Jackson Memorial Hospital and posted that visitors were coming and going.
Norton, 22, was drafted the Carolina Panthers in the seventh round of the 2018 NFL Draft. He spent 14 games on the Panthers' practice squad before leaving Carolina for Miami when he was signed to the Dolphins in December.
He attended high school at Trinity Christian Academy in Jacksonville, Florida, where he played both offensive and defensive line. During his time in high school, he was teammates with Dolphins wide receiver Isaiah Ford and as a senior, was 1st-team all-state.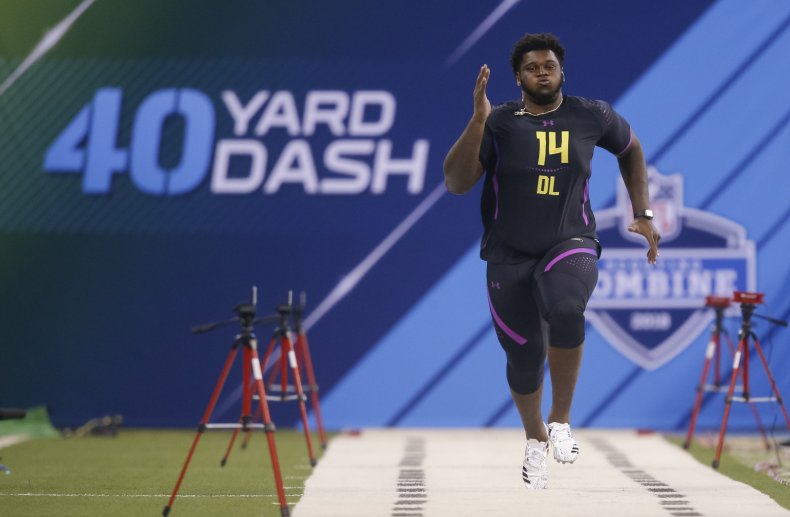 He attended college at the University of Miami, where he was a three-year letterman, from 2015 to 2017, and a two-year starter. Throughout his college career, he played in 38 games, starting in 25 of them, and had 84 tackles, five sacks, one pass defense, one forced fumble and one fumble recovery.
"Our thoughts are with Kendrick Norton and his family," the University of Miami football team posted on Twitter.
After news of his injuries broke, professional football players and sports reporters expressed their condolences and asked for prayers for their colleague.
Former Chicago Bears player Earl Bennett encouraged Norton to "keep fighting" and said that he was praying for both him and his family.
"Serious prayer for my man Kendrick Norton. God watch over him in Jesus name, Amen," Cleveland Browns tight end David Njoku posted on Twitter.