Minkah Fitzpatrick: Will Miami Dolphins Trade First-round Pick?
Minkah Fiztpatrick's spell in Miami could be coming to end, with the Dolphins reportedly ready to trade him.
According to ESPN, the 22-year-old has received permission to seek a trade and his agent, Joel Segal, has already been in contact with a number of teams.
A trade, however, would not be straightforward as the Dolphins are reportedly seeking for a package that includes a first-round pick, which has seemingly put off a number of potential suitors.
ESPN reported Miami insisted the team wasn't actively looking to trade Fitzpatrick, but did not deny giving his agent the green light to discuss terms with other franchises.
Fitzpatrick has reportedly grown unhappy with being asked to play different positions, after playing as cornerback/safety at Alabama.
The 22-year-old covered three different positions in Week 1—safety, linebacker, and nickel corner—as the Dolphins were torched 59-1 at home by the Baltimore Ravens.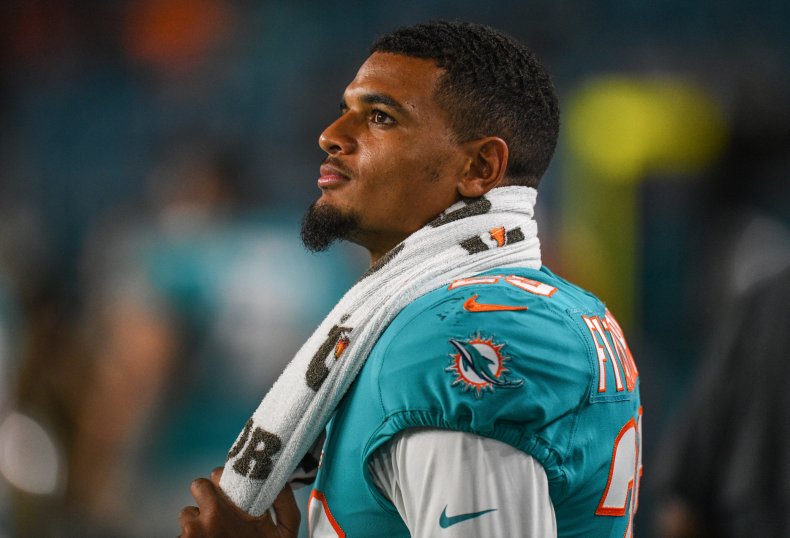 The Miami Herald reported Fitzpatrick believes the new coaching staff headed by Brian Flores doesn't have a clear plan for him and can't get the best out of him.
Flores and Fitzpatrick met during the week, but the Dolphins head coach was non-committal when he spoke to the press.
"Minkah had some good plays, he had some bad plays," he said. "At the end of the day, we wanted to get some other guys in there. He's a good player for us. We have a lot of confidence in him. Like all of us—players, coaches—he's got to improve and perform better."
This is not the first time Fitzpatrick is asked to cover different positions. Last season he played at nickel cornerback, boundary cornerback and covered both safety spots.
The player had hoped to nail down one position this season, while it is obvious the Dolphins consider his versatility a major asset.
The issue of Fitzpatrick's best position first arose last month during a joint practice with the Tampa Bay Buccaneers, when his mother tweeted he was being played out of position at strong safety.
Fitzpatrick agreed with his mother's judgment.
"She feels very strongly," he said.
"She's not wrong. Coach has asked me to do something right now. I got to do what they ask me to do. If we have to have some discussions in the future, we'll have those discussions.
"I'm not 215 pounds, 220 pounds. So playing in the box isn't best suited for me, but that's what Coach is asking me to do."
News of Fitzpatrick's agent being allowed to seek a trade comes just days after ProFootballTalk.com reported a number of Dolphins players asked their agents to get them out Miami.
The Dolphins are widely considered the worst team in the NFL this season and lived up to that unwanted reputation as they were annihilated by the Ravens in Week 1.
Miami has stripped down its roster in a bid to accumulate draft picks and landing the number one overall selection in next year's draft, which is widely expected to be Alabama's quarterback Tua Tagovailoa.
The Dolphins recently traded wide receiver Kenny Stills and 2016 first-round draft pick Laremy Tunsil to the Houston Texans, receiving two first-round picks and a second-round pick as part of the package.
However, the strategy of pursuing such a drastic overhaul could leave the Dolphins with a roster so short of quality that they might not be able to make the most of Tagovailoa even if they were to draft him.