After county officials rejected the Miami Heat's offer to use its home stadium, the AmericanAirlines Arena, as an early voting site ahead of November's election, the professional basketball team shared disappointment and criticism in response to the news on Friday.
"On Juneteenth, the Miami HEAT made a long-term pledge to help advance the cause of social justice. Part of our pledge was to use our platform to encourage people to exercise their constitutional right to vote," the Miami Heat said in a statement.
Alongside National Basketball Association (NBA) teams based in other U.S. cities, Heat players have joined in various initiatives to stand against racism and police violence, and advocate for civic engagement, since demonstrations pushing for the same first surfaced earlier this summer.
"For months, we discussed the possibility with local elections officials knowing we could help make the voting process open, accessible, safe and even exciting," the statement continued. Officials visited the stadium for a walk-through and, according to the Heat, indicated a formal agreement to classify the space a polling site and "make the Arena available for the same purpose in future years" was on its way.
"Then today, we were informed that our Arena would not be designated a polling place, in favor of the Frost Science Museum. This decision was made and delivered without further explanation," the team recalled, adding: "To say we are disappointed is a huge understatement. The Arena is clearly a better site, with more visibility, more space and more parking."
Miami-Dade County Mayor Carlos Gimenez said election authorities selected the science museum—which was the original candidate suggested to replace Adrienne Arsht Performing Arts Center, currently undergoing construction, as an early voting site—for its accessibility and past use as a polling location.
"I appreciate the Miami Heat's offer to have the arena, which is walking distance from the museum, serve as an early voting site," Gimenez noted in a Friday announcement confirming the county elections department's decision.
"However, Miami-Dade County decided to move forward with its original choice, as it is a more convenient site that's best suited for early voting, with both free public access to thousands who live near downtown and a long-standing relationship with the County on holding free and fair elections," his announcement explained. Gimenez additionally said the NBA team's desire to host early voting in future years would not be possible due to scheduling conflicts.
Later on Friday, Miami-Dade County officials released dates and location details for local residents planning to vote during the two weeks leading up to November's election. The Frost Science Museum is included among roughly 30 other locations.
Newsweek reached out to Gimenez's office and the Miami Heat for comments, but did not receive replies in time for publication.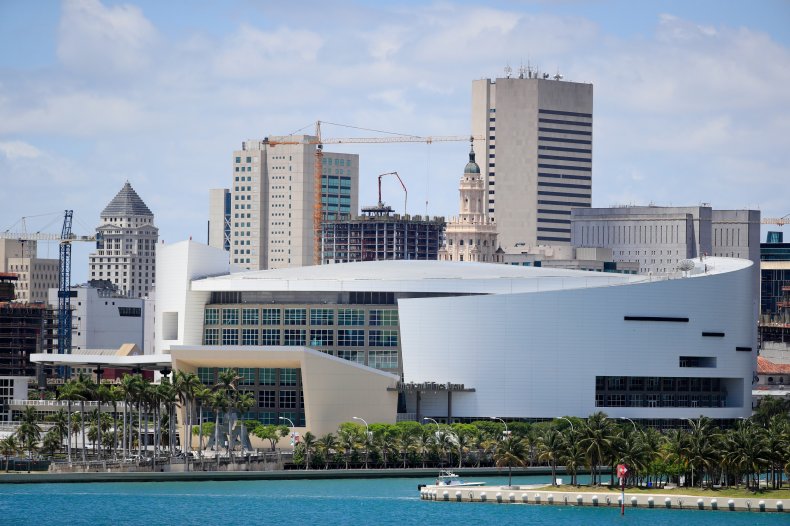 Uncommon Knowledge
Newsweek is committed to challenging conventional wisdom and finding connections in the search for common ground.
Newsweek is committed to challenging conventional wisdom and finding connections in the search for common ground.