Miami's Little Havana Celebrates Fidel Castro's Death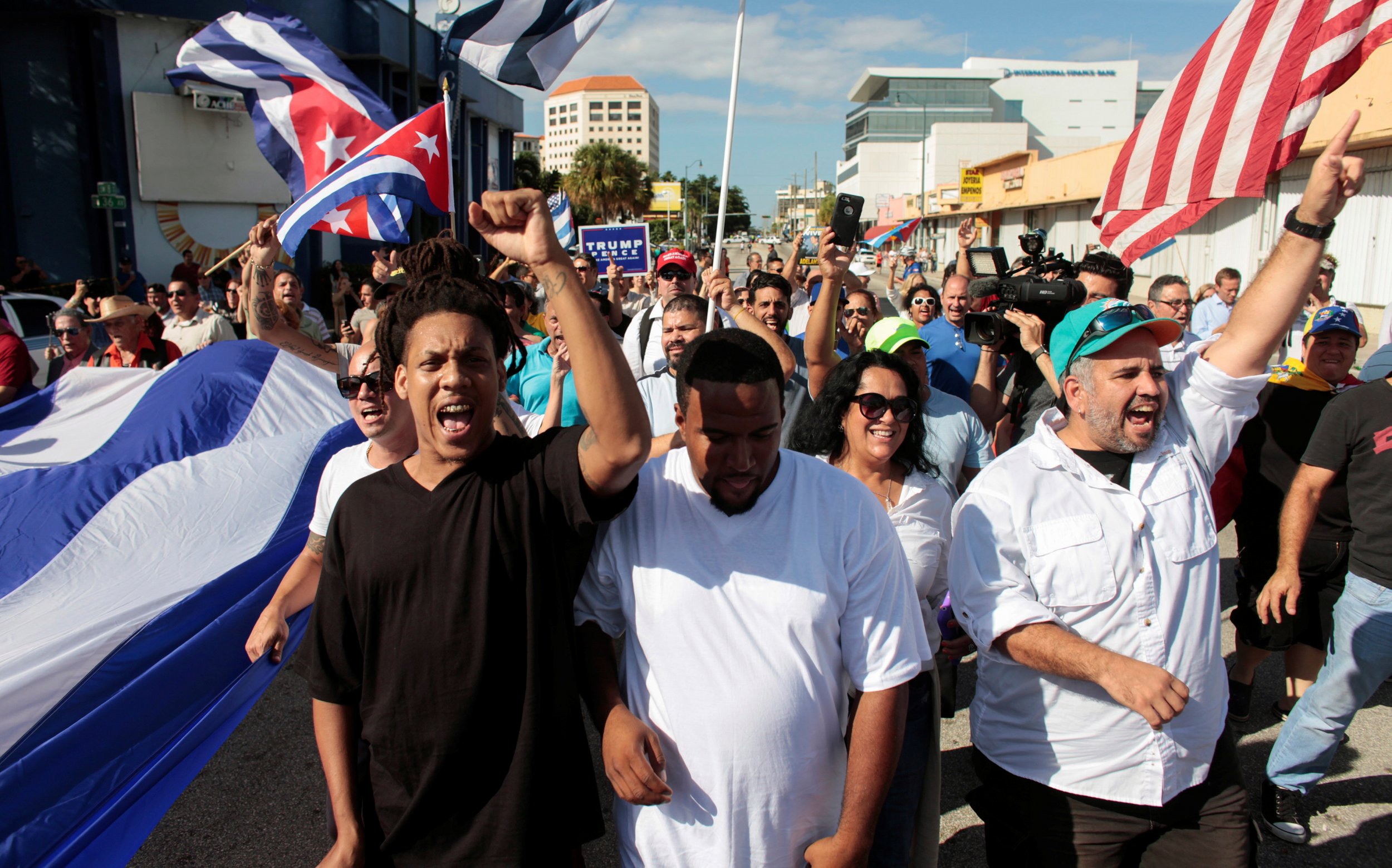 Cuban-Americans celebrating the death of former leader Fidel Castro flooded the streets of Miami's Little Havana early on Saturday, waving flags, setting off fireworks and banging on pots to revel in his passing.
Lines of honking cars outside the Versailles Restaurant, long a center of the city's exile community, passed hundreds of cheering revelers who defied occasional rain to rejoice at Castro's death on Friday at 90.
"This is the happiest day of my life, Cubans are finally free!" said Orlidia Montells, 84, who said she had been waiting for Castro to die for more than 50 years.
Hugo Ravelo, an 83-year-old former casino employee, said he hoped change would come to the Caribbean island, though he's not sure how much. "The other one is still there," he said, referring to Cuban President Raul Castro, Fidel's brother.
Miami's streets had often been filled in celebration before on false reports of Castro's death but Saturday morning was fueled by relief that the longtime leader was truly gone, revelers said.
Miami Mayor Tomas Regalado said the partying among the area's more than 1 million Cuban-Americans would go on for days. The celebration would cross political party lines after a bitterly fought presidential election won by Republican Donald Trump, he said.
"His passing closes a very painful chapter for Cubans on the island and Cuban-Americans throughout the world, including for thousands of Miami-Dade County residents who were personally affected by his cruel and brutal dictatorship," said Carlos Gimenez, mayor of Miami-Dade County, which includes the city of Miami.
Gimenez, who was born in Cuba and emigrated to the United States around the time Castro came to power, said in a statement he hoped any demonstrations would stay peaceful and there were no immediate plans to activate the county's Emergency Operations Center.
Luis Torres, a 28-year-old medical student, said Castro was still admired by some people for defying the United States and demolishing Cuba's rigid class system.
"A lot of people see him as a hero, that he stood up to the U.S.," he said.
In a Cuban-American neighborhood in Hialeah, residents thronged the streets, waving Cuban and U.S. flags and clanging on pots.
One man, carrying a shovel, told NBC 6 television that, "I'm digging a hole for him. He did a lot of damage to my family."
He said Castro's government had taken away his father's businesses and imprisoned relatives.
"I'm so happy," he added about Castro's death.