Miami Mayor 'Unaware' Lap Dances Allowed Amid Pandemic, Vows to Prohibit
Miami-Dade County Mayor Carlos Gimenez has vowed to ban lap dances after learning they were still occurring at strip clubs.
Gimenez "was unaware that lap dances were authorized at some adult entertainment venues," Deputy Mayor Jennifer Moon told The Miami Herald on Tuesday night. "They will be prohibited henceforth."
At least five strip clubs in the county were approved to reopen earlier in June after submitting safety plans that included the installation of hand-sanitizing stations and requiring mask wearing by staff. Entertainment venues in the county were allowed to submit safety plans and reopen once they had been approved.
In the mayor's June 4 reopening order, there was a requirement of 10 feet between performers and patrons, but Moon said lap dances were still legal under the 10-feet rule because "lap dances are not considered a performance."
Strip club employees performing lap dances were required to follow the same mask-and-glove rules as massage therapists, under the county's approved operating plans. However, close contact by dancers will no longer be approved.
"Lap dances were initially considered personal services and were considered to fall under the guidelines for personal grooming, massage establishments, etc., but upon further review that has now changed," Patty Abril, assistant director of communications for the mayor's office, told Newsweek.
"I will be contacting the places that have included them in their plans to let them know they are prohibited," she said.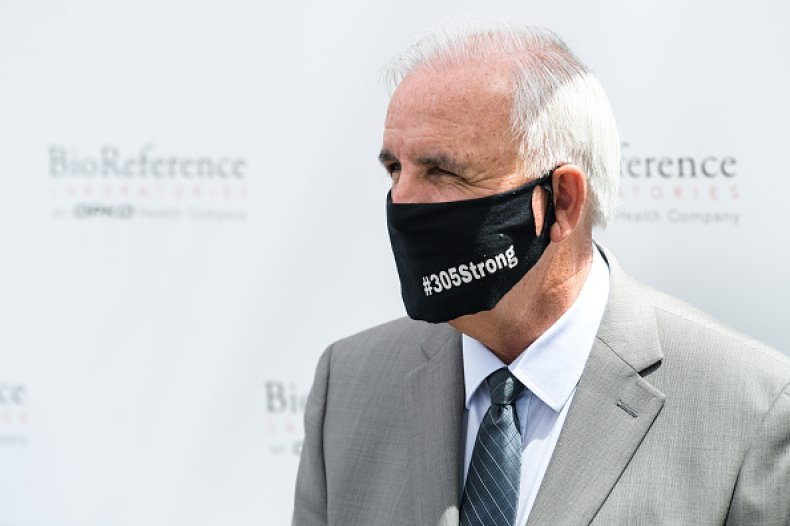 The reopening of these businesses in Miami-Dade reflects Gimenez's eagerness to jump-start the economy. However, as Florida increasingly becomes a national hot spot for the coronavirus outbreak, officials have been forced to reconsider reopening plans in order to curb the recent surges in cases.
Gimenez imposed new rules targeting crowds over the July Fourth weekend, including a ban on parades and beach-going from July 3 to 6. He also announced on Wednesday that hotels will have to limit pool hours and alcohol sales.
"Recent spikes in COVID-19 cases throughout Miami-Dade County require that we take these measures to tamp the curve," Gimenez said in a statement. "While we want everyone to enjoy the Fourth of July weekend, we must safeguard our community's public health. There is no more patriotic an act than protecting the lives of everyone in our county."
In Florida, Miami-Dade has been the county hit hardest in by the pandemic. On Wednesday, the state's Department of Health announced an additional 1,141 confirmed cases of the virus, bringing the county's total to 37,961 positive cases, the highest in Florida. The county also hit 1,000 deaths on Wednesday.
Despite the spikes in cases in recent weeks, Florida Governor Ron DeSantis has said the state will "not go back" on reopening.
"We're not going back, closing things," he said during a Tuesday press conference. "I don't think that that's really what's driving it. People going to a business is not what's driving it. I think when you see the younger folks—I think a lot of it is more just social interactions, so that's natural."
On Saturday, the state recorded a new single-day high, with 9,585 confirmed cases. Over the course of the pandemic, Florida has reported a total of 158,997 coronavirus cases and 3,550 deaths.
Update: This story has been updated with comments from Abril.