Miami Pastor Whose Megachurch Is Hosting Donald Trump Guarantees Undocumented Followers Won't Be Deported for Attending
Guillermo Maldonado, pastor of King Jesus International Ministry church in Miami, assured his undocumented congregants Sunday that appearing at President Donald Trump's upcoming "Evangelicals for Trump" rally wouldn't put them at risk for deportation.
"I ask you: Do you think I would do something where I would endanger my people? I'm not that dumb," Maldonado said during the service, according to the Miami Herald.
White, evangelical Christians overwhelmingly voted for the Republican candidate in 2016 and are a key demographic for Trump in the upcoming election. He had support from the late evangelist Billy Graham, but a recent editorial in Christianity Today, a magazine Graham founded, urged believers to not support the president in 2020 and called for his removal from office.
Trump, and Graham's son Franklin, dismissed the editorial as being motivated by politics and disloyal to the vision of Christianity Today as Graham saw it. On Friday, the president will kick off the new year in Florida with a rally to launch his "Evangelicals for Trump" coalition.
Maldonado said the church wasn't organizing or financing the event and that Trump's campaign chose the location. He told the congregation that some questioned how he could bring Trump to a church where some of the attendees didn't have valid immigration paperwork.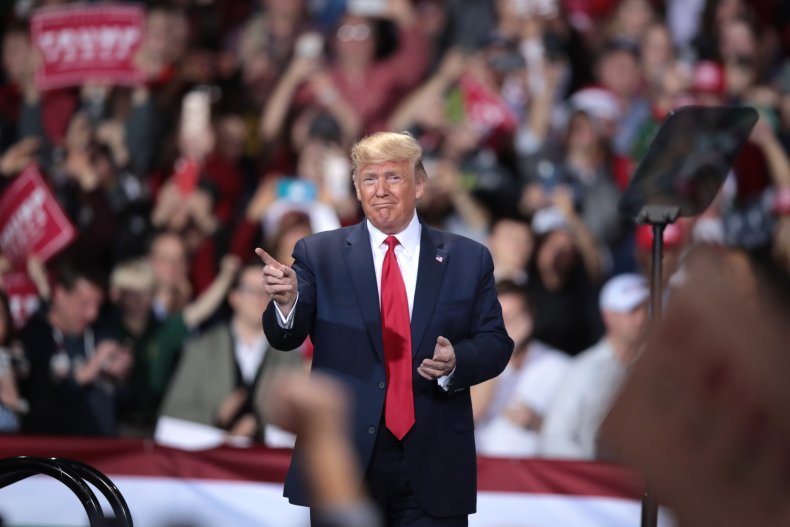 Maldonado told parishioners he didn't think the president would "do such a thing," referencing immigration raids. To attend the event, parishioners had to register on Trump's campaign website and as their "spiritual father and pastor," Maldonado affirmed they didn't have to be a citizen.
"If you want to come, do it for your pastor," he said, according to the Miami Herald. "That's a way of supporting me."
Newsweek reached out to Trump's campaign through email but did not receive a response in time for publication.
Maldonado has been invited to the White House on numerous occasions to meet and pray with Trump. In January, he commended the president for his immigration policies, saying during a roundtable discussion that there's a misconception that the Spanish community supports illegal immigration and open borders.
He added that he prays for Trump, something he did with other evangelical leaders at the White House in October and said that he could count on his support.
Maldonado also joined more than 200 evangelicals in signing a letter refuting the Christianity Today editorial. The letter applauded Trump for his actions as president, including promoting religious freedom, reforming the criminal justice system and protecting unborn fetuses.
Trump's "Evangelicals for Trump" rally on Friday is intended to "bring together evangelicals that support Trump," according to a campaign press statement. About 70 Christian pastors will attend to "talk" and "influence" the president, according to the Miami Herald.