Miami Police Chief Art Acevedo Says He Didn't Know Photo Op was With Proud Boys
Miami Police Chief Art Acevedo, who recently posed for a photo with a prominent member of the right-wing extremist group the Proud Boys, defended his actions by saying he didn't know who the man was.
Acevedo has come under fire twice in July for his interactions with Proud Boy members during recent protests in solidarity with Cuban demonstrators. The photo, which was provided to the Miami Herald by an unnamed photographer, shows Acevedo with his arm around Gabriel Garcia, a man who is currently facing two federal felony and four misdemeanor charges related to disorderly conduct and trespassing in the Capitol during the January 6 riots.
"There are thousands of people in the crowd and some just come up to you and say can I take a picture," Acevedo said. "Obviously, I had no idea who that man was. It was a 10-second interaction."
The photo was taken during the protests on July 12. On July 11, Joel Franco, an independent journalist, took a video showing Acevedo swearing at a man, later identified as a "Proud Boy" who was questioning him why he supported the Black Lives Matter movement and "communists." Not all of the video's dialogue is intelligible, but Acevedo can be heard replying "because it's my f**king job...get out of here man, you're a fool."
Proud Boys Chairman Enrique Tarrio confirmed to New Times that the man in the video is a member of the Proud Boys Miami chapter but did not identify him further. Tarrio recently pleaded guilty to stealing and burning a Black Lives Matter banner from a church. He is scheduled to be sentenced on Aug. 23.
Acevedo says he was not aware who either man was, or that they were members of the Proud Boys, who have been identified as a "hate group" by the Southern Poverty Law Center.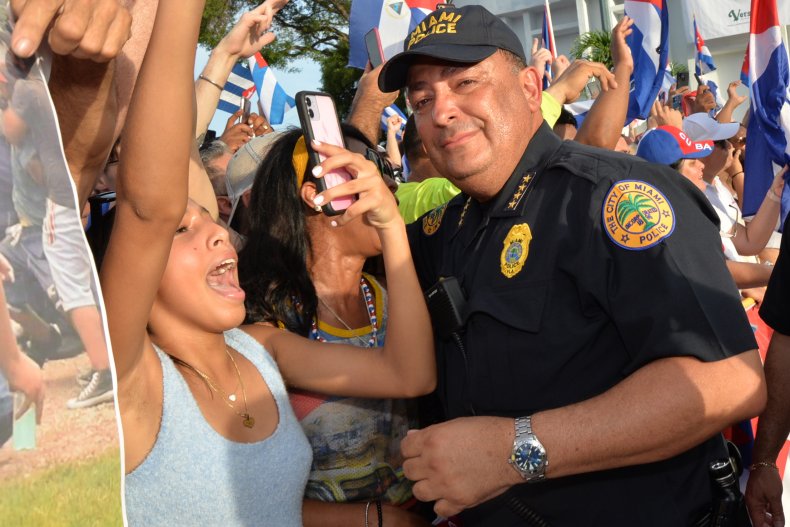 Evidence against Garcia in his federal charges includes video Garcia posted online of himself at the January 6 riots. In one which he streamed on Facebook Live, he said things are about to "get ugly" and calls on House Majority Leader Nancy Pelosi, beckoning her to "come out and play." He later claimed it was not meant as a threat.
Garcia is a former U.S. Army Captain, an unsuccessful candidate for Florida's 116th House district, and an avid President Donald Trump supporter.
Dozens of "Proud Boys" are facing charges for their participation in the January 6 Capitol Riots.
Newsweek reached out to Chief Acevedo for comment but did not hear back right away.