Miami Police Chief Warns of 'Long, Hot Bloody Summer' as Crime Rates in Cities Rise 24 Percent
In the wake of deadly shootings in his city and across the nation, Miami Police Chief Art Acevedo gave a dire warning on Monday, saying during an appearance on CNN, "Unless the American people speak out, it's gonna be a long, hot bloody summer."
According to a recent report from the National Commission on COVID-19 and Criminal Justice—a bipartisan commission created last year to assess the impact of the pandemic on the justice system—the number of homicides across the country during the first quarter of 2021 was up 24 percent compared with the same period in 2020 and up 49 percent from 2019.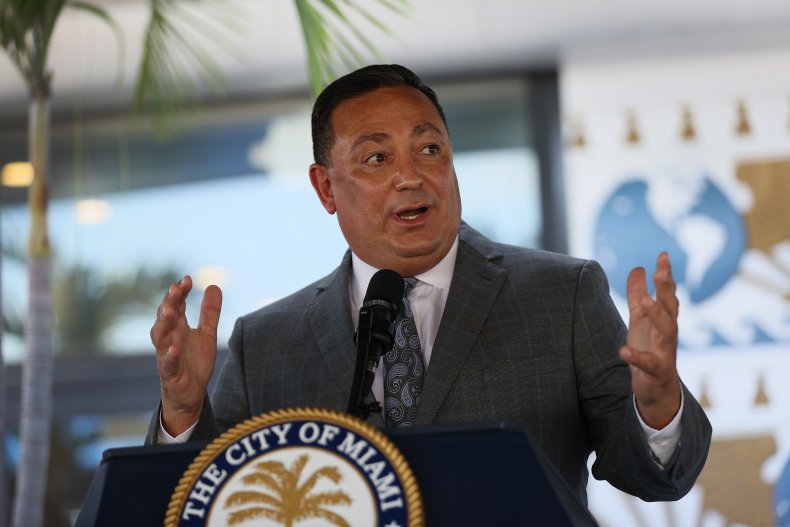 During the CNN appearance, Acevedo suggested who is to blame for the recent surge in crime, saying, "We can thank a lot of elected officials for that."
Acevedo appeared on CNN Newsroom on Monday morning, where he discussed the rash of violence in Miami during Memorial Day Weekend. A mass shooting outside a banquet hall early Sunday left two dead and 21 wounded, including three people hospitalized in critical condition. Officials also are still investigating a drive-by shooting on Friday that killed one person and injured six others outside a venue in the the Wynwood area of Miami.
Even before the weekend, a car chase early Thursday evening near Casino Miami Jai-Alai resulted in three injuries, including one bystander who was shot during the altercation.
The weekend ended with a Monday night shooting outside a Miami Beach restaurant that wounded two people. The rap star DaBaby was interviewed and later released without charges in relation to that incident.
Acevedo told CNN host Jim Sciutto on Monday that there is blame for the uptick in crime on both sides of the political spectrum. He said, "I think from the left, we need to stop talking about the militarization of police and defunding the police and start focusing on actually investing on better policing and better training"
However, the police chief also said more gun laws need to be put into place.
"And to the right, it shouldn't be more guns for everyone," he said. "We need to toughen up the laws, how easy it is for crooks to get guns and then we need to hold criminals accountable. Those that would do harm to others need to be in prison, they need not to pass go or collect $200."
He also spoke of the importance of getting court systems fully operating again across the country after pandemic-enforced closures. He said, "Look, it is a time in our country's nation where our courts have been shut down, courts are not holding people accountable. In Houston, where I just left a few weeks ago, we are arresting the same individuals for committing violence and that has to change, it has to change soon."