Miami Police Officer Caught on Video Repeatedly Punching Homeless Man Inside Publix Grocery Store
A Miami Police officer was caught on video repeatedly punching a homeless man inside a Publix grocery store.
The video, which was first obtained by the Miami Herald, begins by showing the officer grabbing the man and taking him to the ground inside the grocery store. According to the Miami Herald, the Publix where the incident occurred is located at 1776 Biscayne Blvd and the video was captured on April 16.
After the officer takes the man to the ground, he can be seen attempting to restrain the man's head and hand but as he resists the officer throws multiple punches at the man's head. As the officer continued to punch the man in the head, another man be seen walking over in an attempt to break up the situation. 

As the video ends, it appears that the officer is able to handcuff the man as one bystander can be heard saying, "Dude?"
While the video was captured on April 16, it was first released by the Herald on Wednesday. Shortly after the video was shared across social media, the Miami Police Department responded on Twitter, noting that they are aware of the incident.
The Miami Police Department reiterated their posted to Twitter in an email sent to Newsweek.
"The Miami Police Department is aware of the incident and has launched an investigation. The involved officer has been relieved of duty pending the outcome of the investigation," the statement sent to Newsweek said.
According to an arrest report obtained by the Herald, Miami Police Officer Alexander Garcia-Contreras was working as an off-duty security guard at the Publix grocery store when he was informed by the manager that the man, who was identified as 58-year-old Willie Barbor, had taken a piece of chicken from the deli and walked away without paying.
After the manager asked Barbor to pay for the chicken, he said "f*** you" and told the manager he didn't have to pay because he was homeless, according to the arrest reported obtained by the Herald.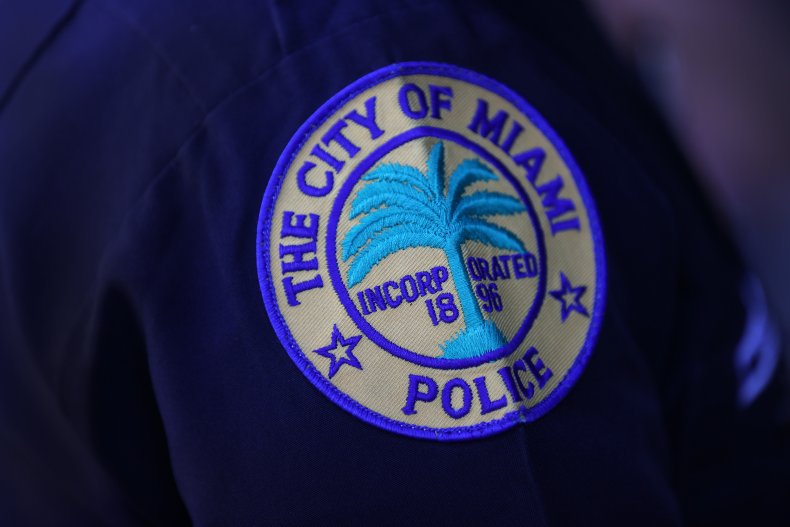 According to the Herald, the report then stated that the officer asked Barbor to follow him to an office so he could issue a trespassing order but he refused. The report stated that the officer then tried to grab Barbor but as he resisted, the officer "re-directed the defendant to the floor and gave him a couple of distractionary strikes to gain the defendant's compliance," according to the Herald.
Barbor was arrested on charges of petty theft, resisting an officer without violence and disorderly conduct, according to court records. The court records show that all of the charges were dismissed four days after his arrest on April 16.