Miami Police Officer to Be Disciplined for Wearing Pro-Trump Face Mask With Offensive Language at Voting Site
A Miami police officer will face disciplinary action after he was spotted wearing a pro-Donald Trump face mask that featured "offensive language" at a voting site on Tuesday morning. The officer's mask read "Trump 2020" and "No more bulls***."
Steve Simeonidis, chairman of the Miami-Dade Democratic party, tweeted an image of the officer, describing the situation as "city funded voter intimidation."
Simeonidis told the Miami Herald that he spotted the officer "well within" the 150-foot area that police officers and non-voters are not permitted under state laws during an election.
"He may have been going to vote. But he was in full uniform with the mask and a gun. That's voter intimidation," Simeonidis told the Herald, while noting that when he questioned the officer about the mask, he "laughed it off."
Deputy Police Chief Ron Papier of the Miami Police Department said he spoke with Chief Jorge Colina and noted that the officer who was seen wearing the mask, Officer Daniel Ubeda, will face the "appropriate disciplinary action," according to the Herald.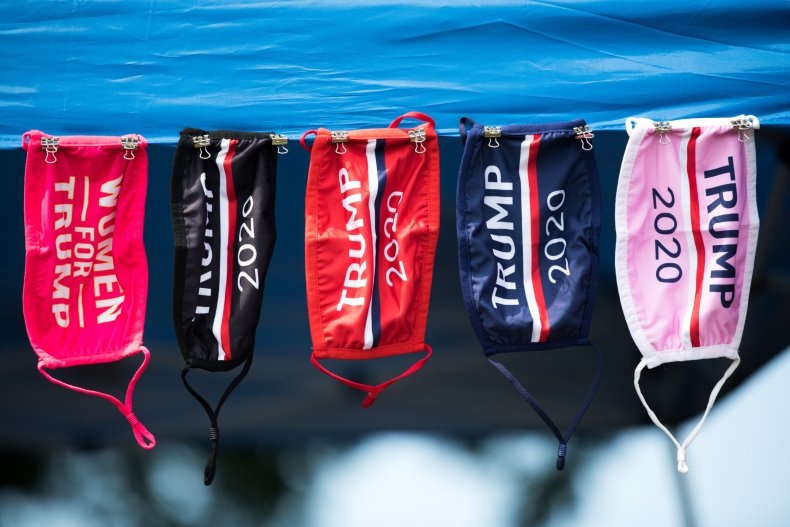 "Obviously this is a clear violation of our department policy regarding campaigning while on duty," Papier told the Herald. "Additionally, the mask has offensive language, which is also a violation of department policy."
In an email sent to Newsweek, Chief Colina wrote, "We are aware of the photograph being circulated of a Miami Police officer wearing a political mask in uniform. This behavior is unacceptable, a violation of departmental policy, and is being addressed immediately."
Miami Mayor Francis Suarez also responded to the incident in a tweet that read, "I have spoken to Chief Colina and we agree that the officer's behavior is unacceptable. This was a violation of departmental policy. He is under investigation and disciplinary measures will be taken."
The incident on Tuesday comes just a day after Suarez announced increased plainclothes police presence as Florida began its first day of early in-person voting for the November 3 election.
"#Earlyvoting in Miami begins today! As we enter the countdown towards Election Day, your safety is our biggest priority," Suarez wrote. "The City of Miami has increased our police presence throughout the city and we've stationed plain-clothed officers at every polling place to keep the peace."
On Monday night, Politico reported that Florida had shattered its previous record for a first day of early voting, with at least 350,000 residents casting their ballots.