Miami Police Release Footage of Suspects in Banquet Hall Shooting That Left 2 Dead, 21 Injured
Update: 4:25 p.m. EDT—A senior law enforcement source told WFOR-TV the white Nissan Pathfinder was stolen before the shooting. They located it dumped in the Biscayne Canal.
Sam Brock, a correspondent for NBC News in Miami, posted on Twitter that the car was stolen on May 15th.
Newsweek has not been able to verify this information.
Original story:
Police are still searching for three men who shot 23 people early Sunday morning and are hoping that video footage of them sparks a tip that leads to their arrest.
Miami-Dade police released footage of the three men exiting a white Nissan Pathfinder and then running back to the car and driving away. Their faces were partially obscured with masks, but officials released the footage in case one of the men's mannerisms reminds someone of a person they know and they call in a tip.
"[People] can say that looks like so and so or [it] possibly could be this person and that's the information we want," Major Jorge Aguiar, who's with Miami's Homicide Department, said on Monday. "Even if it's not the individual, I'd rather have the information and vet it out than not have the information."
Police believe the shooting was intended to target someone in the crowd that gathered outside the El Mula Banquet Hall, which had been rented out for a concert. After the men in the Nissan Pathfinder allegedly opened fire on the crowd, Aguiar said several groups in the parking lot opened fire towards the suspects of the initial shooting, resulting in an "extensive crime scene."
A total of 23 people were shot and two people were found deceased at the scene. Three others are still in critical condition and three people were released from the hospital, including a 17-year-old who was shot in the leg.
Camping World CEO Marcus Lemonis posted on Twitter that he was offering a $100,000 reward to help authorities in his hometown "arrest and convict" those responsible. With the addition of $25,000 from the Miami division of the Bureau of Alcohol, Tobacco, Firearms and Explosives (ATF), the reward increased to $125,000.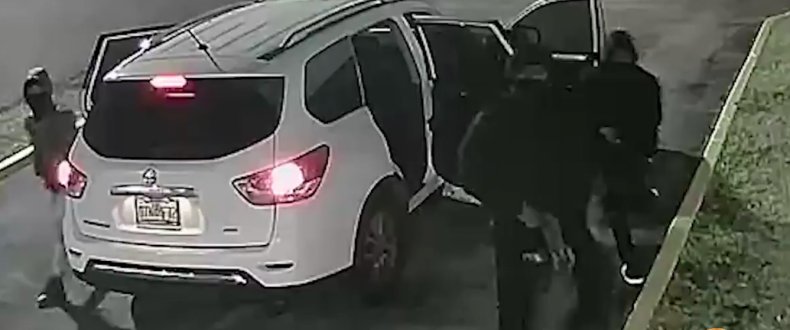 Miami-Dade Police Director Alfredo "Freddy" Ramirez III urged people to come forward with any information they have. He noted that people don't have to tell their family or friends that they're witnesses and that information can be submitted completely anonymously.
"There are people in our community that are in fear to come forward," Ramirez said on Monday. "There is a culture not to snitch, that culture needs to be broken because what's going to happen is you may be that victim or your loved one."
Sunday's shooting is believed to be part of an "ongoing" rivalry between two gangs, which officials described as more a group of people than a traditional gang with signs and similar clothing. While law enforcement is aware of the groups and tries to keep tabs on them, Ramirez said they can't always anticipate violence, which is why they need the community to be engaged.
Officials are committed to bringing the suspects to justice and Mayor Daniella Levine Cava said they will leave "no stone unturned" and "will leave nothing behind."