Miami Police Shoot, Kill Suspect Linked to Officer Shooting
A suspected armed robber was shot and killed in a Miami hotel on Tuesday afternoon.
Police believe the man, who hasn't yet been identified, was linked to Jeremy Willie Horton, a 32-year-old Georgian man suspected of shooting and seriously injuring Miami-Dade Police Officer Cesar Echaverry on Monday night, in a separate incident.
Officers later killed Horton, while Echaverry remains in a "critical condition" in hospital.
Tuesday's shooting took place when officers from the Special Response Team confronted a man, armed with an AK-47 style rifle, at an Extended Stay America hotel.
Miami-Dade Police Director Alfredo Ramirez described what happened at a short press conference outside the hotel, which is located on Fairway Drive near Miami International Airport.
He commented: "The result of the confrontation: shots were fired. The subject is deceased. Officers are OK. Citizens are OK."
Ramirez said it isn't yet known whether the suspect had fired his gun before being killed, but "right now it's under investigation."
A joint investigation by the Miami-Dade State Attorney's Office and Florida Department of Law Enforcement will be held to determine if police's use of deadly force was justified.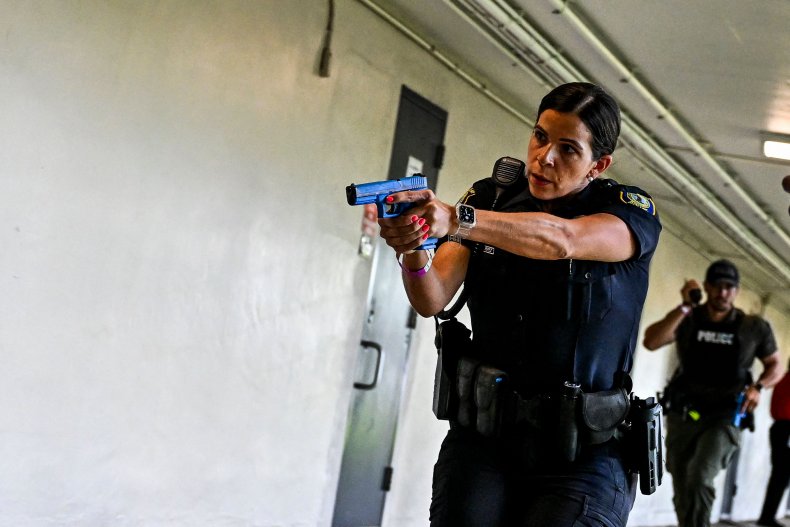 According to the Miami Herald, the shooting took place on the second floor of the hotel, toward the eastern side.
The suspect was shot in the bathroom, with Miami-Dade Police later releasing a photo of the room showing an AK-47 style rifle over the sink.
Speaking to the Miami Herald, one law enforcement figure said there had been two children inside the hotel room when the shooting took place, both of whom were unharmed.
Damage to the window of the hotel room where the gunfire took place could reportedly be seen from the outside.
Both Horton and the man killed on Tuesday were considered suspects in a convenience store robbery that took place at Dania Beach on Monday.
Officers suspect a Hyundai that Horton was seen driving shortly before Monday's shootout had earlier been used as the getaway vehicle for the Dania Beach robbery.
It was later seen in Miami Springs, close to the Extended Stay America hotel where the suspect was shot on Tuesday.
Update on Injured Officer
On Tuesday, Ramirez gave an update on Echaverry's condition via social media.
He tweeted: "As Officer Caser 'Echy' Echaverry remains in a critical condition, we ask that you remain united as a community and stand with him and his family during this difficult time."