Miami police will be working with local healthcare providers to direct opioid addicts to rehabilitation instead of jail, according to the Miami Herald.
Law enforcement officials will be partnering with the Jackson Behavioral Health Hospital, the South Florida Behavioral Health Network and the University of Miami Health System, among others, to set up a year-long outpatient treatment program for individuals found with small quantities of opioids. The "pre-arrest diversion" initiative is funded by Justice Department grants worth $1.6 million, which will pay for the operation to treat about 100 people over three years.
Police and hospital personnel hope to start offering treatment, including anti-addiction medication, social services, mental health counseling and general medical care, by May 2019. The treatment will rely on outpatient services but also provide some inpatient care.
The program does not have funding to pay for housing homeless addicts, but Patricia Ares-Romero, the chief medical officer of the Behavioral Health Hospital, said she wants to partner with other organizations to make sure those receiving treatment will have a bed.
The new initiative will enable law enforcement agents to prioritize detainment of dealers rather than users.
It also has health benefits. "It's going to prevent the spread of HIV," Hansel Tookes, an assistant professor in the department of medicine at the University of Miami Miller School of Medicine, said. "It's going to prevent hepatitis C transmissions."
Police Chief Jorge Colina elucidated the difficulty that opioid addiction poses for law enforcement personnel across the country, noting that the program offers a helpful fusion between police and medical work.
"Addiction may be a law enforcement problem, but there is no law enforcement solution for addiction," Colina said. "There may, however, be a medical solution."
More than 130 people die each day from opioid-related drug overdoses, according to the Department of Health and Human Services. Prescription opioid deaths have rapidly increased over the past two decades, with the number of prescription-linked overdoses increasing fivefold between 1999 and 2016, the Centers for Disease Control and Prevention said.
"Nearly 300 law enforcement agencies in 31 states now participate in the Police Assisted Addiction and Recovery Initiative, which offers treatment for drug users who ask the authorities for help, an approach inspired by a program established in Gloucester, Massachusetts," according to a New York Times editorial board op-ed from 2017. "Officers work the phones to get addicts into treatment and recovery networks, in an effort that costs less and promises more lasting results than repeatedly arresting them."
But government bodies across the country have struggled to address the opioid epidemic.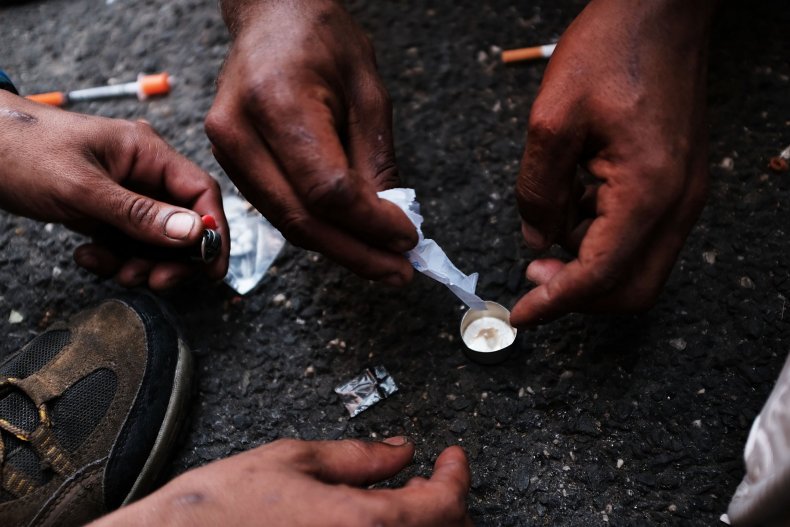 While campaigning for office, President Donald Trump vowed to address the crisis aggressively. In office, he has provided only limited measures: He has declared a public health emergency, promoted a "tough on crime" stance and pursued policies to reduce opioid prescriptions, Vox reported.
In June, the White House unveiled a number of advertisements seeking to deter youth from using opioids. The ads depicted individuals causing a car crash and breaking their own arm to get painkillers, the Associated Press reported.
Senator Elizabeth Warren wrote a scathing letter to Trump in July rebuking his approach to the opioid epidemic. "Experts and observers have concluded that your efforts to address the opioid crisis are 'pathetic' and 'ambiguous promises' that are 'falling far short of what is needed' and are 'not...addressing the epidemic with the urgency it demands,'" she wrote, according to Vox. "I agree, and I urge you to move quickly to address these problems."