Miami Resident Latest Suspect Detained in Haitian President Moïse's Assassination
Another suspect connected with the July assassination of Haitian President Jovenel Moïse was arrested this week in Turkey, according to Haiti's foreign affairs minister.
Samir Handal was detained at the Istanbul airport on Sunday night after arriving on a Turkish Airlines flight. Handal, a businessman and builder from Haiti, had been living in Miami after the July 7 killing of Moïse.
Handal has allegedly been connected to Christian Emmanuel Sanon, a 62-year-old Haitian doctor and South Florida resident who is also accused of being involved in the assassination, the Miami Herald reported. On Monday, Haitian Foreign Affairs Minister Claude Joseph tweeted his thanks to Turkish officials for conducting the latest arrest.
"I just had a phone conversation with the Turkish Chancellor, my friend @MevlutCavusoglu, to thank Turkey for the arrest of Samir Handal, one of the people of great interest in the investigation into the assassination of the president @moisejovenel," Joseph said.
Joseph said Haitian authorities were alerted on Sunday about Handal traveling and asked for Turkey's cooperation in issuing an arrest. Handal was allegedly en route from Istanbul to Jordan.
"This is a huge step in the investigation," Joseph said, according to the Herald. "I myself am more than determined to do justice to the president and make sure that it's rendered to his allies, his family and more importantly, the country. When we render justice to the president we render it to the whole nation."
Moïse was killed in July by several gunmen who stormed his residence in the Haitian capital, Port-au-Prince. His wife, Martine Moïse, was also injured during the attack but survived.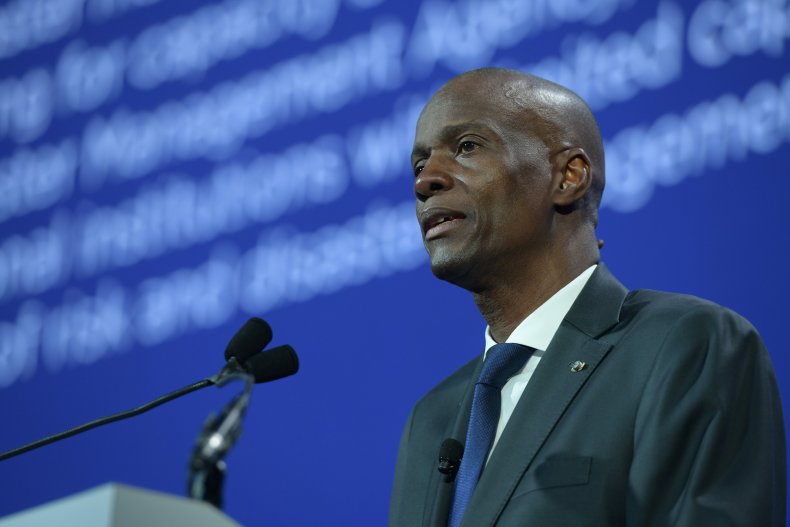 Police have arrested more than 40 suspects in connection to his death, including 18 former Colombian soldiers and numerous Haitian police officers. Several others still remain at large, including a former Haitian senator and Joseph Badio, who once worked for Haiti's Ministry of Justice.
Sanon, the doctor that Handal allegedly was connected with, was arrested just two days after Moïse's death at a home where private meetings were reportedly held in the months before the president's murder, according to the Herald. Police found several personal items of Handal's at the residence, including three Palestinian passports bearing his name, and a checkbook, the news outlet reported.
The months-long investigation has reportedly been complicated by death threats and political interference, and so far, there have been no charges filed against the suspects.
After the assassination, Moïse's wife condemned the attack and said that she would continue fighting for her husband's honor.
"This act has no name. To assassinate a president like Jovenel Moïse without having given him the chance to say even a little word, you have to be a hardened criminal," Martine Moïse said in July. "We know who the president was fighting against. They sent mercenaries to kill the president and his family at his home for roads, water, electricity, the referendum and the elections at the end of the year in order to avoid a transition to the country."
"I'm going to redouble my efforts because the battle he was fighting was not his; he was fighting for us," she continued. "We must continue. You know that I love you, I will not give up."