In Miami, Where Coronavirus Cases Are Highest in Florida, 20% of Those Diagnosed Refuse to Be Traced: Report
In Miami, where coronavirus cases are the highest in all of Florida, 20 percent of people contacted following a COVID-19 diagnosis refused to be contact traced, a county report shows.
According to a recent Miami-Dade County Grant Report issued by Florida's Department of Health, a summary of contact tracing for the county as of August 19 shows that out of the 43,202 cases assigned to the call center, 9,426 people refused an interview—a little more than 20 percent.
Just 14,648 of the people, or 34 percent, had successfully completed a case interview, the report shows. The large majority of cases, 65 percent, were noted as having an "unsuccessful interview attempt," which included six possible categories: no answer; no number; refused interview; voicemail; wrong number or expired.
The state's contact tracers' job is to "communicate with COVID-19 positive individuals to compile a list of everyone that they had contact with in the previous 14 days," Miami Mayor Carlos Gimenez explained in an August 28 letter addressed to the Miami-Dade County Commission. "Contact tracers then advise those contacts of the potential exposure and encourage them to isolate, monitor for symptoms, and get tested."
The numbers are in agreement with reporting by the Miami Herald, which asserts that Miami-Dade public officials had "little capacity" to implement contact tracing for the thousands of new infections seen when coronavirus hit the county hard in July.
Miami-Dade, Florida's most populated county, has reported the highest number of coronavirus cases and deaths in the state. As of Friday, the Florida Department of Health has reported 160,469 cases and 2,632 deaths.
Miami-Dade has had more than double the amount of cases as neighboring Broward County, the second worst-hit county in Florida. The state as a whole has reported 640,211 total coronavirus cases and 11,750 deaths.
Newsweek contacted Florida's Division of Emergency Management, which oversees the state's COVID testing program, for comment, but did not hear back in time for publication.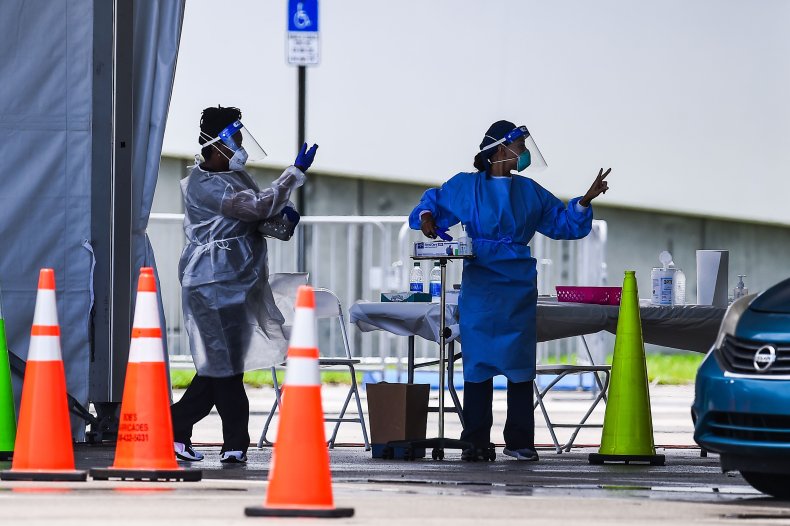 A few months into the pandemic, Miami-Dade officials determined they would need to work with the state's health department if they wanted to have the most efficient contact tracing program in place, Gimenez's letter states.
The county executed a grant agreement with the health department, which provided 250 additional contact tracers to Miami-Dade through the end of 2020 in exchange for grant money provided by the county's federal CARES Act funding.
Miami-Dade bolstered its contact tracing program, but then a new problem arose: many of the patients contacted by these tracers didn't want to respond to their questions, inhibiting a crucial part of managing the virus' spread, the Herald reported.
Data from Johns Hopkins University shows that Florida residents aren't getting tested for coronavirus as frequently as they were before. After reaching record highs in July, recent testing numbers have dropped off and are beginning to resemble rates seen much earlier in the pandemic.
While this could be a result of Florida's steady decline in new coronavirus cases, public health experts are in agreement that the efficiency of a state or county's testing program does have some effect on how its residents perceive its legitimacy, according to the Herald.
Barry Bloom, an immunologist and infectious disease expert with Harvard T.H. Chan School of Public Health, told the Herald that ineffective contact tracing and slow turnaround times for test results, as was initially seen in Miami-Dade, have caused people to lose confidence in the usefulness of their participation in testing programs.
Bloom said that "when the numbers of cases are high, contact tracing simply can't come to grips with it. When results take days and the public knows the answer is useless, it's hard to generate confidence."
Gimenez has continued to take a strong stance on the importance of following public health guidelines throughout the pandemic, including encouraging people to get tested. During a press conference Friday ahead of the Labor Day weekend, Gimenez reminded residents to follow protocol issued by the county.
"I want to remind everyone that we will have zero tolerance for people who do not follow the new normal rules," the mayor said, which include social distancing, wearing face coverings in public, and not hosting large house parties.
"This is not over yet. We have a big test coming for this Labor Day weekend, and we do not want a repeat of Memorial Day weekend, when people were not complacent and we received reports of crowds partying," Gimenez added.