Miami's GOP Mayor Says Trump Admin Gave No Guidance for Coronavirus 'Second Spike'
Miami Mayor Francis Suarez discussed the lack of federal guidance for regions seeing a resurgence of COVID-19 cases on Thursday, as local officials work to manage a second spike in the city's virus outbreak.
Suarez, a Republican, said devising policies to curb transmission is challenging without a federal blueprint during an interview with CNN's John Berman Thursday morning.
"You know, there was guidance in terms of reopening, in terms of the gating criteria," he said, referring to the White House's recommendations for "opening up America again," which the Trump administration issued in April. The guidelines followed a wave of stay-at-home orders enacted across the U.S. in March, at the onset of the new coronavirus pandemic. They included health metrics and timelines that states were meant to reference as they initiated plans to reopen economic sectors, but did not offer strategies for confronting a second wave of infections.
"There wasn't any guidance in terms of, what happens if there's a second spike, like we're seeing right now?" Suarez continued during Thursday's CNN interview. "How do you go backwards? What are the metrics?"
He explained that Miami's local authorities, including its public health officials, are "struggling every single day" to draft their own guidelines based on COVID-19 diagnosis rates, hospital admissions and fatality numbers. Weighing the benefits of reissuing stay-at-home restrictions against the cost to residents is particularly difficult without economic relief from the federal government, Suarez added.
"We're not dealing in the abstract. We have to sell it to our community," the mayor told CNN, speaking about renewed public health regulations to slow the virus' further spread. "Right now, if we shut down, there's not going to be the same federal aid and unemployment that there was. At least, there's no indication that there will be. So, the other issue that we're having is, there is no economic support for another shutdown. And that's extremely worrisome to the residents of our city."
Newsweek subscription offers >
Newsweek reached out to Suarez's office and the White House for comments, but did not receive replies in time for publication.
With or without federal assistance, Suarez said Thursday that Miami could see another stay-at-home order if the city continues to confirm new COVID-19 cases and hospitalizations at its current pace.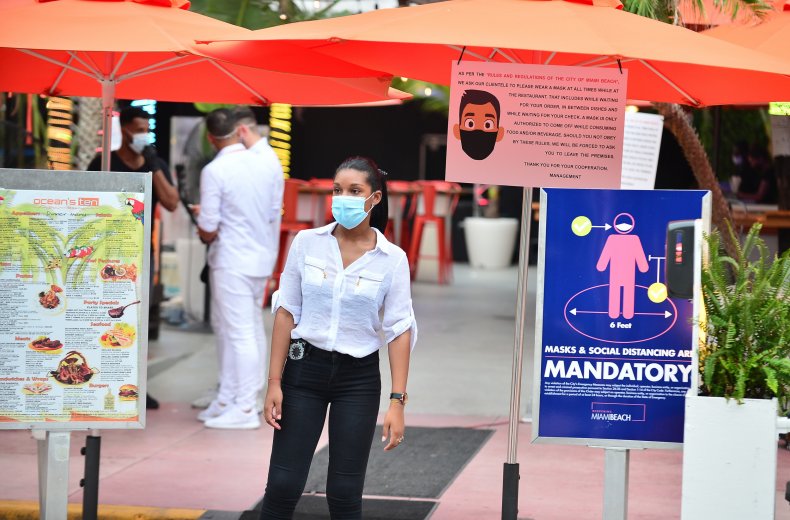 Suarez said Miami's outbreak curve flattened somewhat after the county implemented those regulations. "But we have to continue to flatten at a significant rate to avoid the unavoidable, which may be implementing a stay-at-home order if things don't improve dramatically soon," he warned.
Miami-Dade Mayor Carlos Gimenez already passed two sets of restrictions for countywide residents since the beginning of July. The first required individuals to wear face coverings in all indoor and outdoor public spaces, and the second scaled back previous reopening permissions for certain businesses. It also effected a countywide curfew.
Florida is reporting the most severe outbreak resurgence in the U.S. right now, with southern cities, like Miami, confirming high concentrations of cases. According to the Florida Department of Health, more than 315,700 people have tested positive for COVID-19 since the outbreak began in March. Over 250,000 were diagnosed since June 1.
Miami's GOP Mayor Says Trump Admin Gave No Guidance for Coronavirus 'Second Spike' | U.S.